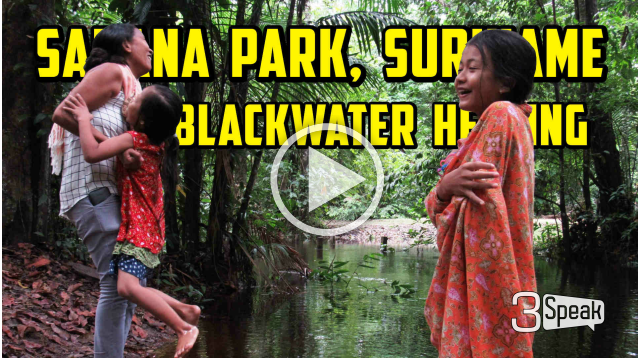 ---
Some awesome Hive friends took us to Sabana Park for some blackwater healing on the edge of the Suriname Amazon interior.

SABANA PARK 🏞️ SURINAME
Suriname's Healing Blackwater

     We have been living under a blanket of stress and nerves for more than a year, and we don't have enough financial resources or freedom of movement to escape the migrant life in the city much.
     Thanks to some awesome Hive friends (@rafaelchan & @faustofraser), @Sreypov, the @KidSisters and I were able to experience our first trip to the edge of the Amazon interior for some blackwater healing and commune with nature.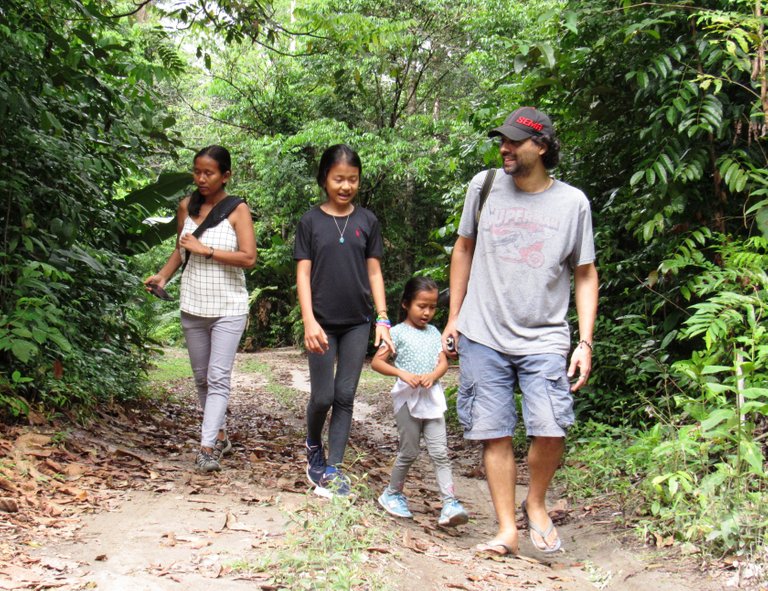 from left to right: @sreypov, @kidsisters (Srey-Yuu, Monkey-B), @faustofraser (narrator)
     Rafael and Fausto picked us bright and early on a Sunday morning with only enough time to escape the city for the day and return before nightfall. Suriname has weekend lockdowns and nightly curfews now, so if you can't escape the city before dark on Friday, you're stuck until Sunday, and now til Monday, as Suriname has now been experimenting with a longer weekend lockdown.
     It was quite a long drive from Paramaribo to Sabana Park, but the vibes and scenery change drastically just after Zanderij and the Johan Adolf Pengel International Airport. Past the airport, Suriname starts to become a pretty wild place, and it's truly awe inspiring.
     Having spent 10 years in Cambodia, a country rampant with deforestation and potential landmine hazards in what remaining forest there is, a journey off the beaten path to collect firewood could result in missing limbs or worse. Suriname's Amazon jungle is very much the opposite, full of old growth trees and safe to spend time in minus the animal hazards of course.
THE HEALING
     Fausto recently mentioned to Sreypov that we look perpetually tired, and this was an accurate statement, although it's part of "new normal" I guess, so we've learned to function this way. Living in a one bedroom apartment with two daughters that haven't been in school for 6+ months plus 4 underfed dogs constantly barking leaves little time for a mental reset.
     Sabana Park was the sort of healing we needed, and it's clear from the smiles in the video. It is sometimes the most basic of things you need to reclaim your sanity for a brief moment and remember how life should be lived. I can't express how still the place was. When we arrived at the cabin and turned off the car engine, I immediately became aware of my breathing.
     The jungle was truly mystical, and it was also my first time to swim in blackwater, which is basically a cold-brew tea made with Amazon jungle leaves, full of tannins. The water was surprisingly cold, cold enough to take my breath away at first. It's impressive a country without mountains near the equator has water this cold that isn't spring fed.
     We spent most of the day there, rotating between eating, swimming, meditating, going on nature walks, and napping. As we headed back to town later in the evening, I found myself already missing the place and wondering why we can't be stranded migrants in a more serene locale.
     I'll be posting more soon about Sabana Park, and will have many pics to share, but wanted to get this video out, as it brings me great joy to see the @KidSisters smiling so much. They have deserved something like this for far too long.

🙏 THANKS FOR WATCHING/READING 🙏
If you enjoyed this post, please upvote and reblog.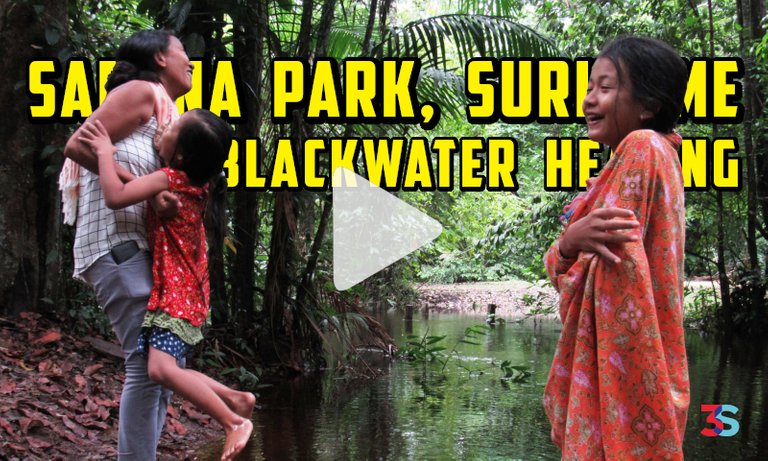 ---
▶️ 3Speak