They say clouds have silver linings - and I think we've all been trying to focus on those, or see them, in this year of Crazy. There's been everything from abject disappointment, to depression and worry about the future for many of us - and some on a worse scale than others, which worries me so. I'm lucky - extraordinarily lucky. I may not have got the world trip I'd been dreaming of for ten years, but I have got land. That's a dream in this time of lockdowns and isolation. It's a chance to be a little less reliant on the systems that bind us and may imminently collapse.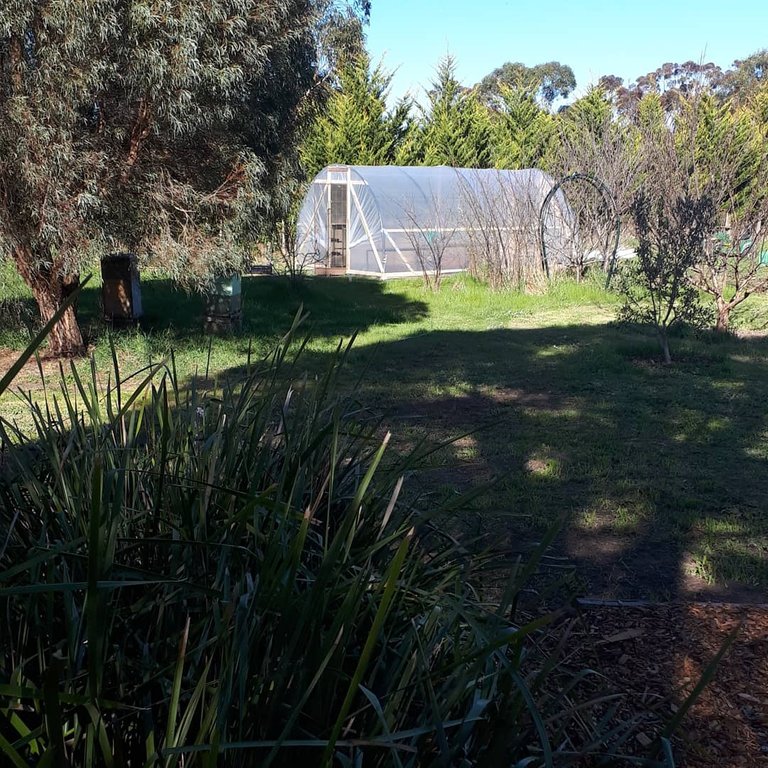 The polytunnel was completed yesterday, on a warm still morning, just before the wind came up. I'll be posting a 'how to' at a later date, but for now, I want to gush about my new womb like growing space, if you'll let me. I'm like a kid at Christms or a pig in mud - any other analogies to describe totally being excited and happy and in one's element at the same time?
So today I put on some loud music - actually, some tunes @montycash shared, which I loved. I'm a big fan of world/ethno/fusion music and his outfit from Perth is beautiful. Listen to it on bandcamp here or Soundcloud. It seemed to really suit this very cold day as the rain came down on the plastic roof of my green tunnel of love!
https://soundcloud.com/kelebek-evrimi/5-the-butterflys-burden
I've made makeshift shelving out of my old mini greenhouses - Jamie plans on welding some mega tiered system for me at some point, but I want to give him a break to do his own projects whilst I potter in my own space.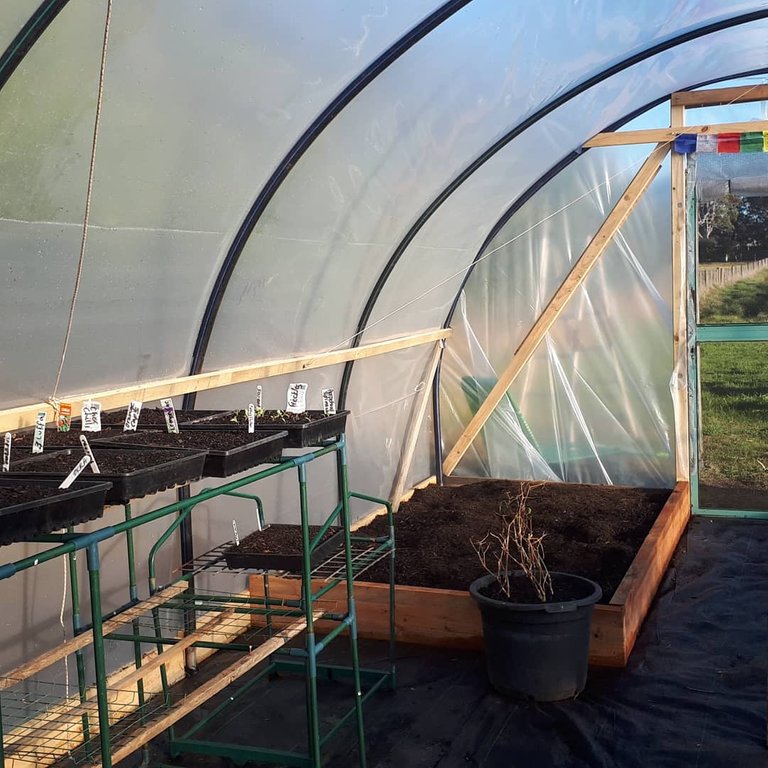 I'm so thrilled that I have such a big space - the back half is for beds, the front for potting up and seedlings and plants. Funny, as soon as we finished it, a polycarbonate greenhouse came up second hand on Facebook marketplace, which is sod's law. I've been waiting for one to come up for ages, and the reason we built the polytunnel was because we hadn't lucked out finding a second hand greenhouse. This one was exactly what I'd wanted too - 500 bucks! But for the same price, I have double, almost triple the space I'd reckon, and a space that feels really solid and good.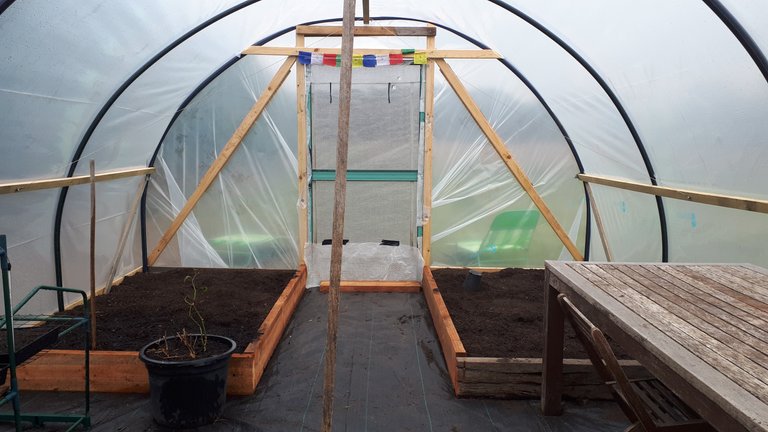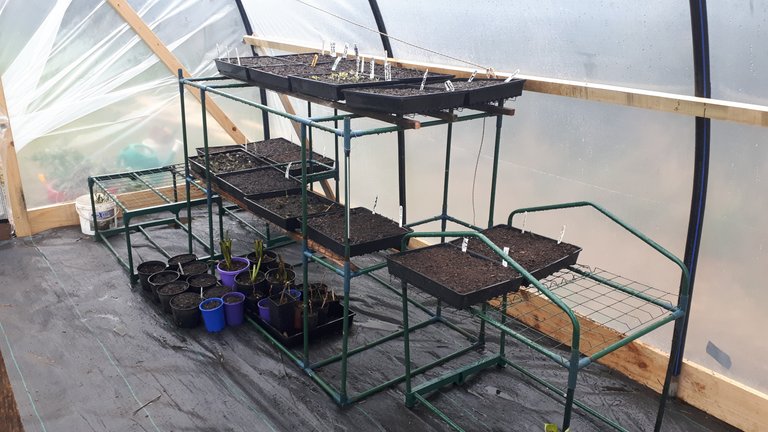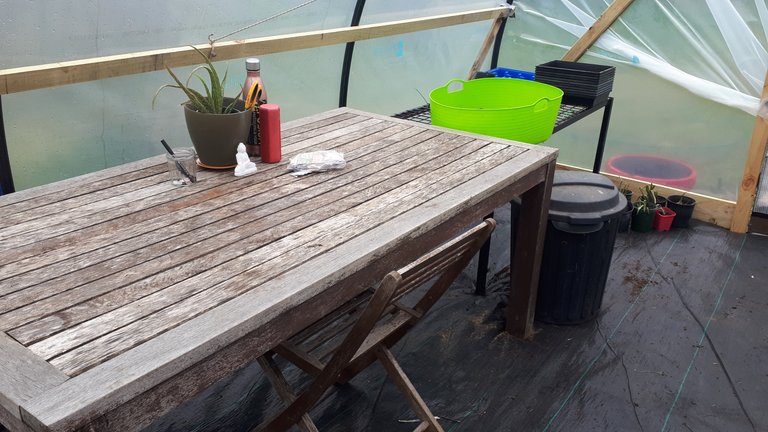 I love the screen doors we found cheap too. The back door opens out onto the southside to catch the seabreeze in winter. Although it'll get too hot in the summer and I'll likely need a shadecloth, it's a very lovely place to be on a cool day. 15 degrees at the warmest today - and it was 20 degrees at one point in the tunnel, probably no cooler than 18 degrees, although it'll eventually be the same-ish outside temperature as they don't hold the heat as well as a greenhouse. However,it should protect them from the frost.
The other amazing thing was as soon as I finished the tunnel I thought, right! I'm going to grow turmeric! I live in a cool to temperate climate, so a good warm micro climate or a polytunnel or greenhouse is the only way you can grow it down here. Anyway, I logged onto Facebook (I know, I know - but the bottom line is the good gardening groups full of people in my local area are on this site - until they all move to HIVE, what can I do?) and lo! Just as I logged in, a woman posted about her organic yellow turmeric for sale in Melbourne! A quick text, and she's sending down some rhizomes next week. Happy happy joy joy!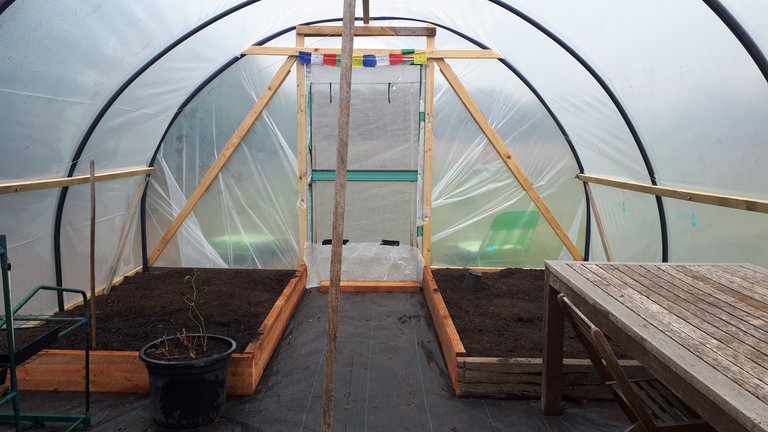 What silver linings are in your gardens?
With Love,

Are you on HIVE yet? Earn for writing! Referral link for FREE account here




PeakD - The Best Way to Experience The Hive Blockchain
---
---