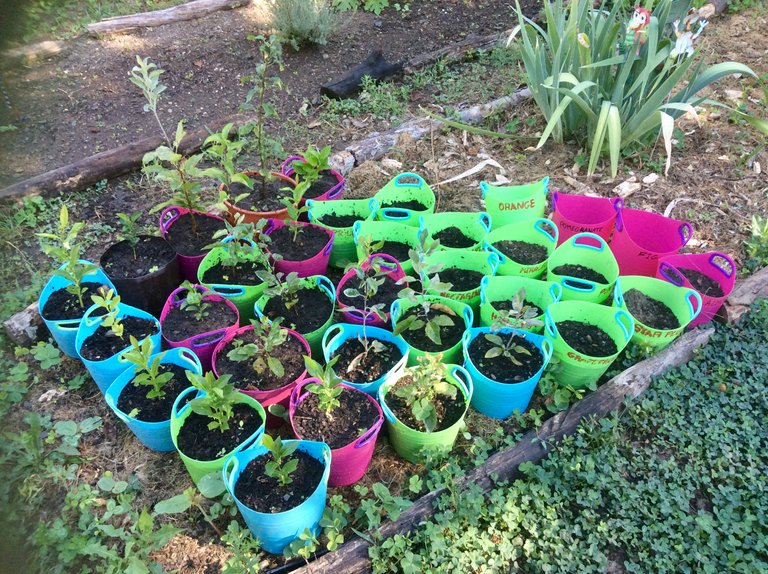 The funny looking pots were on special offer in town. I spent €20 on them and drilled holes in the bottom for drainage. Much cheaper than buying 30 pots at the garden centre and I love the way they have handles & colour! I still have to plant one or two things which are yet to fall from the trees, but most are done now and the following list of fruit and nuts will be with us always:
oranges
lemons
limes
apples (three varieties)
pears
clementines
grapefruits
nectarines
peaches
figs
pomegranates
plums (five varieties)
almonds
walnuts
hazelnuts (two varieties)
chestnuts
And yes, I realise most of these plants won't be feeding us for many years yet, but that's okay. I am happy with them remaining small till we know with certainty where all of us will put our roots down.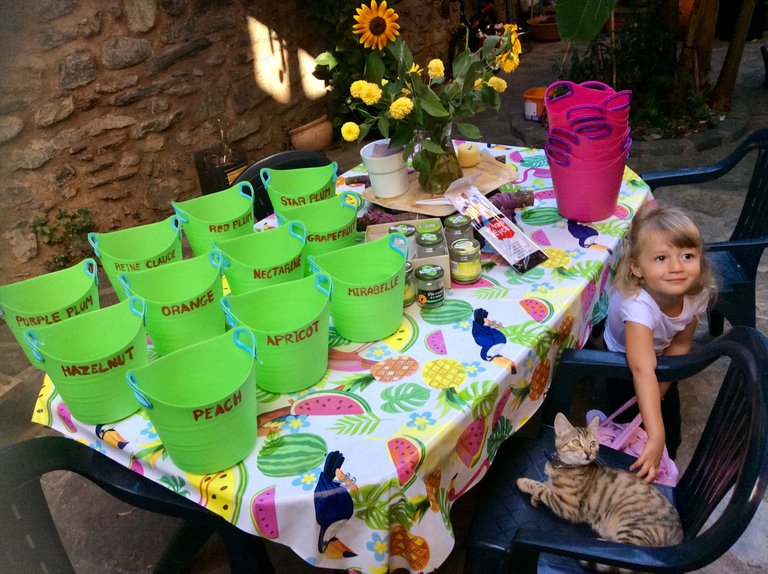 Maintaining the temperature of the ground
Some of these seeds, like the peaches & nectarines require a winter to activate them but they cannot fall too far below freezing. The easiest solution here is to bury the pots in the soil where they will stay that little bit warmer than they would if they were left on the surface.
Even in the summer being buried will help them retain the correct temperature and not dry out as fast as they did this year. We are still learning here...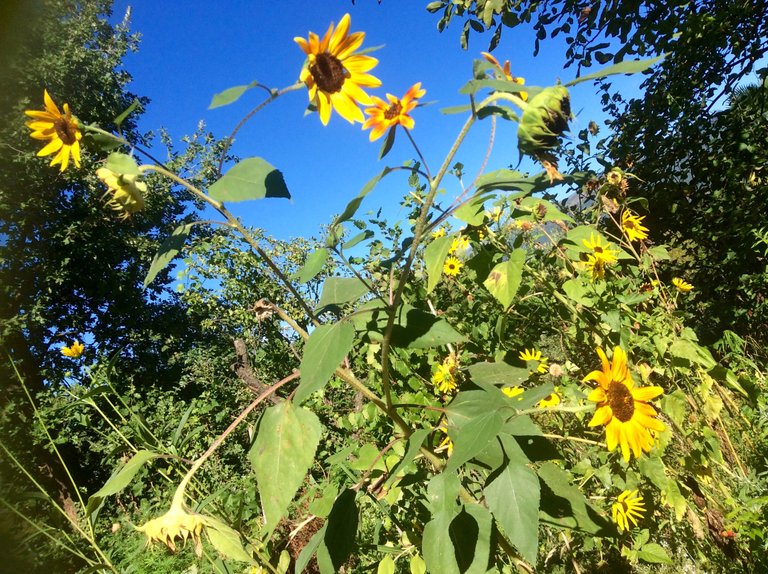 Like I always say, there are no mistakes. Only learning experiences ;)
I only just learned for example how many varieties of citrus there are!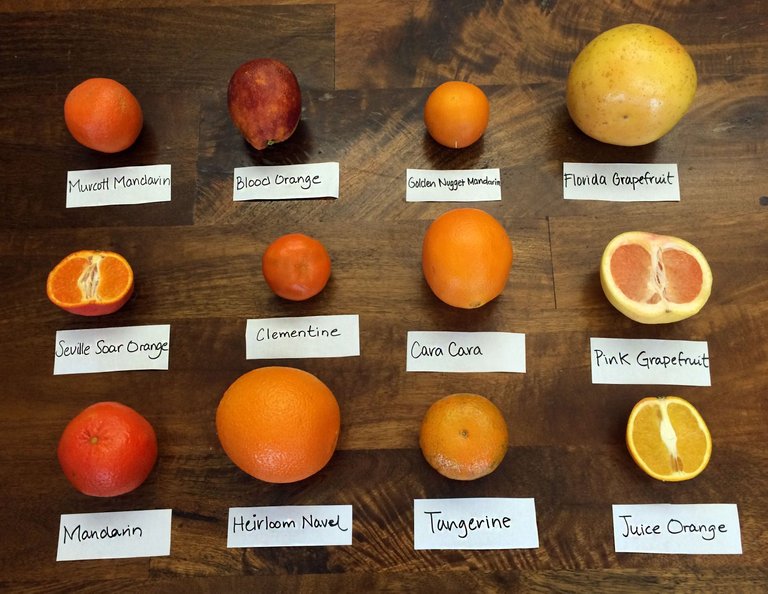 We have three of these varieties, but perhaps I could do with a few more?
Big day today
I leave you with a shot of Luna (from the garden yesterday) because in two hours I will wake her up to get her ready for school. For the first time ever. She told me with her bedtime kiss last night that she was excited to go. So, I am pleased for that.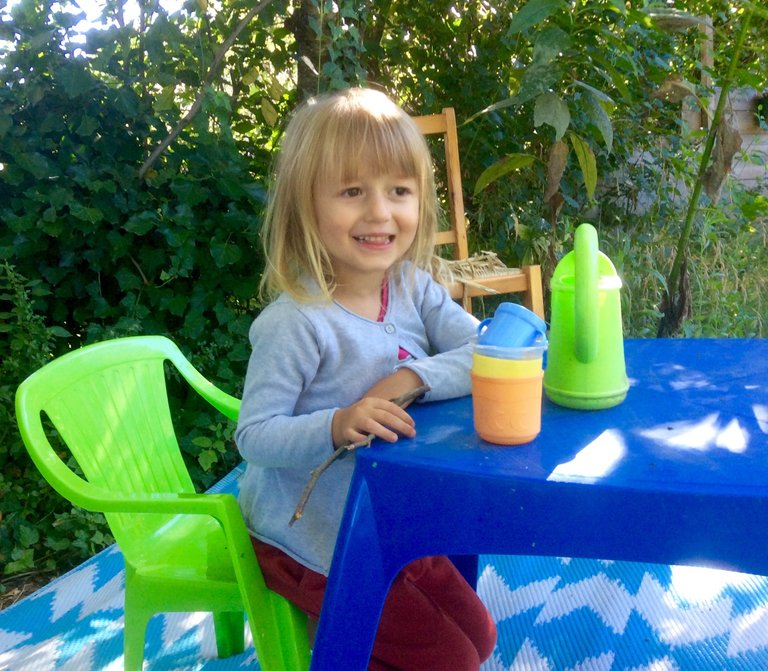 Throw your TV out of a window!
When I spent 7 months in the UK last year doing a film job, Sabrina was offered a free TV.
Had I been here in France I would not have accepted it.
Personally I quit watching TV around 2012 and didn't want one in my home ever again. But as with all these things, I learned to let it go.
However, I cannot get away from the fact that the cartoons they watch are designed to make them want to go to school! Amongst other things. None of which are in any way useful.
Deep breath Sam...
Right here. Right now. Everything is perfect.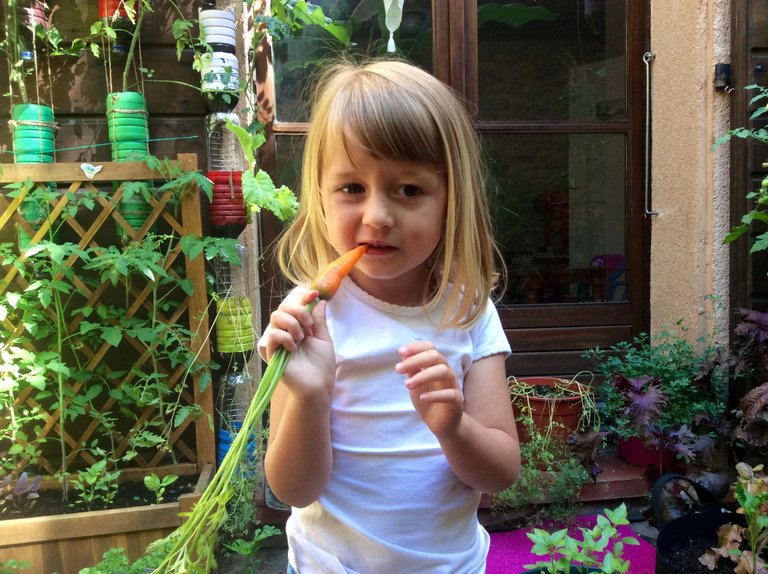 I will stay tuned and connected to her experience there and I can already see the day when I laughed at myself and how nervous this made me feel, because the beautiful (and impossible to predict) things which came from it could not have happened if I had imposed my (experience related) rules on her life.
Love & Light to you all 🌱
Now to figure out how to make dill pickles...