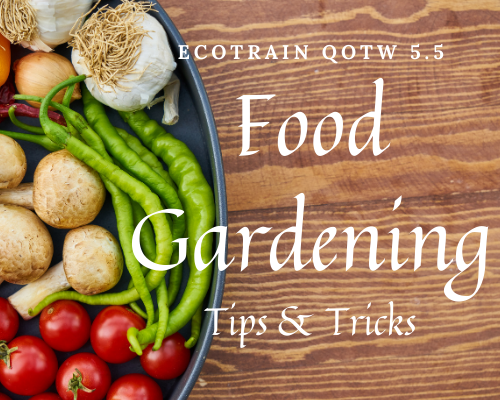 It's like the universe is trying to tell me something
I've spoken about wanting to grow our own food before, and still can't wait until we move to a house with a garden to have more options to do so. BUT we must not forget that we have a huge terrace currently as well and we can take advantage of this. During winter, I kind of forgot about the need to grow our own food, as the door to the terrace is mostly closed anyway, and I don't fancy taking care of stuff in the cold (just being honest here). But, the weather has taken a turn to spring-ish weather now (it may be temporarily but who cares lol) and this is lightening up my mood a lot.
I haven't written anything for a full week until yesterday, and it was actually the sun that got me back into the writing spirit.
Last week, I noticed the new QOTW
And I thought, oh well, this one will not be for me because I still haven't started this journey yet. Which made me feel a bit bummed as I join every single week for a few months in a row now. I kind of forgot about the QOTW until I started looking at the groceries I needed to buy today, and noticed one store was selling herb and veggie seeds now. That made me realize that it would be cool to start this journey in this apartment rather than waiting. I have no idea how long things need to grow before we can harvest anything, I'm that new to this thing!
My mind was made up
I decided that we would go and buy some seeds for veggies and herbs to grow on our terrace. It will not only be a good lesson to learn how to grow them, but also be a fun family activity. I told my daughter, and off we went to the supermarket that was seling the seeds for a great price. I didn't even think about making a selection at home and thought I should just buy a bunch and see how that all works later. I decided we'd go buy the other items like the pots to grow them in next week when we have a car, and make it one of our first missions to go shopping with a car! Unfortunately, the store had nothing left, and we went back home empty handed.
Quite the dissapointment!
I was actually looking forward to buy them and then work my way through these QOTW posts tomorrow to see what tips and tricks others are sharing. Most would do it the other way around, but I was afraid (and right) that they wouldn't have any left in the store because it was such a bargain, and I was also afraid that I'd not find the time to write this post before the week ended. The only thing left for me to do, is to read these (probably) aswesome tips everyone has shared in the past week, so that I can decide on what our needs are to grow, make a list of the stuff we need and start doing so next week.
All ends well. At least we had fun thinking about our future home garden which will now only be more prepared so it's all good!
You will probably find some of my comments in the other entries from tomorrow, I can already say: your tips are highly appreciated by this newbie in the home garden world!
<3