This fruit salad combines luscious raspberries, kiwi, banana, and pomegranate in a citrus, maple dressing. The dressing is fragrantly spiced with cinnamon and subtle hints of nutmeg, which are especially favoured around this time of year.
Pomegranates are quite popular this time of year. They are a really special fruit loaded with antioxidants. Pomegranates are filled with succulent little ruby-red arils that looks like small jewels. Thee are filled with deeply flavoured, highly nutritious juice. Not only do pomegranates contain immune boosting properties, but they have also been proven to lower cholesterol and blood pressure, and are highly beneficial for anyone suffering from atherosclerosis. The compound responsible for these wonderful properties is punicalagin, which is exclusively found in pomegranates. Pomegranates are a rich source of vitamin C, and contain many other vitamins and minerals. The benefits from this fruit are pretty much endless, which is why they are considered one of nature's super fruit.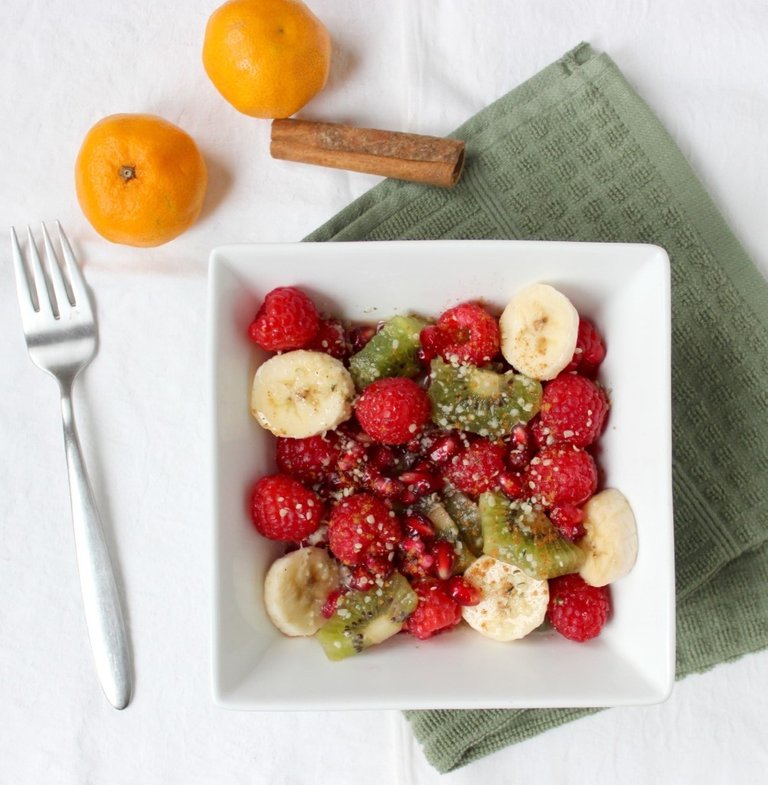 Fruit Salad Recipe
Ingredients
1 banana, chopped
2 kiwis, chopped
3/4 cup raspberries
1/2 cup pomegranate
2 clementines, juiced (sub with 1/2 orange, juiced)
1 tablespoon pure maple syrup
1/4 teaspoon cinnamon
pinch of nutmeg
sprinkle of hemp seeds and more cinnamon over top (optional)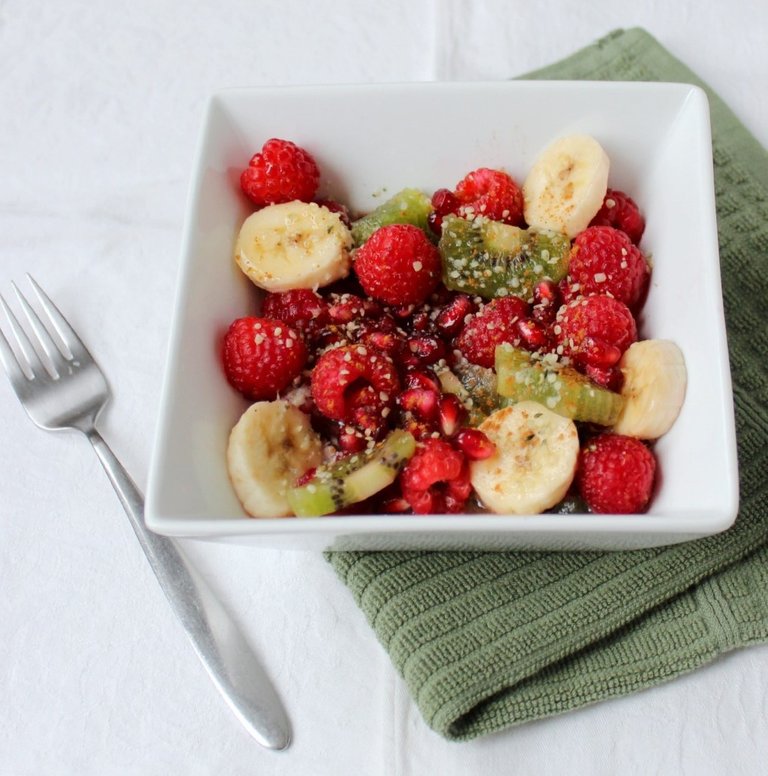 Instructions
Place all fruit in a bowl and set aside.
In a small bowl, mix together clementine juice, maple syrup, cinnamon and nutmeg.
Pour dressing over fruit and top with hemp seeds and cinnamon.
Refrigerate for 10-15 minutes to marinate before serving. Enjoy!