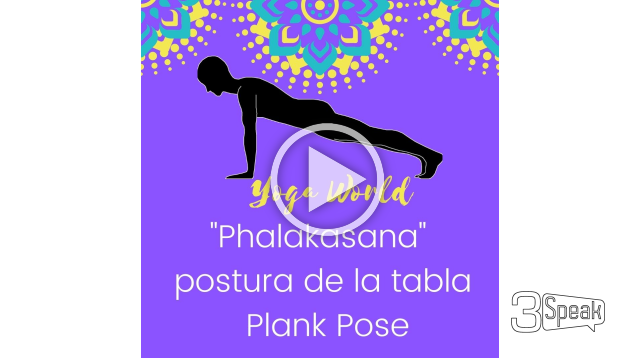 ---
Excelente vibra para todos! Good vibes for everyone!

¿Como van esas practicas? ¿se han animado a realizar las posturas? Pues, les cuento que por aquí seguimos compartiendo información básica para que puedas ir practicando conmigo. Luego que termines esta serie de posturas básicas, aprenderemos a realizar el saludo al sol llamado "Surya Namaskar".
How are these practices going? Have you been encouraged to do the postures? Well, I tell you that around here we continue to share basic information so that you can practice with me. After you finish this series of basic postures, we will learn how to perform the sun salutation called "Surya Namaskar".
Les recuerdo que todas las posturas anteriores vienen de esta secuencia, al conocerlas podemos llegar mucho mas fluido a nuestro Surya Namaskar. Entonces ánimos, seguimos con nuestras posturas, en donde, esta vez voy a enseñarte la cuarta postura dentro de la secuencia del saludo al sol; "Phalakasana" la postura de la tabla.
I remind you that all the previous positions come from this sequence. By knowing them we can arrive much more fluent to our Surya Namaskar. Then we continue with our postures, where, this time I will teach you the fourth posture within the sequence of the sun salutation. "Phalakasana" plank pose.
Es una postura que comúnmente se practica mucho para trabajar abdominales, denominada plancha. pero, en yoga esta postura tiene su nombre en sánscrito; "Phalaka" tabla y "Asana" postura. El secreto para realizar esta postura es cuidar de nuestra alineación, también, es un excelente condicionante para prepararnos en resistencia y fuerza. Su enfoque principalmente se encuentra en nuestra zona abdominal, fortaleciendo nuestro centro para luego realizar y prepararnos para otras posturas mas avanzadas como es el caso de la parada de manos o de cabeza. Así que, a preparar ese cuerpo, mente y alma.
It is a posture commonly practiced to work abdominals but in yoga this posture has its name in Sanskrit; "Phalaka" board and "Asana" posture. The secret to performing this posture is to take care of our alignment. Also, it is an excellent condition to prepare us in resistance and strength. Its focus is mainly on our abdominal area, strengthening our center to then perform and prepare for other more advanced postures such as hand or headstands. So, prepare that body, mind and soul.
Vamos a realizar la postura/ We're going to do the posture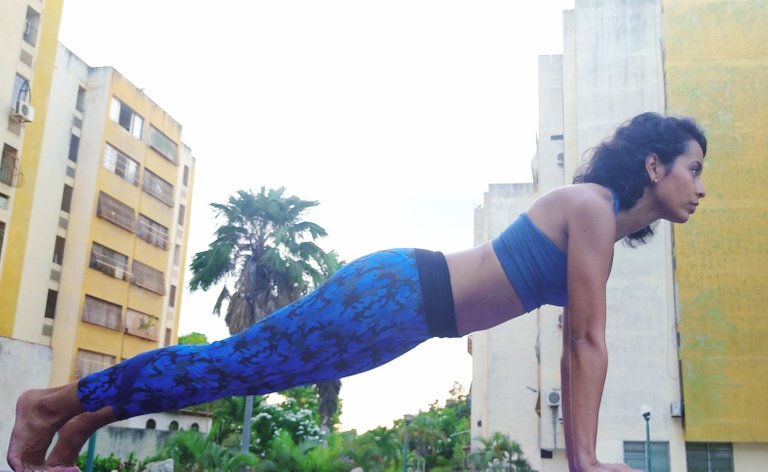 Quedamos en la tercera postura de la secuencia "Surya namaskar" Ashwa Sanchalanasa.
We are in the third pose of sequence "Surya Namaskar" Ashwa Sanchalanasana.
Apoyando de manera estable mis brazos, nuestro pie se encuentra entre mis manos. Ese mismo pie, lo voy colocando hacia atrás (posterior).
Stabilizing my arms, our foot is in my hands, That same foot, I am placing it backwards (further).
Verifico mi alineación, hombros y manos deben estar en linea perpendicular al suelo.
I check my alignment. Shoulders and hands should be in a perpendicular line to the ground.
Es el momento de sentir la fuerza abdominal, contrayendo mi abdomen, sintiendo el centro de mi cuerpo.
It's time to feel the abdominal strength. Contracting my abdomen, feeling the center of my body.
Mi mirada en un solo punto, concentración.
My eyes in one point, concentration.
Es importante saber donde se encuentra nuestra cadera, para no colapsarla hacia el suelo o suspenderla demasiado.
It is important to know where our hips are, so as not to collapse it to the ground or suspend it too much.
Beneficios/Benefits

Trabaja fortalecimiento de nuestras piernas, hombros y brazos.
Works to strengthen our legs, shoulders and arms.
Es una asana básica que nos ayuda a realizar posturas avanzadas.
It is a basic asana that helps us to perform advanced postures.
Nos aporta equilibrio y estabilidad corporal.
It gives us balance and body stability.
Mejora el metabolismo, ayudando a concentrarse en los cuatro músculos del estomago, abdomen, abdomen transverso, oblicuos internos y externos. Tonifica y reduce la grasa abdominal.
Improves metabolism, helping to focus on the four muscles of the stomach, abs, transverse abdomen, internal and external obliques. Tones up and reduces abdominal fat.
Ejercita los músculos del pecho, lo cual, es excelente para el sistema respiratorio.
It exercises the chest muscles, which is excellent for the respiratory system.
Crea nuevo tejido oseo, ademas de combatir, el insomnio, la migraña, la menopausia y la osteoporosis.
It creates new bone tissue, besides fighting, insomnia, migraine, menopause and osteoporosis.
Estimula nuestro chakra del plexo solar (Manipura) encendiendo tu pasión con un extra de energía.
Stimulate our solar plexus chakra (Manipura) by igniting your passion with extra energy.
Por lo general, todas las posturas trabajan el reducir el estrés, aumentando las hormonas que te permiten también ser feliz y cambiar humores drásticos. Esta en especial, se enfoca en transformar la depresión.
Generally, all postures work by reducing stress, increasing hormones that also allow you to be happy and change drastic moods. This one, in particular, focuses on transforming depression.
Así terminamos nuestro post de hoy, espero lo hayan disfrutado muchísimo, agradeciendo a las comunidades
@naturalmedicine
y
@adiwathrive
por su apoyo al contenido. Nos motivamos a seguir trabajando para trasmitir estas hermosas practicas.
This is how we ended our post today I hope you enjoyed it very much, thanking the communities @naturalmedicine and @adiwathrive for the support. We are motivated to continue working to transmit these beautiful practices.

Gracias por leer
Recuerda que es tu momento de transformación
en cada practica de yoga
nos vemos en el próximo post
Namaste
Thanks for reading
Remember that it is your moment of transformation
in every yoga practice
see ya at the next post

Separador Buda
Image Om
Original Photo Plank Pose
Camara: Redmi 8A
Video Editor: Inshot
Source content: www.siddhiyoga.com
www.rumisolyoga.com


CC0 Creative Commons
---
▶️ 3Speak