Continuamos agregándole bienestar a tu vida / We continue to add wellness to your life
👋
Para complementar nuestra sección de Mundo Yoga y la realización de posturas, quise agregar más información sobre elementos de vital importancia. Para todos aquellos que desean saber sobre el campo espiritual y energético. Para luego, incluir las practicas de yoga a su vida diaria, si así lo desean; comenzamos.
To complement our World Yoga section and the performance of postures. I wanted to add more information on elements of vital importance. For all those who wish to know about the spiritual field and include the practices of yoga in their daily lives; Let's begin.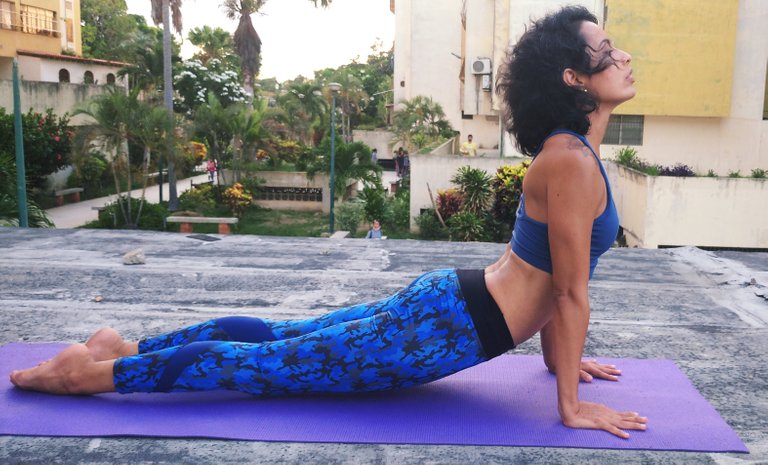 Gracias al post anterior ya sabemos que existe dentro de la disciplina del yoga, diferentes clases para todos los gustos, sabores y colores; Solo depende cual es tu preferencia. Manteniendo esta información, pasaremos a nuestro próximo paso, la cual es la columna vertebral que todo yogui debe saber. Pues, se trata de los canales energéticos llamados "Chakras".
Thanks to the previous post we already know that within the discipline of yoga. There are different classes for all tastes, flavors and colors. It just depends on what your preference. Keeping with this information we will move on to our next step. Which is the backbone that every yogi should know. We talk about "chakras".
¿Que son los chakras?/ What are chakras?

Los chakras también llamadas ruedas energéticas, son canales ubicados en zonas especificas de nuestro cuerpo espiritual. No podemos verlo, pero si podemos sentirlo y hasta percibirlo. Es una llave maestra para la salud física, mental y emocional, siendo así, unos conductores que filtran la energía. Ellas crean una especie de convergencia de los campos energéticos, que nos conforman y estimulan glándulas que tienen una vital participación en el funcionamiento de los sistemas biológicos. Pero, no tan solo eso también trabajan en nuestros cuerpos a nivel mental y emocional.
The chakras, also called energy wheels, are channels located in specific areas of our spiritual body. We cannot see it, but we can feel it and even perceive it. It is a master key for physical, mental and emotional health, being thus, conductors that filter the energy. They create a kind of convergence of the energy fields. That shape us and stimulate glands that have a vital participation in the functioning of biological systems. But, not only that, they also work on our bodies on a mental and emotional level.
Se encuentran ubicados exactamente en la columna de manera ascendente desde la base hasta la parte superior de la cabeza. Se dice también, que esta energía que atraviesa nuestros chakras, es la energía de la creación, llamada kundalini. En el yoga y en el tantra se eleva esta energía a través de un canal central llamado sushumna, hasta la unión con lo absoluto que es en el ultimo chakra, conecta lo terrenal con los espiritual.
They are located exactly in the spine, ascending from the base to the top of the head. It is also said that this energy that passes through our chakras is the energy of creation, called kundalini. In yoga and tantra this energy rises through a central channel called sushumna, to the union with the absolute that is in the last chakra, connecting the earthly with the spiritual.
Pero ¿Cual es su función?/ What is their function?

Al estimular las glándulas endocrinas, por ejemplo, ellas liberan hormonas al torrente sanguíneo. En donde sus efectos, controlan muchas funciones de nuestro organismo, así como también, nuestro humor. A medida que vamos avanzando en la exploración de como funcionan estos canales, nos hacemos conscientes de nosotros mismos a niveles expandidos de conciencia. Debemos destacar, que esta energía fluye por todos los seres vivos, no tan solo en las personas. Por lo tanto, al activarlos por diferentes medios, experimentaremos el reino de la conciencia divina, así como los animales y las plantas lo experimentar por su plena naturaleza.
By stimulating the endocrine glands, for example, they release hormones into the bloodstream. Where their effects control many functions of our organism, as well as, our mood. As we move forward in exploring how these channels work, we become aware of ourselves at expanded levels of consciousness. We must emphasize that this energy flows through all living beings, not just people. Therefore, by activating them by different ways, we will experience the realm of divine consciousness. Just as animals and plants experience it by their full nature.
¿En que nos beneficia?/ How it benefits us?

Como ya lo comentamos anteriormente, este sistema de filtración, es como un purificador de energía que luego es transformada, así como, el carbón al diamante. Esta energía se refina a tal manera que podemos beneficiarnos de este proceso maravilloso. Tendremos mayor iniciativa y responsabilidad en cada paso que damos por la vida, despiertan características y virtudes innatas que posee nuestra alma, mayor percepción y poder de contemplación. Así como también activamos características positivas en nuestra vida, como la confianza, la valentía, compasión, disciplina, buen humor, autenticidad, equilibrio. Ademas, una conexión autentica con otros seres, el poder del perdón y el amor incondicional.
As mentioned above, this filtration system is like an energy purifier that is then transformed, as well as, carbon to diamond. This energy is refined in such a way that we can benefit from this wonderful process. We will have greater initiative and responsibility in each step we take through life, awaken characteristics and innate virtues that our soul possesses, greater perception and power of contemplatio. As well as activating positive characteristics in our lives, such as confidence, courage, compassion, discipline, good humor, authenticity, balance. In addition, an authentic connection with other beings, the power of forgiveness and unconditional love.
Damos una vuelta 180° de regreso al origen, entendiendo el valor y el respeto que merece la naturaleza de todas las cosas, empezando por nosotros mismos. Por lo tanto, si empezamos a tener conciencia del funcionamiento de este sistema energético, crecerán y se educaran nuestros potenciales..
We take a 180° turn back to the origin, understanding the value and respect that the nature of all things deserves, starting with ourselves. Therefore, if we begin to be aware of the functioning of this energy system, our potentials will grow and be educated.
¿Desde cuando existe esta sabiduría?/ Since when does this wisdom exist?

Esta sabiduría es muy antigua, en donde escritos védicos llamados Upanishad (filosofía hindú) relatan las características de estos canales energéticos. Sin dejar de mencionar, a los egipcios que con su gran aporte, lo refinaron con terapias como la cromoterapia y aromaterapia. Así como también, existen otros modelos de chakras, incluyendo la medicina china, el kabbalah judío y el sufismo islámico.
This wisdom is very ancient, where Vedic writings called Upanishad (Hindu philosophy) relate the characteristics of these energy channels. The Egyptians with their great contribution, refined it with therapies such as chromotherapy and aromatherapy. As well, there are other chakra models, including Chinese medicine, Jewish kabbalah, and Islamic Sufism.
Hoy en día, existe mucha información y terapias que podemos encontrar en internet, centros holisticos y disciplinas que nos ayudan a la apertura de estas ruedas. Sin dejar de lado la parte teórica, en donde, muchos libros hablan detalladamente sobre el funcionamiento de cada uno de estas maravillosas entradas y salidas de energía por todo nuestro ser.
Today, there is a lot of information and therapies that we can find on the internet, holistic centers and disciplines that help us to open these wheels. Without leaving aside, the theoretical part, there are many books talk in details about the functioning of each of these wonderful energy throughout our being.
¿Cuales son los chakras que nos conforman?/ What are the chakras that make us?
Existen 7 chakras básicos, Comenzamos de Abajo hacia arriba.
There are 7 basic chakras. We start from the bottom up.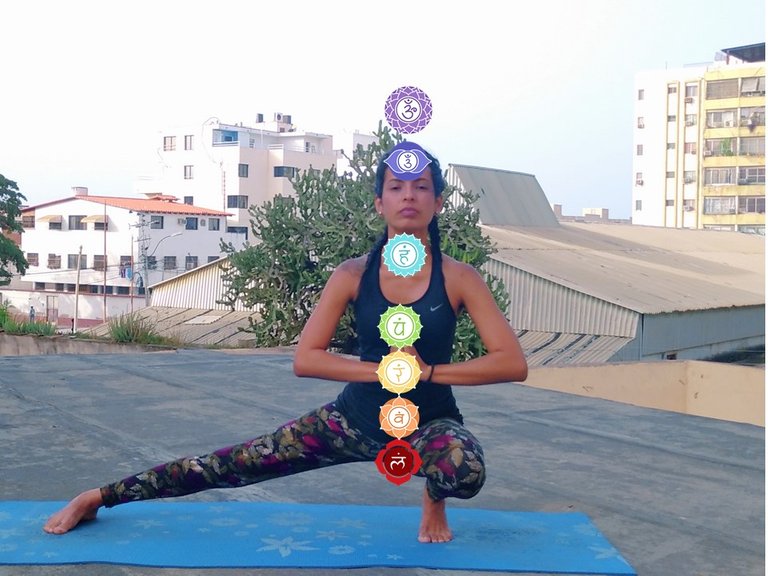 ---
Chakra Raiz "rojo"/ Root Chakra "red" Sanscrit (Muladhara)
Chakra Sacro "anaranjado"/ Sacral Chakra "orange" (Swadistana)
Chakra plexo solar "amarillo"/ Solar Plexus Chakra "yellow" (Manipura)
Chakra corazón "verde"/ Heart Chakra "green" (Anahata)
Chakra laringeo "azul" / Throat Chakra "blue (Vishudda)
Chakra tercer ojo "indigo" / third eye chakra "indigo" (Ajna)
Chakra Corona "blanco/violeta" / Crown Chakra "white/violet"(Sahasrara)
Especificaciones Chakra Raíz / Root Chakra (Muladhara)

Chakra Raíz (Muladhara)
Root Chakra
Elemento: tierra/ Color rojo.
Element: earth/red color.
Ubicación: en el perineo, base de la espina dorsal.
Location: in the perineum, base of the spine.
Silaba Sagrada: Lam
Sacred Silaba: Lam.
Nota musical: Do.
Musical note: C.
Perfumes: Pino, cedro, pachuli, musgo, clavo,lavanda, jacinto.
Parfums: Pin, cedar, patchouli, moss, clove, lavender, hyacinth.
Piedras: rubí, coral rojo, granate, jaspe, ónix negro, obsidiana, cuarzo ahumado, turmalina negra, ágata, alejandrita.
Stones: ruby, red coral, garnet, jasper, black onyx, obsidian, smoky quartz, black tourmaline, agate, alexandrite.
Glándulas: Suprarrenales, testículos.
Glands: Adrenals, testicles.
Palabras claves: Enraizamiento, aceptación, encarnación.
Keywords: Grounding, acceptance, incarnation.
Funciones: Supervivencia, nutrición, reproducción, crear, soporte, sustento.
Functions: Survival, nutrition, reproduction, creation, support, sustenance.
Partes del cuerpo: piernas, pies, huesos, intestino grueso, ano, vejiga, nariz.
Body parts: legs, feet, bones, large intestine, anus, bladder, nose.
Enfermedades psíquicas: Depresión, importancia, inseguridad.
Psychic diseases: Depression, importance, insecurity.
Enfermedades físicas: obesidad, hemorroides, ciatica, artritis, reumatismo, anorexia, tumores oseas y de piel.
Physical diseases: obesity, hemorrhoids, sciatica, arthritis, rheumatism, anorexia, bone and skin tumors.
Obstáculos: ira, avidez, deseos.
Obstacles: anger, greed, desires.
Y con este breve resumen y las especificaciones del primer chakra, damos por finalizado el post, en donde les voy a ir compartiendo con mas detalles y especificaciones sobre los demás chakras. Desde, como abrir cada chakra y como trabajarlos a través de las posturas del Hatha yoga.
And with this short summary and the specifications of the first chakra. We are ending the post, where I will share with you more details and specifications about the other chakras. From, how to open each chakra and how to work them through the Hatha yoga poses.
También, no olviden que el Hatha Yoga es una de las muchas vías para aperturar nuestros canales, tener responsabilidad y conciencia, para así sanar y aprovechar todo nuestro potencial. Atrévete a florecer una y otra vez, muchas gracias por leer y nos vemos en la esterilla.
Also, do not forget that Hatha Yoga is one of the many ways to open our channels. To have responsibility and conscience, in order to heal and take advantage of all our potential. Dare to bloom again and again guys, thank you very much for reading and see you on the mat.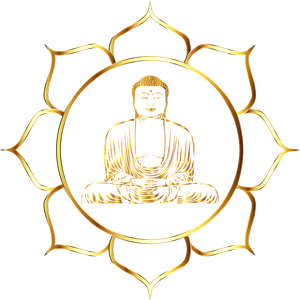 Gracias por leer
Como toda práctica requiere de nuestra voluntad y amor
nos vemos en el próximo post
Namaste
Thanks for reading
Like all the practices we need courage and love
see ya at the next post
Original photos edited with paint
Camera: Redmi 8A

CC0 Creative Commons