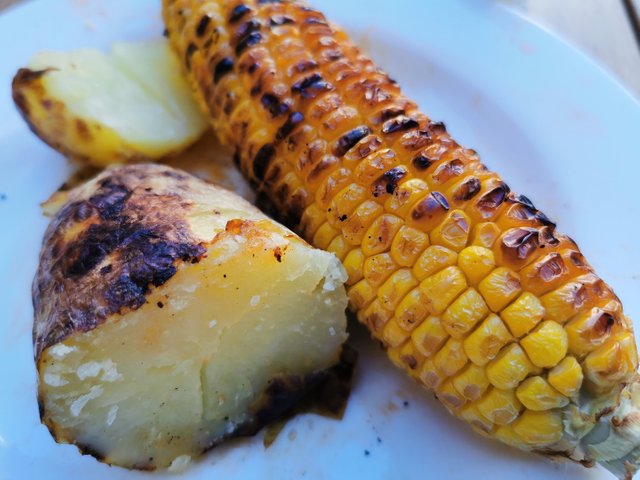 Let's start with the good stuff: the first BBQ!
I love corn and I love puffed potatoes, but they take so long before they are done, so for me, it's saving the best for last usually when having a BBQ. Today's BBQ was the reward of a very stressful couple of days, on our very own terrace (which turned out to be even bigger than I thought when filled with furniture and a small kiddo's pool). Honestly, I was so glad to sit down and do nothing for a while, as both my boyfriend I just keep going, because it all needs to be done anyway and the sooner it's all done, the sooner things calm down. See below how this went down the past week(s).
Stressful preparation
I've been prepping the steps to move apartments carefully, and have been constantly changing plans due to third parties, which was probably the number one reason that I felt stressed to the max for at least a week. And then, suddenly, last Tuesday, out of nowhere there was a station wagon available for the move the next day, instead of us hiring a transport company (an affordable one that I found only days earlier, so also last-minute!) that would come on Thursday. And the person that would come help us carry the heavier stuff on Thursday (but probably too late for the complete move due to an appointment in the morning) came to help on Wednesday morning.
Suddenly, the universe aligned everything in the perfect order making it as easy as possible.
Furniture headaches
First, our furniture didn't seem to get sold by a new tenant, while just one week before the planned moving date, a tenant was found who agreed on our price immediately, and here again, all worked out as desired. Thinking the move would be done in a heartbeat once leaving the biggest items, soon it turned out to be a challenge to get things packed as IKEA was completely out of moving boxes (all of them!) so I just started packing suitcases which were going to be unloaded after the first drive to the new place.
The new place has beds from the owner, a dining table and chairs, a little (bench for inside), a smoking table, and some other closets that are not matching and not really logical to have. The outside (our terrace is huge!) has a swing bench and a set of garden furniture has been put together this afternoon just an hour before we used the brand new BBQ for the first time.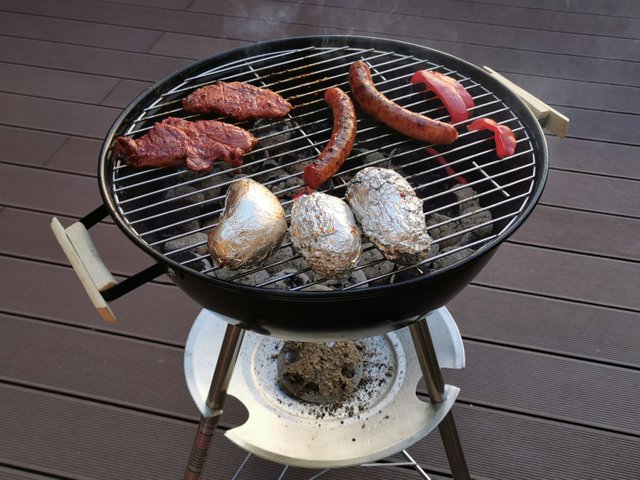 BBQ times
Oh god, I can't even explain how heavenly it felt to sit on the terrace of the place we now call home for at least another year, enjoying a BBQ at home instead of eating somewhere (mostly too expensive and often not even worth it either). Admitted: we haven't used a BBQ in ages, and have to take some lessons from our friend who's a true BBQ master (gosh, I miss your BBQ's back in the days my friend!).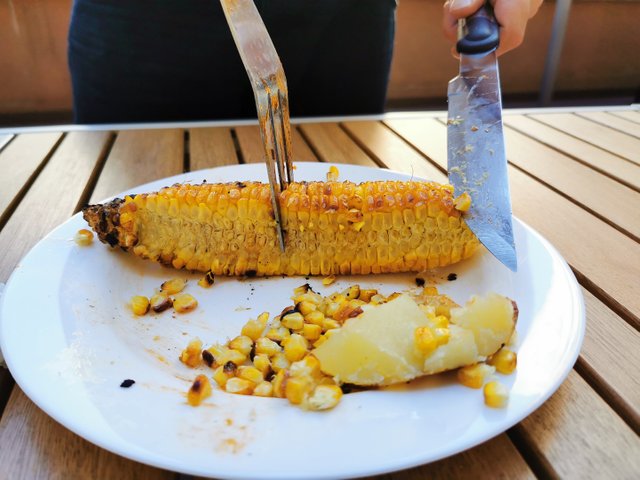 I had to take a picture showing the huge knife of the set we also bought (it looked fancy, but it turned out to be not that great after one-time usage oops).
For those paying attention to the previous picture, did you notice the thing that fell out below the BBQ? That was the second thing that wasn't suppose to happen, and I seriously wonder if we did well buying this one. But hey, budget is running quite low currently after all the stuff we bought, and we still need to buy some more once I know exactly what we are missing.
Tomorrow the desk will be delivered and Monday our relax fauteuils (yay)
The desk was a worry-some moment honestly, long story short, it didn't fit in the car (like 0,5 cm too big!) and they it almost seemed as if the storage center wasn't going to deliver it as we signed for receiving it. In the end, all was well after a second visit on Friday afternoon. They are delivering it tomorrow and this will be the second last thing that we put together for a while I think, as our bodies are protesting from all the heavy lifting and stressing.
Needless to say that the relax fauteuils that will arrive on Monday will be the grande reward for our hard work! I don't even care about all the smaller other stuff and decoration for now, just let me take a deep breath, work (yes, I almost forgot that I need to do so as well) and restart the abundance challenge to find the inner peace back.
Fun fact: even though I was WAY too stressed to continue the challenge, I kept on drawing my wishes for the new place, and today all of these have been realized and that means that I'm getting better in visualizing what I want and feeling it as if I already have it. That's a pretty cool achievement, I'd say. I feel so blessed currently to be living here even when things aren't nearly done!
For now, I'm going to put on some tv and call it a day.
Have a good one and enjoy the weekend!
<3