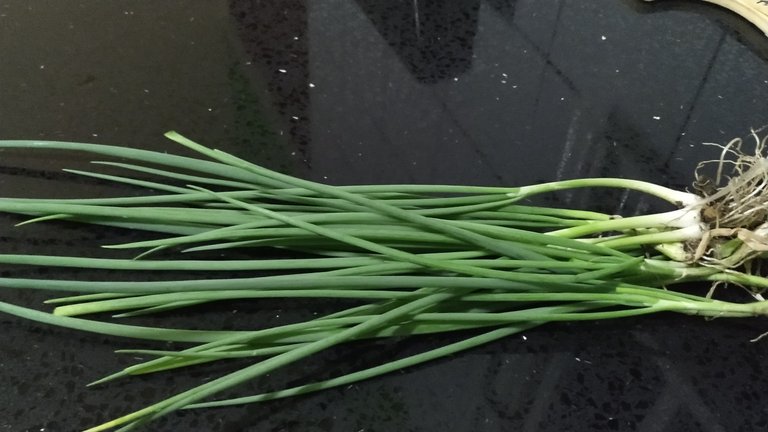 My harvest today.
---
Remember what I had said in my previous post about succulents, that I don't consider myself having any green fingers? What I didn't mention was my experience with chives. I wouldn't know why I forgot to mention those. Probably because chives also fall into the category "easy to maintain".
Last year I had started with the growing of those plants. It all began with the preparing of a dish of which chives were also a key ingredient. Back then we only used chives bought at the market or from the store. That day, when cutting up the chives into pieces, @rarej and I had wondered how the chives would fare if we tried growing them ourselves. I cut out all of the roots and just put those roots into some flowering pots filled with some soil, put them in a spot where they would get some sunlight and watered them from time to time. Before we knew it those plants began to sprout and were growing faster than I would have imagined. Unfortunately I don't have pictures of that process; I wasn't part of the Hive community yet 🙈
But it made me so proud and gave me the feeling of being able to grow something and maintain it. And what a wonderful feeling if you could use something, that you've grown yourself. Besides, chives are so versatile, you could use them in almost any dish. We use chives in soups, fried rice, egg recipes, as garnish, in fish and chicken and other meat recipes.
Since then we use the chives grown by us. We harvest, wash them, remove the roots, cook with them and place the roots in flowering pots, and the process starts again. Now we're wondering what to try next? Garlic, onions, ginger? Any experience with any of those
That's it for today.
Chasse into the backstage! 💃