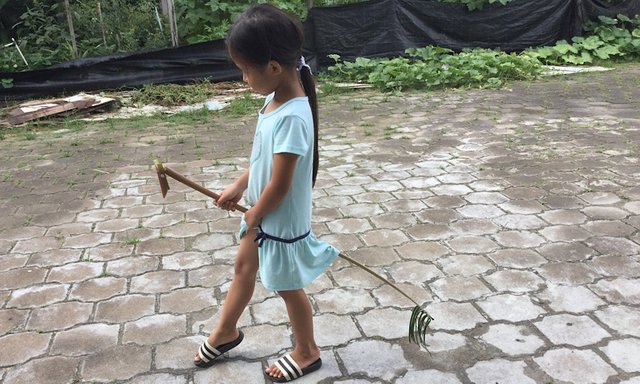 I'm 10 years old, and my HomeSchool Journal helps me learn how to post and use Hive all by myself, and much, much more.

⚠️ DISCLAIMER ⚠️
Srey Yuu's Daily Hive Journal and its template are supervised by Dad 👳‍♂️ (@justinparke).
📜 THE RULES 📜
#1 - Create this post using @RoelandP's HiveWallet iOS app.
#2 - Shoot, crop and upload an 800x480px cover image using the Image Size iOS app.
#3 - Type and proofread all your text on your own.
#4 - Write this journal at least 2 days a week.
#5 - All additional images shall be 1680x1292px.

Homeschool Journal 📓 #28

Date 📅 Monday, July 20th, 2020

Location 🗺️ Paramaribo, Suriname

🗣️ New Words Learned ✍️

English
trophies: a thing that we can get it sometimes it's made from gold only get when you win a race and others
Me and my sister have a trophy in an UNO game.
Español
vegetales: plants that we can eat but not fruits
Mi familia come vegetales en la casa..
Nederlands
dak: a roof of a house.
De dak van mijn is nu en van haar is oud.
Khmer
អតីតកាល (past) something that already done or already do something it's like past
ខ្ញុំមានអតីតកាល ច្រើនណាស់អំពីភាពសប្បាយរីករាយនិងសោកសៅ។

📸 2 Pictures From Today 🤳

     I made the swan and my mom made the pink flower. Before my friend she is a girl and she made a swan for me not just for me for my teacher and my other friends.
     My sister banana horse.🐎 before my mom also made me and my sister a a banana horse. Me and my sister love horse and today my sister made it just for her. But now it is broken because she play then she put it on the grown. Then my dad step on it.

🧠 My Thoughts... 🤔

     Me and my sister want chef toys like kitchen and vegetables made from plastic. I want to buy a bicycle if I have a lot money. Also, I want my next birthday just like this year and the cake also. I want to know what's my sister birthday is going to be like.
     I want to be a chef 👩🏻‍🍳 when I grow up like my mom and dad because I like to cook for my family and I think cook is fun.😁 I want to be a great student like my friend Sakshi and Nihour because this year I have to study class 4 again because I'm not good with history, science also about nature like planets and plants.

🙏 THANKS FOR READING MY HOMESCHOOL JOURNAL 🙏
👍 PLEASE UPVOTE, REBLOG AND COMMENT IF YOU LIKE THIS POST 📝