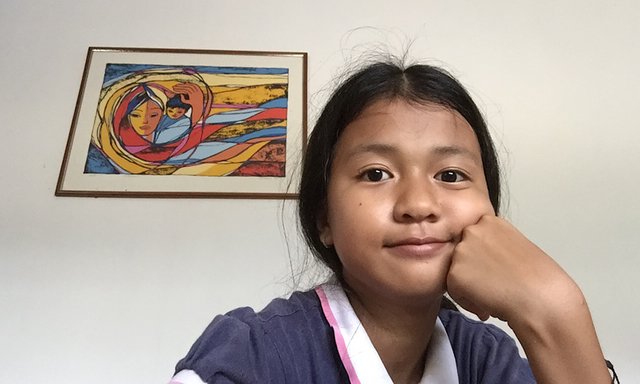 I'm 10 years old, and my HomeSchool Journal helps me learn how to post and use Hive all by myself, and much, much more.

⚠️ DISCLAIMER ⚠️
Srey Yuu's Daily Homeschool Journal and its template are supervised by Dad 👳‍♂️ (@justinparke).
📜 THE RULES 📜
#1 - Create this post using @RoelandP's HiveWallet iOS app.
#2 - Shoot, crop and upload an 800x480px cover image using the Image Size iOS app.
#3 - Type and proofread all your text on your own.
#4 - Write this journal at least 2 days a week.
#5 - All additional images shall be 1680x1292px.

Homeschool Journal 📓 #30

Date 📅 Monday, July 27th, 2020

Location 🗺️ Paramaribo, Suriname

🗣️ New Words Learned ✍️

English
cane: a plant that we eat, drink and sweet
Me and my family like to drink cane water near the river.
Español
sombrero: a thing that we wear on our head
Yo vestir el sombrero.
Nederlands
gras: plants that cows and horses eats for food
Mijn paarden eten gras.
Khmer
សុវត្ថិភាព: (safe) not dangerous safe from somethings that danger
ខ្ងុំនិងមិត្តខ្ងុំមានសុវត្ថិភាព។

📸 2 Pictures From Today 🤳

| | |
| --- | --- |
|      This is my landlord picture. She have a lot of pictures upstairs. This one is not from her draw. Her pictures are very beautiful. |      This one my mom bought from the store to make tea. I never drink this tea before I well try it tomorrow. My landlord said this tea is good for us but I don't know the name of it. SORRY 😐 |

🧠 My Thoughts... 🤔

     I want to know about my because my dad fart a lot and loud. Sometimes my dad waked my mom at night when my mom was sleeping. I want to know more about another countries. I want to know that my sister going to take her three teeth out or not because my sister scared to take of her teeth.
     I wish someday my family can go to the United States my dad is fine but me my sister and my mom is not okay. I want to see my grandpa and grandma in the United States. Also, I want to go to Paris. I know something about Paris that they have a very tasty breads.

🙏 THANKS FOR READING MY HOMESCHOOL JOURNAL 🙏
👍 PLEASE UPVOTE, REBLOG AND COMMENT IF YOU LIKE THIS POST 📝