With a temperature of 9 degrees and a windchill of 4 degrees, and thunder brewing in the background, it did not seem at all to be a good day for a gardener's swap meet. We had organised to meet at a local cafe, but with the wind whipping through and drizzling rain, we quickly retreated the mudhouse shelter across the road next to the playpark, hoping that people would see us there.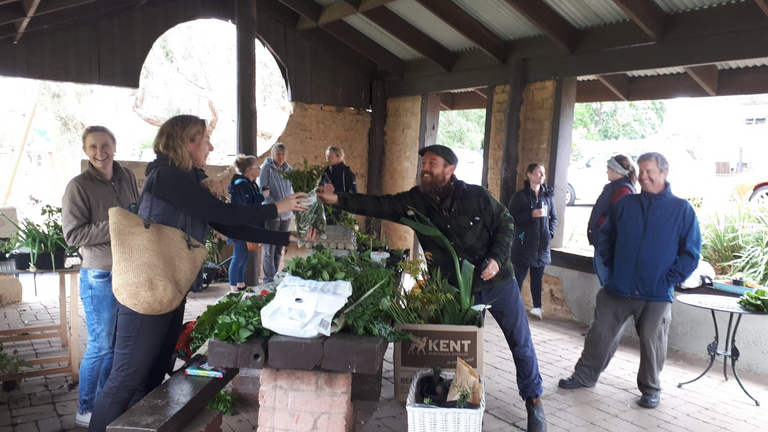 By 10.15, the shelter was full of smiling, happy faces, bringing in arm loads and box loads of all kinds of plant matter. A huge wheelbarrow of white and purple irises stood spectacularly in the corner, stealing everyone's attention as much as the tiny seedlings of tomatoes, snapdragons and purple artichokes. Big bunches of kale, silverbeet and Vietnamese mint sat bursting from bags and boxes in the middle of the table, surrounded by lemons, rhubarb, spring onions, and a huge head of lettuce that I am sure will be the feature of our salads all weekend, despite the cold. There were a few maple trees, some agapanthus, vials of poppy seeds, roses and varieties of lavender, hellebore, geranium and did I say tomato? Given the amount of tomatoes, I imagine January's meet up might feature chutney and tomato sauce! We estimate at least thirty to forty people showed up over an hour and a half, which was pretty amazing for a small community.
Thus, despite the cold, our hearts were warm! Cradling cups of coffee and chai, we marvelled at the abundance that sat before us, and the loveliness of community spirit. It was truly wonderful to meet so many people enthusiastic about gardening, and even the girls at the cafe popped over and got super excited picking up the last few plants as we packed up. I needn't have worried that no one would show – clearly, there was a need for a meet up like this to pull us out of our gardens and into a public space to chat about all things plant related. People had come from not only our town, but the neighbouring ones. Every one that turned up were super appreciative that the date had not only been set, but that everyone was so willing to share their produce, cuttings and seedlings.
It was great to see everyone almost beg for there to be another meet up, so meet up again we shall – sooner rather than later, given that it is Spring and a time of growth. We all agreed that if one cannot bring much, it does not really matter – what matters is sharing what we have, including smiles and enthusiasm. Someone also recommended we include preserves and even baked scones would be welcome – on a day as cold as this one, a few carbohydrates would have been well appreciated!
We all agreed that another meet up in a few weeks time would be great, given it's Spring and so many of us have things to share, so as soon as I got home, I redesigned the poster ready for Facebook and the local notice boards.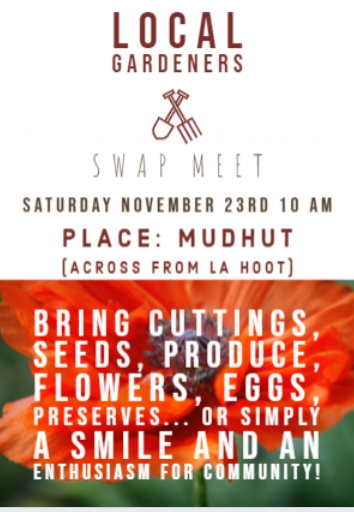 The nice thing about this was that I achieved something I really wanted to do - bring people together to share abundance. I was really quite nervous about it and ready to run a mile - I'm not the most confident of people and get a little nervous about this kind of thing, but I did force myself out of my comfort zone and I'm glad I did. Now I'm settled in front of the fire with some lentil soup and a calming tea as my hypersensitivity is feeling very intense right now - it was lots of fun to smile and laugh and have fun with like minded people, but it does rattle my nervous system a lot!
I'm really proud of myself for breaking a few boundaries, however, and doing something I believe has real value in the world. I'm also really glad to know there's lots of people around town just like me, big believers in growing your own, keeping it local and sustainable, and sharing abundance.
Folk are pretty awesome.
---
---
Have you ever organised something like this?
Have you ever wanted to, but never go around to it?