@Tribesteemup posed this question:
What steps are you taking, in order to fulfill your deepest desires?
To me having a fulfilling life full of love, peace and joy takes care of my deepest desires.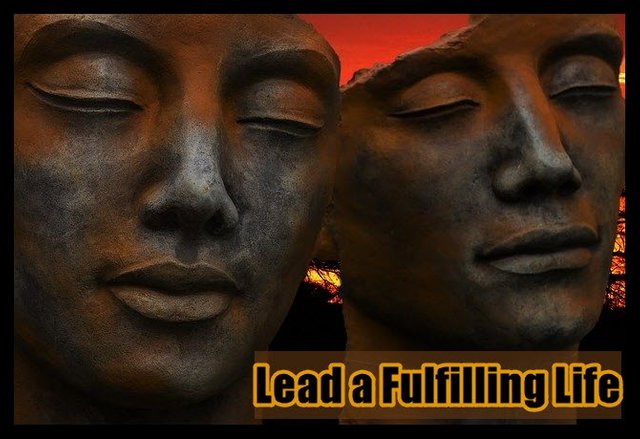 SRC
Now before we can have our desires fulfilled I think it is important to first have our needs fulfilled.
Funny thing, I have just been taking the Non-violence Communication Workshops with @eco-alex right here on Steem! It is open to anyone to join. See the latest workshop here.
Needs plays a big part in this for often it is unmet needs that makes for negative emotions that often leads to conflicts, confrontations - the opposite of non-violent communication.
A list was given in the second workshop here of the different emotions we may feel. It is separated into positive emotions, where are needs are being met and negative emotions which indicates unmet needs.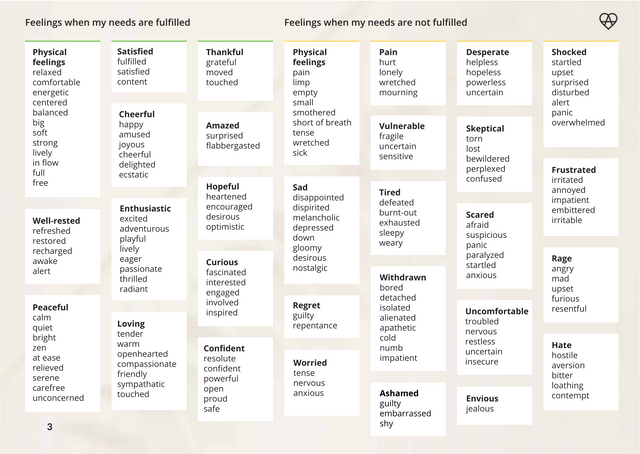 These emotions are good indicators, something we can tap into to check where we are at. This building of awareness helps to move you towards responding instead of reacting, being better able to recognize your needs so you can better take care of them.
Now check out this list of needs: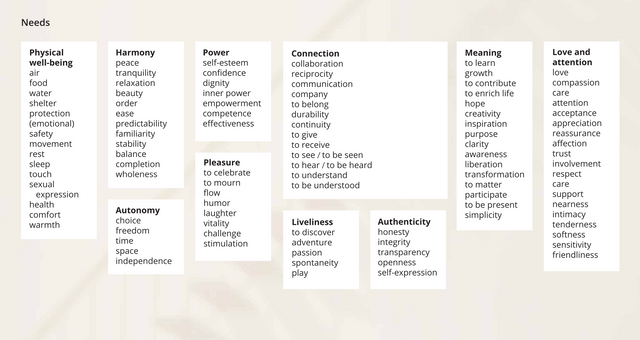 Quote from the third Non-violent communication workshop:
Remember, everything someone does or says is an attempt to meet a need. All people, no matter who they are or where they live, share the same universal needs. Needs connect us to our own and other people's humanness. It is the same thread that runs through all people, just as we all enjoy the same moon and sun.
That list of needs was far more extensive then I ever thought for needs. Can you go through and pick out what are the most important needs to you?
I did so in a previous post here
In doing the different exercise in the NVC workshops it has made me more aware of my needs with a lot of them being buried and not in my awareness.
Another quote from the NVC workshop:
Self empathy is so important in NVC, which essentially means taking time to sit with yourself to really observe how you are feeling.
With these exercises I found it important to be deeply honest with yourself for them to be effective. Being honest and not judging. It may mean feeling some pain or going through other emotions you may have been pushing down but the end results can be freeing and healing plus the end goal of the NVC workshops is to show you how you can better be able to express your needs and have them fulfilled!
Find your needs and take care of them! Join the Non-violent Communication Workshops which will move you in that direction. Here is a primer for these workshops to give you a little more understanding of what it is about.
Now with my needs fulfilled I can move on to a more fulfilling life!
I find too, being grateful, grateful for this life and all I have, allows me to enjoy it more and live life more fully!
Wishing you a joyful, fulfilling life too!
Thanks for stopping by!

Proud member of @naturalmedicine, @homesteaderscoop, @tribesteemup, @ecotrain, @freedomtribe, @earthtribe & @steemitbloggers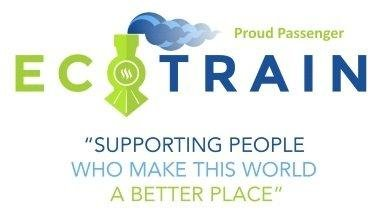 Discover previous ecoTrain magazines at @ecoTrain plus news on the Eco-Village at www.ecovillages.io


Discord
About

Visit my store - Porters Place at
https://homesteaderscoop.com/store/porters-place/

Grateful for the curation and support of
@tribesteemup