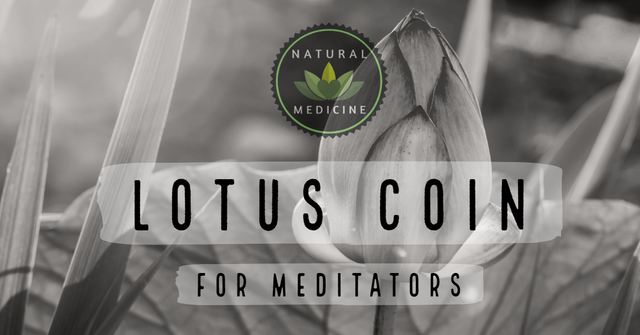 Want to earn a great new token for your spiritual posts?
If you are practicing a spiritual life, we've been encouraging you to use the tag #mindfullife so that we can find each other and share experiences. Those who can't write a #mindfulmonday post often go with #mindfullife as an option, as well as other tags such as #mindfulness, #meditation, #spirituality, #buddhism and so on.
Now, we have the ability to reward you with a token. Many of you have been dropped some Lotus - check your wallets, and stake (if you're not sure how to do that, read this post).
You can earn this token by using the tag #naturalmedicine.
When you do so, your post will be visible on the Natural Medicine front end, which really runs the same as Steemit, except it rewards in Lotus instead. Check it out here. You'll notice some of the tags you are familiar with - an easy way to find them all in the same place and be rewarded as you do!
Here are three posts you might like to read to get a clearer understanding:
Introducing Lotus Coin for The Natural Medicine Community
Want A Badge Next to Your User Name on NaturalMedicine.io to Advertise Your Blog, Business or Identity?
How to Stake (Power Up) Your Lotus Coin
@metametheus is also writing the Natural Medicine Manifesto, and you can read the first two parts below:
The badges are a great way to advertise your business or to write a quote that you love the most. I've chosen a quote by Thic Nat Hanh as mine - check it out below: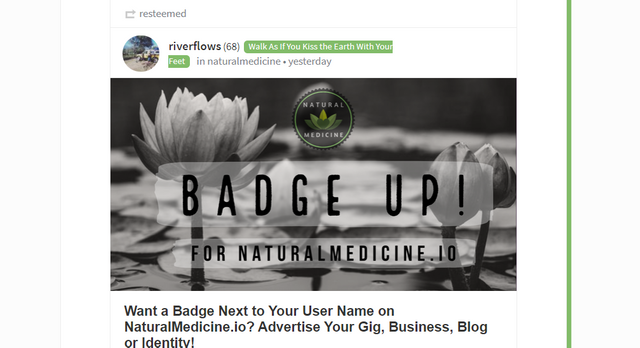 To me, it's a beautiful saying that reminds me to slow down. It's part of this longer teaching by this great Buddhist master.
"When we walk like (we are rushing), we print anxiety and sorrow on the earth. We have to walk in a way that we only print peace and serenity on the earth... Be aware of the contact between your feet and the earth. Walk as if you are kissing the earth with your feet." ― Thich Nhat Hanh

Mindful posts worth celebrating this week
@desert rat wrote a beautiful piece on surrendering and how the wild weather of climate change can give us lessons on this:
At some point, you reach the apex of your ability to prepare. And then you wait. You gather your vises (hello bourbon, chips and cannabis) you collect all the books, crafts and Netflix binges (until the power dies) and you wait. You worry. You wonder. Your life is segmented into the 4-6 hour blocks of updates from the National Hurricane Center. You contemplate the worst case scenarios and do a mental rundown of your emergency go bag (the bag you keep next to you in case you have to dive into the closet and pray the roof stays put) and then you try to find stillness. The stillness in that surrender is the hardest part of it all. Keeping anxiety at bay and embracing the fact that the Universe has a greater plan for you— or not. At least not on this planet.
@sallybeth yesterday dropped a relaxing video which uses AMSR. Have you heard of it?
@saun wrote about kundalini awakening. Are there many kundalini yogis here on Steem?
@alamayofaquilay writes of some tips for silencing the mind - something I've found hard to do whilst I've been excited about Lotus Coin this week! How easy it is to be addicted to our thoughts!
@rafadezelanda 'rants' about mindfulness in a video on his blog - haven't had chance to watch it yet, but if I know meditators, it's likely a good rant! I notice he also used the tag #vipassana. Who here has completed a 10 day vipassana course? I know some of you have done years and years of meditation - would love to read more about your experiences and insights!

And in other news...
We are shifting our weekly posts to TUESDAYS!! We found so many great posts came out on a Monday, but we didn't get chance to reward them or talk about them here, because they were post payout. Tuesdays make better sense to us.


Mindful Life is a space within Natural Medicine whose aims are:
• To unite meditators across the Steem blockchain so that we can share and strengthen our own practices
• To provide a space to discuss the philosophy, science and practical application of such practices in our lives
• To inspire and motivate each other
• To provide support if we might be struggling, connecting with like minded people who might offer solutions
Entry is minimum 20 SP for those under 500SP, and 50SP + for those with a bit more. This makes you a full member of @naturalmedicine and all it's benefits. It's free for those under 100 SP.
Did you know that Natural Medicine has it's own front end - https://www.naturalmedicine.io? By using this front end, you not only earn our native token 'Lotus', but can find other like minded folk posting on everything from herbalism, meditation, healthy eating and essential oils, to homesteading, cannabis and environmental health. If you'd like to delegate to show your support of natural healing wisdoms, and recieve benefits from upvotes to great contests and prizes, and help support us curate worthy content, please click here!