Hola, setero! Today I share fresh mushroom impressions from an occasional encounter I had 3 days ago. I met some impressive fungi at the cemetary! But let me start from the very beginning.
So, 3 days ago heaven sent me a sunny day; I equipped myself with 16-35mm wide lens, took my manual fifh-eye 16mm Zenitar lens (in case for a possible wish for some artsy hanky-panky gobbledagooks) and did not borrow my 150mm macro lens, cause I really wanted to restrict myself from sightseeing and focus on the primary mission. My primary mission was the Novodevichiy Convent's Necropol, and it was completed successfully (I made about 200 captures, after some editing I plan to share them in a series of travelfeed posts).
The good thing, that I stumbled some excellent mushroom-conquered locations which I simply could not ignore... I used my 16-35 mm lens, and know what? it is capable of doing a great macro! (well, if the object is big enough, of course).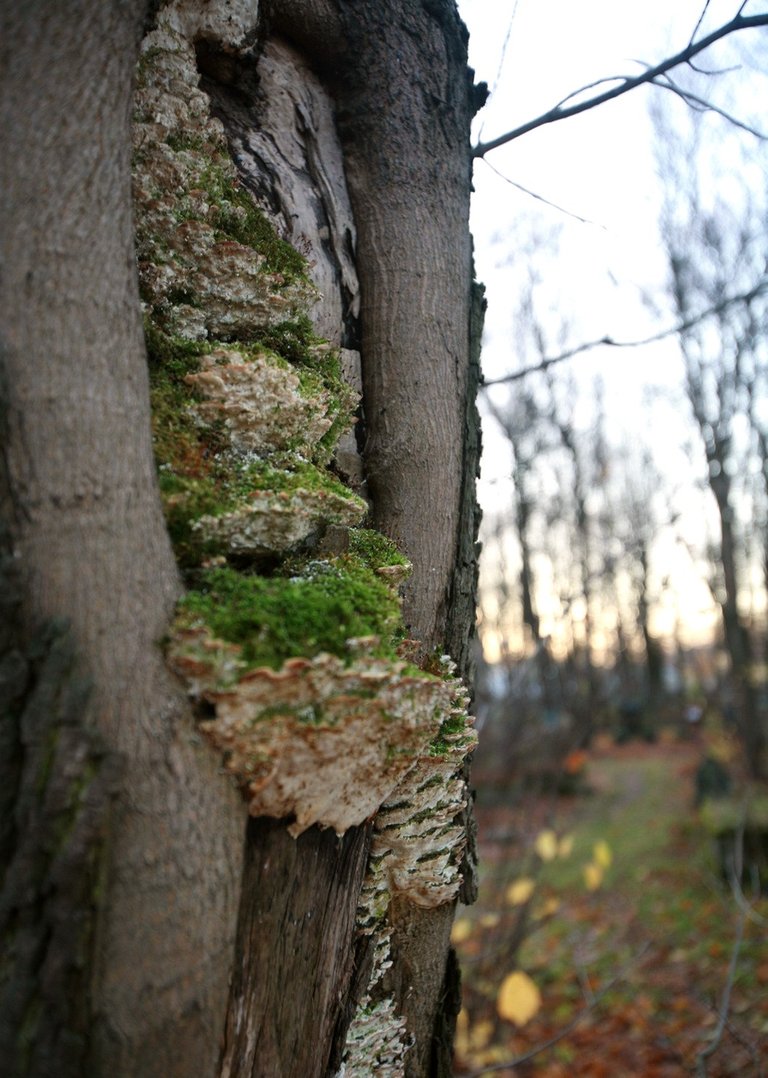 The bad thing, one of this encounters was a high tree -- and having no tele I had to balance on my tiptoes and lift the camera as high as possible, to shoot something blindly as closer to the object as possible... (it was a splendid picture of me, I wish somebody shoot that moment!)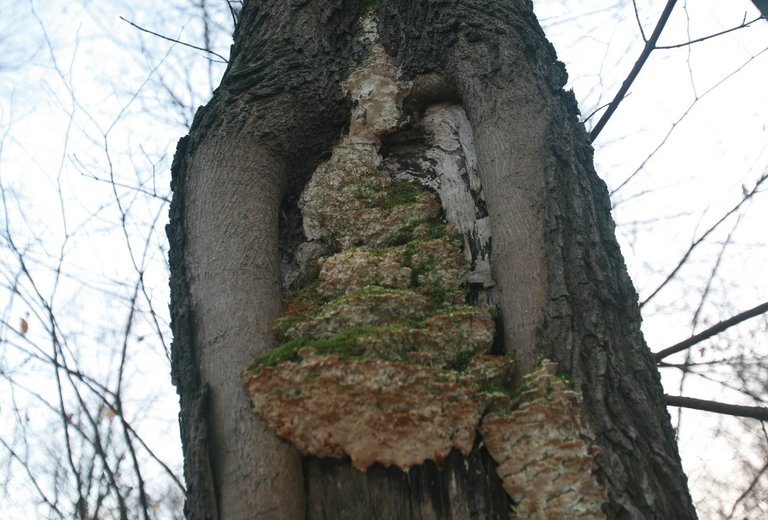 This was my 1st take. All the rest are blind takes, with random autofocus and bracketing.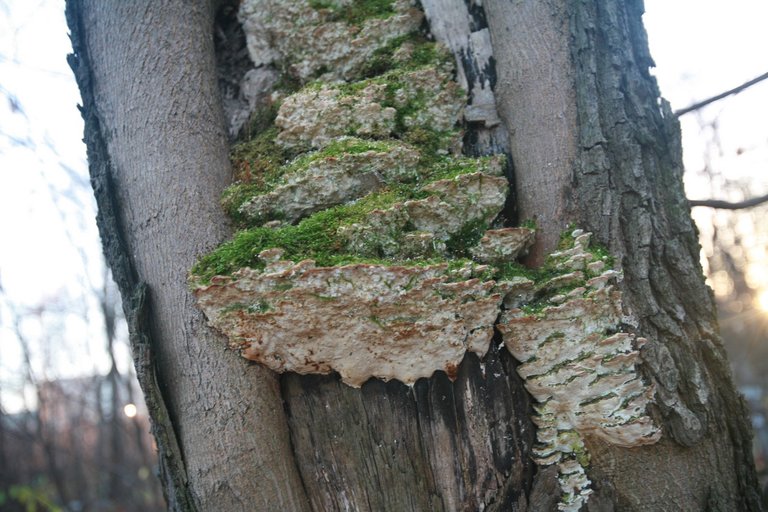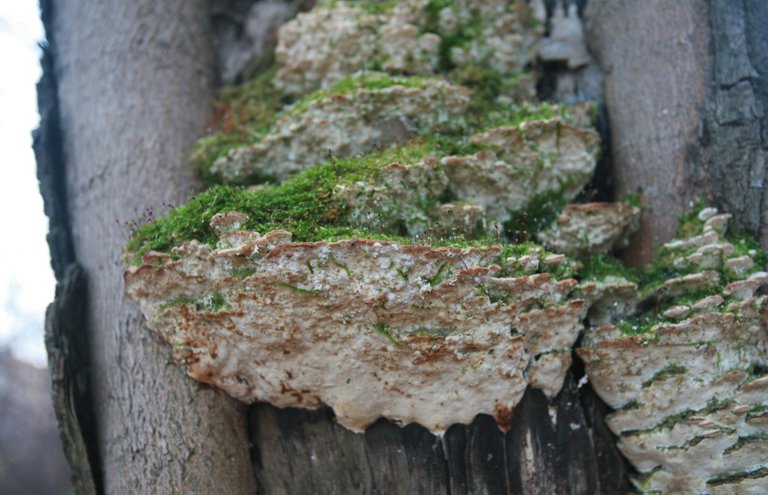 This one I consider to be the best result, the closest one to what I saw with my own eyes and what triggered me: the moss field growing on the fungi surface, like terraces with crops on the mountain slopes in China. Blind shot, remember! Totally the work produced by my camera's AI.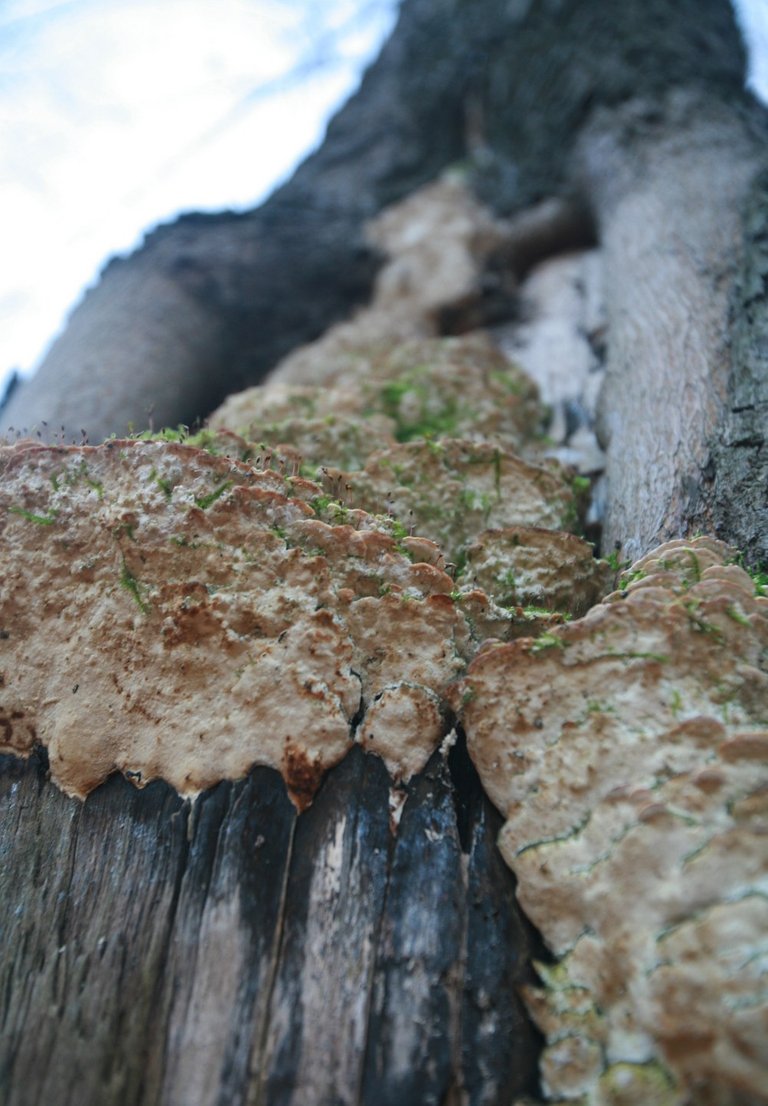 This one is even more closer (thanks to my tiptoes!) and maybe even better macro, but a less intresting visual, i.e. less reminding the said terraces / hanging gardens.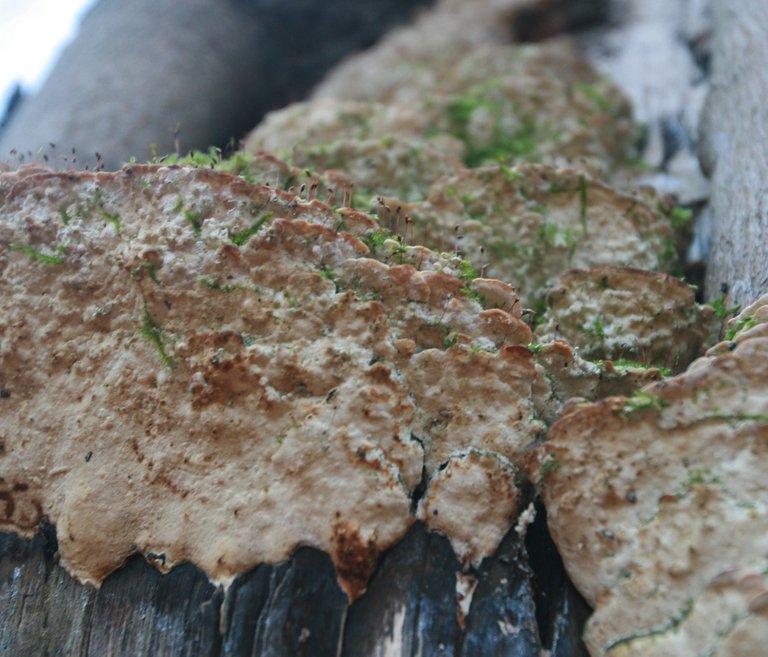 Maybe I could comeback there to shoot exactly that one tree one more time, with a dedicated tele- lens... but probably I am too lazy for doing that, besides that I came home with some pics that seem to cover the subject.
Why did that spot triggered me, that fungi mushrooms itself arent that rare and unique - quite simple wide-spread tree polypore? But look for yourself, and you get me. Those ordinary tree mushrooms attacked the tree for so long, they really had time to capture the territory and seems they had no natural enemies ( except of photographers :))
So, they built something reminiscent of the Hanging Gardens of Babylon (one of the wonders of the antiquity epoch, as you must remember from your school history lessons).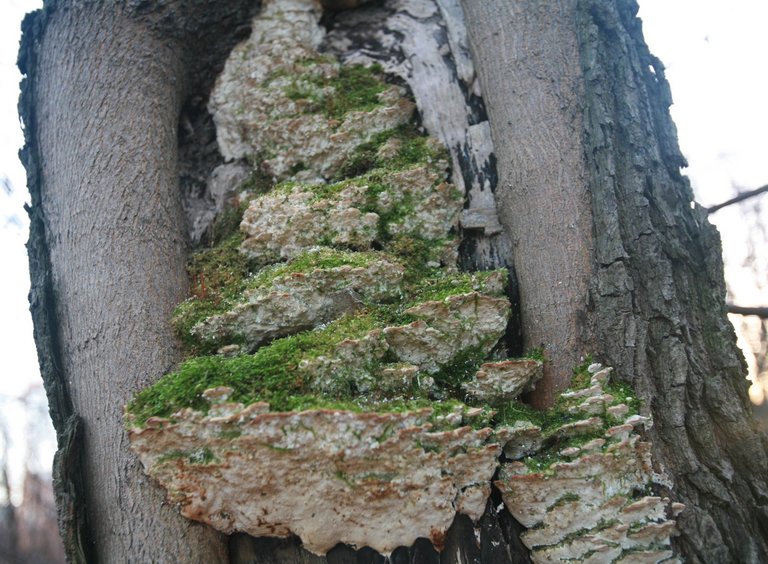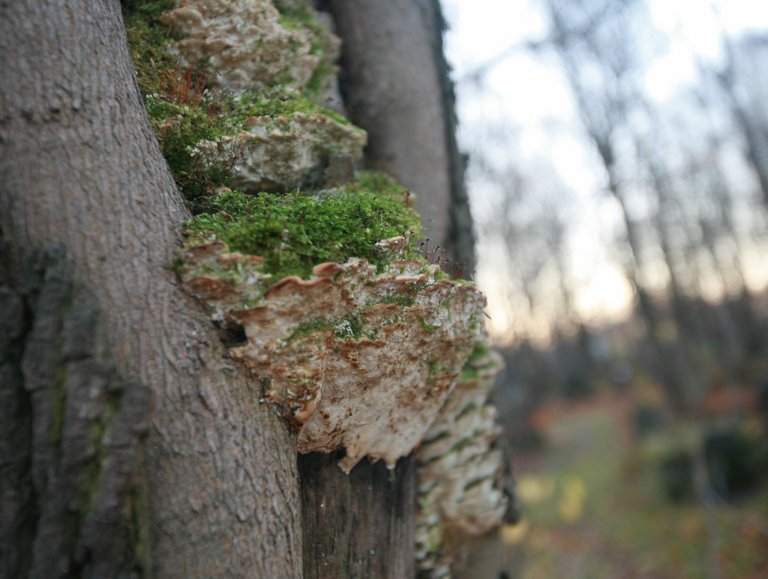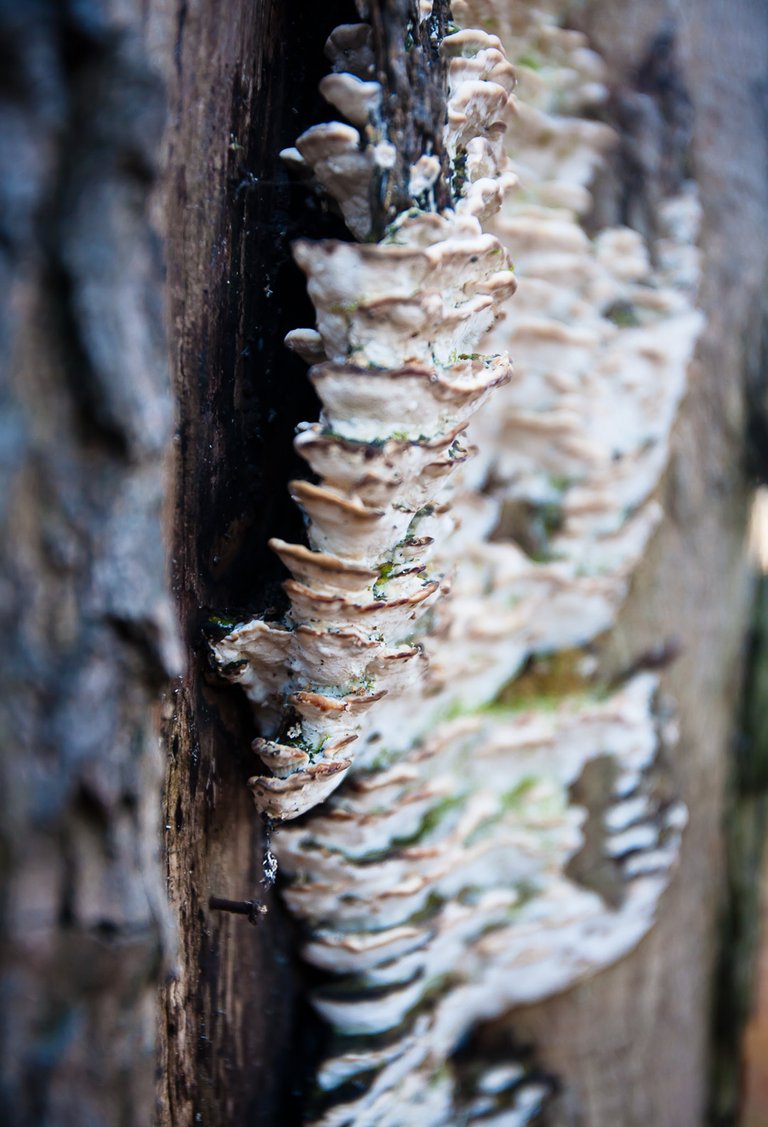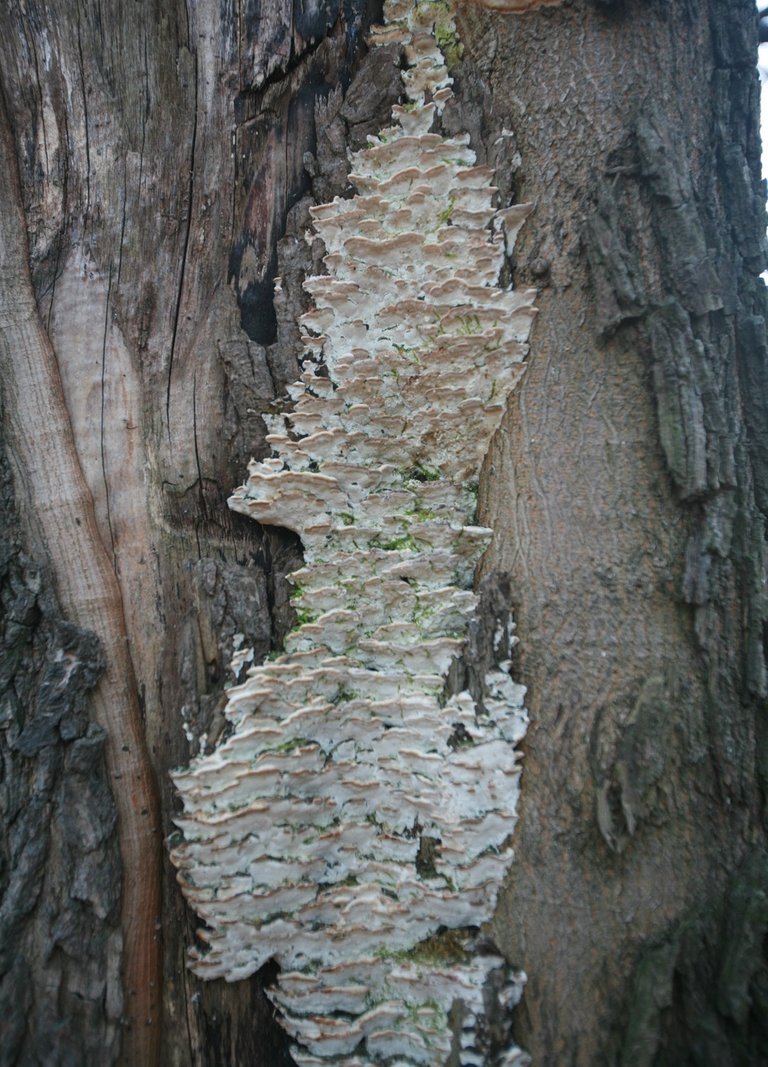 The mushroom army on its rush.
Since they have been there for a while, and they are not going to move anywhere else...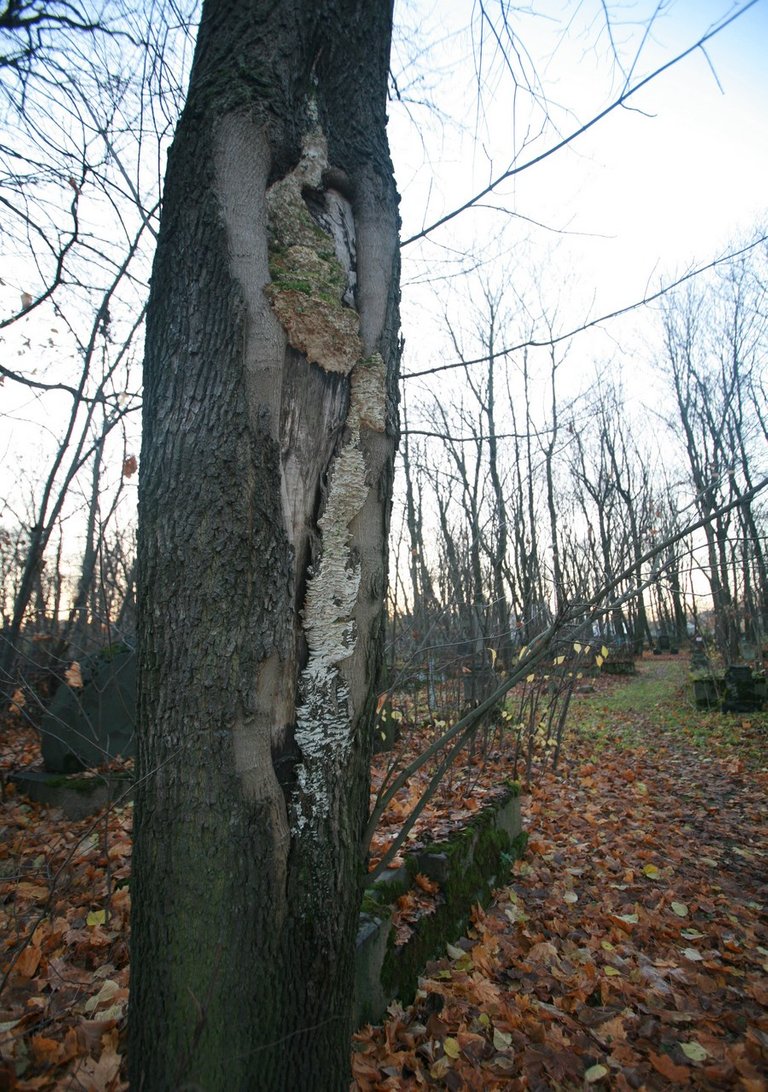 ... they served as a substrate for the moss that grew on top of the mushrooms. These are real hanging gardens, grown on mushrooms that are hanging from a tree! Isnt it cool?
Well, my shots arent perfect, I admit, I had no macro lens and it was hard to make a proper capture of that distant object with 35mm... I did my best -- hope you appreciate it.
---
Another tree polypore mushrooms I found at different spot, were mostly curious for their size. And for their cemetary-origin, of course: why, would you guess, they reached such a huge size?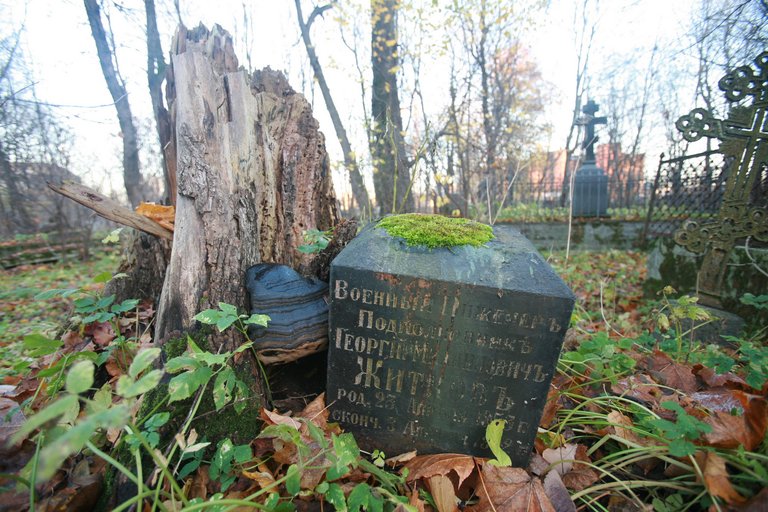 Those really were the biggest tree fungi I saw in life - comparable with the size of my head.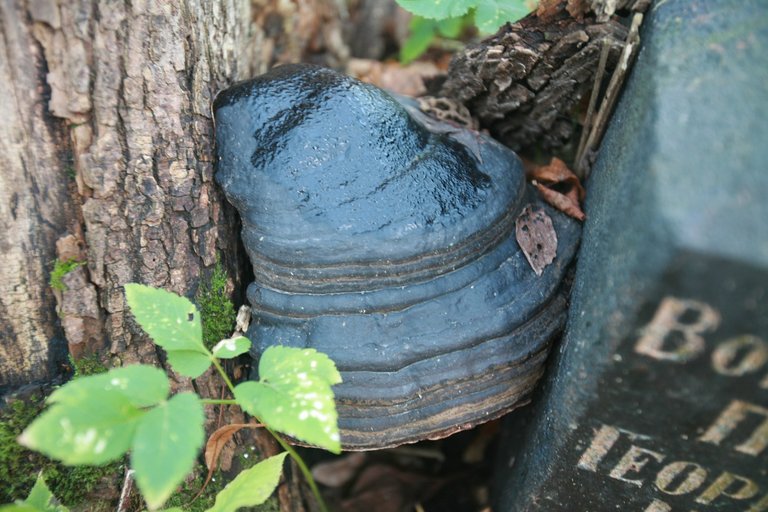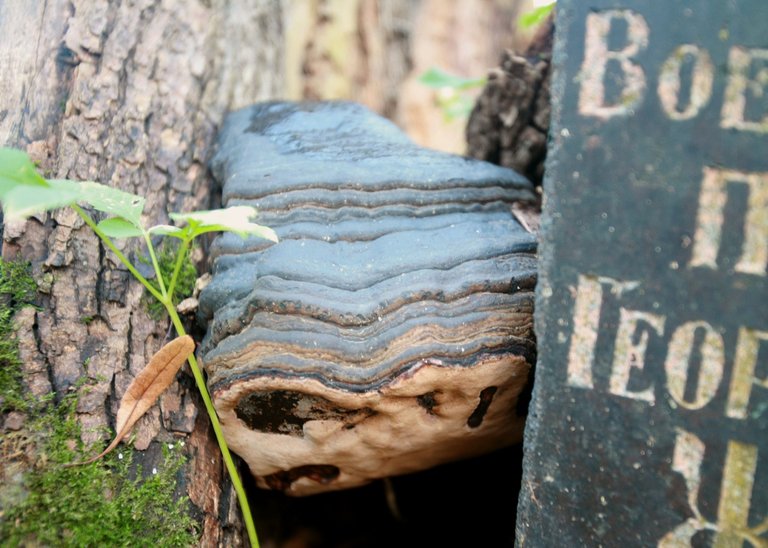 Probably, a good nutrition has something to do with their size. maybe, they received something extra from the corpses? At least this silly assumption could not but came into my head, and stuck there!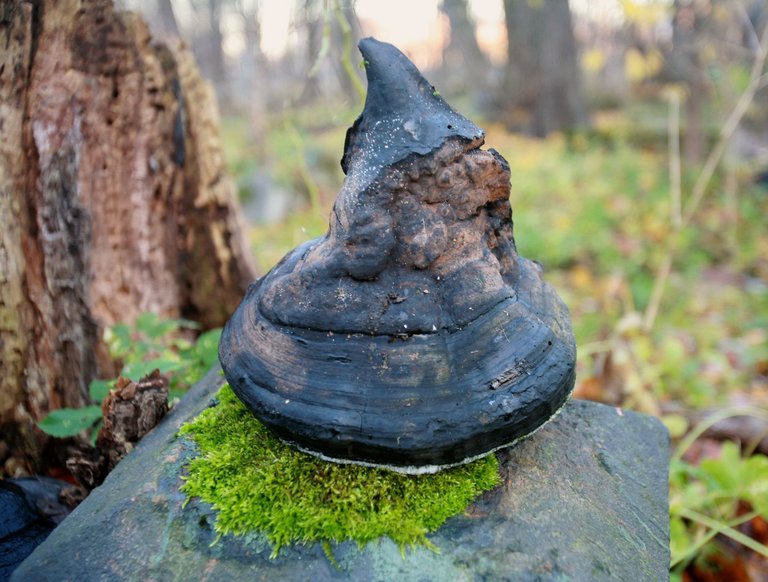 My new 16-35mm macro lens has an excellent bokeh, as you can see.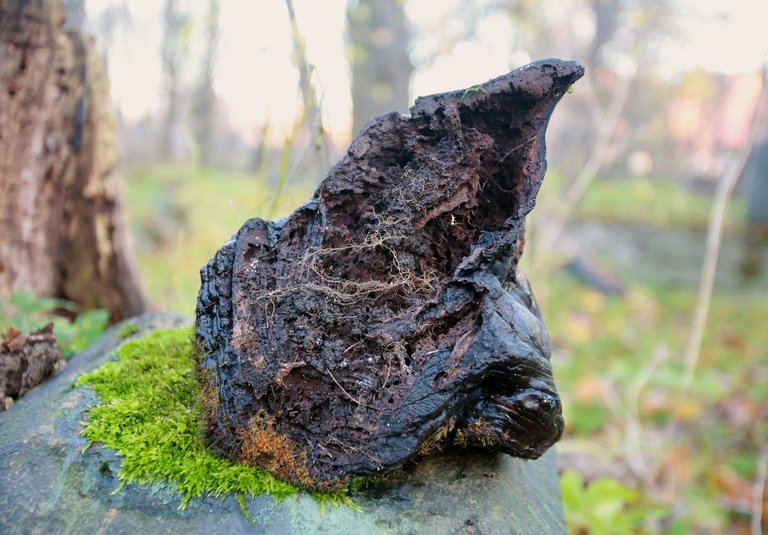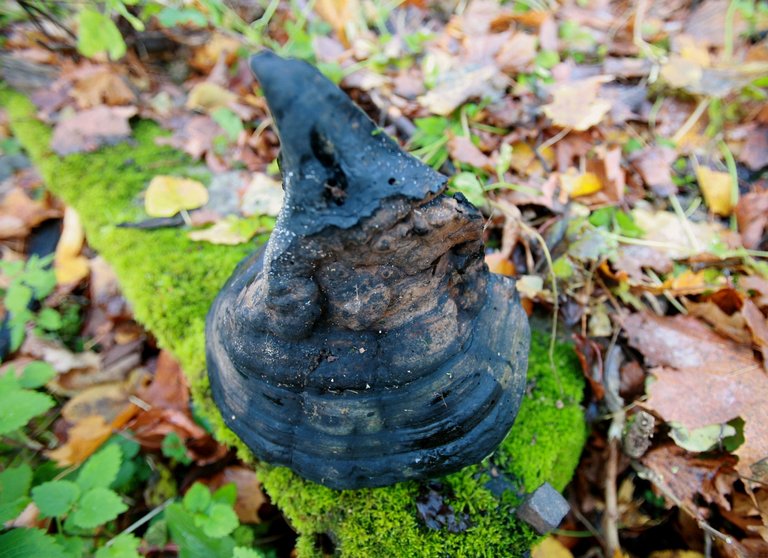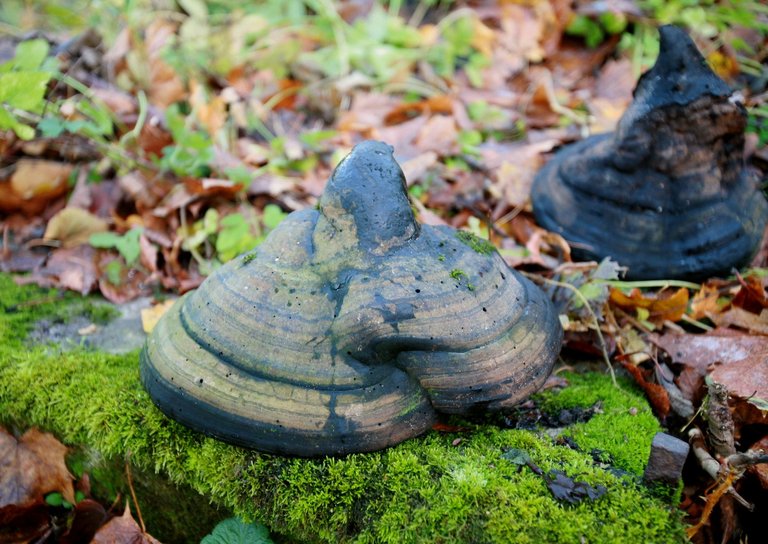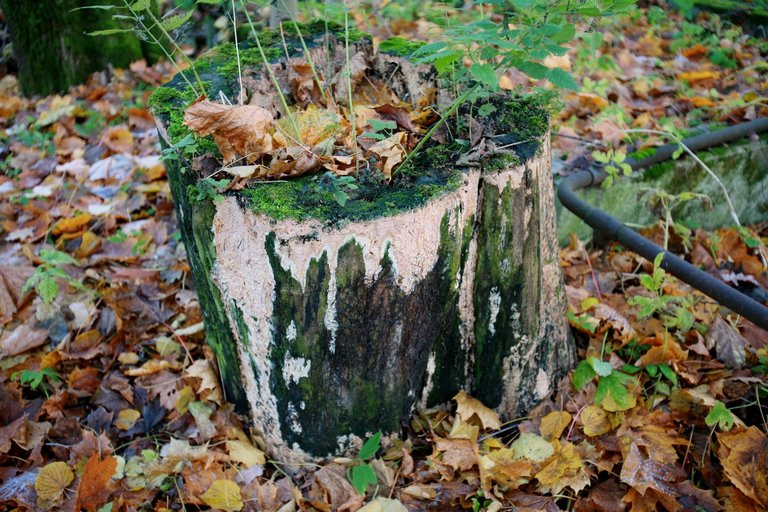 White traces on this stump is a moldy mushroom too. But it do not look intresting or sympatico even with the help of dedicated macro lens.
Ok, this was all I've got. See you next time in my splendid longreed about the said Necropol.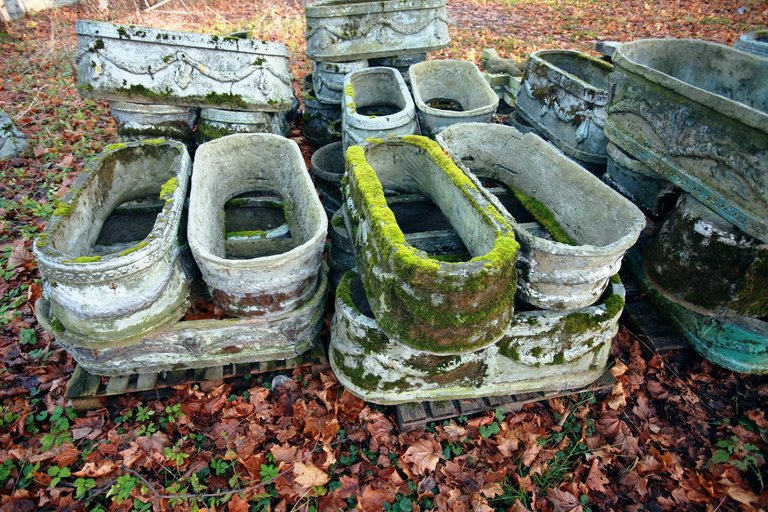 Now, its time to part ways, I wish you good luck -- and Good Hunting. oh, and Happy #FungiFriday to you!
I hope many of you will join, as there are only 2 simple rules:
when Friday comes, share your fungi with us! post your own, original photo/drawing/art/food/anything-at-all of any type of fungi (yes, stolen images will be checked and reported !)
add #fungifriday (not necessarily must be your 1st tag). that's all!