I had been thinking all morning about yummy shiitake mushrooms and dark greens, sauteed in butter with garlic and a little chili in the wok. Craving may well have been an understatement. Several days into my first ever case of shingles (self pitying sob!), however, I was exhausted and loathe to go out to find some. But circumstance (mostly the lack of a wife or houseboy and a teenager defiantly spending Sunday in her PJs) eventually pushed me to go shopping.
And there they were. Shiitake mushrooms! Yummo! And uber cheap. (USD $1.60 for a big bag that fed us both, with left overs for tomorrow's lunch). Asian monsoonal weather is intense and so full of floods, storms, sweat and drama; the up side is an incredible abundance of cheap fresh vegetables, fungi and fruits. Sort of a soggy Garden of Eden.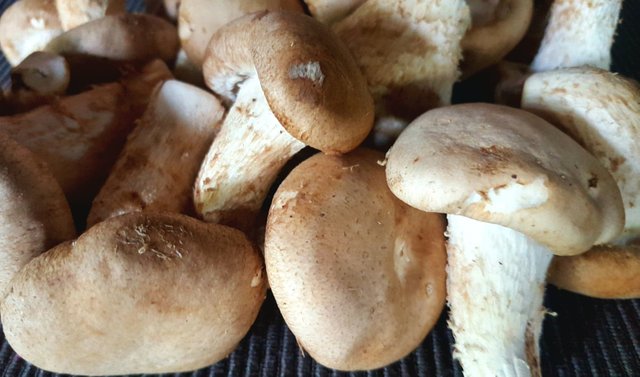 It's hard not to know that shiitake mushrooms are good for you, but despite having known that for very many years, I really didn't know good for exactly what, or why. And so I spent a gentle Sunday afternoon horizontally convalescing, reading mycology websites and clinical studies and generally educating myself.
Turns out my 6th sense was SPOT ON!!
Shiitake mushroom (botanical name: Lentinula edodes or Hua Yu in Chinese Traditional Medicine) is a super immune boosting food because it contains:
The essential amino acids lysine, arginine, methionine, phenylalanine & linoleic acid
Lentin - a protein which has anti-fungal properties
Ergosterol - a biological precursor to vitamin D2, thought to possibly have anti-tumor properties
Potassium, iron, magnesium, and zinc
Antioxidant selenium
What's on my shopping list for tomorrow - ironically, a lysine supplement to help my body deal with the viral debris of my childhood chicken pox, which can come back in later life, under stress, as shingles (Who knew? I sure didn't). Turns out there probably couldn't be a better food for shingles than shiitake. Substantial, bio-available levels of zinc, selenium, the vitamin D precursor and lysine (all critical for immune response) in one easy to prepare, natural, organic food? Mother Nature's Pharmacopoeia was PERFECT in her prescription.
Shiitake mushroom extract is one of the natural medicines used to manage HIV. "Regular L. edodes consumption resulted in improved immunity, as seen by improved cell proliferation and activation and increased sIgA production." Source..
But there are some other amazing things to learn about fresh shiitake mushrooms.
Shiitake mushrooms are clinically proven to be helpful in the prevention and treatment of obesity and its related metabolic disorders. Source. Struggling with your weight? Black rice & shiitake mushrooms a couple of times a week would be an easy, natural and tasty choice.
Shiitake has been shown to lower blood serum cholesterol levels AND to reduce blood pressure.
The anti-inflammatory compounds found in shiitake also make it an essential food for helping to manage and heal inflammatory conditions including rosacea, eczema, and acne.
But ALL of these amazing natural medicine uses pale beside the shiitake's most-radical use: as a specific anti-cancer treatment. A polysaccharide derived from shiitake, lentinan, has been extensively studied is used in an injectable form in some countries to treat cancer.
Amazing. And I bought my medicine at the fresh market not 5 mins walk from our house, for under $2.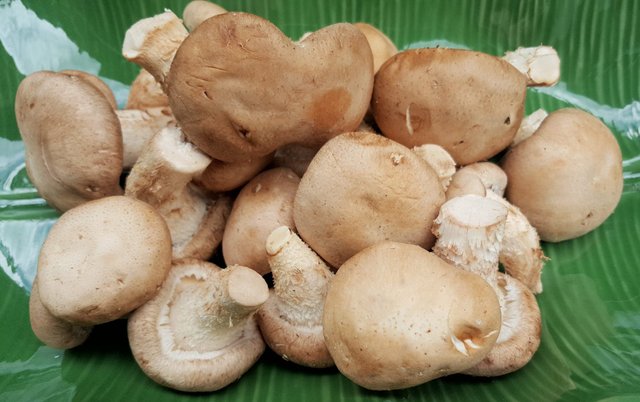 So if they're such an amazing natural medicine food, should we be eating them every day? Actually no. Like so many natural medicine foods, over-consumption of shiitake has been shown to be detrimental. Specifically, gorging on shiitake every day will lead to dermatitis, photo-sensitivity, an upset stomach and increased eosinophil counts. (Eosinophils are a type of white blood cell which are present in allergic reactions and inflammation). Sadly, as yummy as they are, shiitake mushrooms need to be eaten occasionally by healthy people and used more specifically as a natural medicine food.
Listen to the promptings of your inner witchy healer - I'm sure glad I did. Dinner was yum. Sliced shiitake, garlic, a sliced chicken breast and a huge bunch of fresh, organic,Thai, dark green, young kale - all sauteed in a little butter with only salt and a few dried chili flakes.
BlissednBlessed in my Thai natural world, and starting to feel better.
---
Come check out my natural Thai herbal business…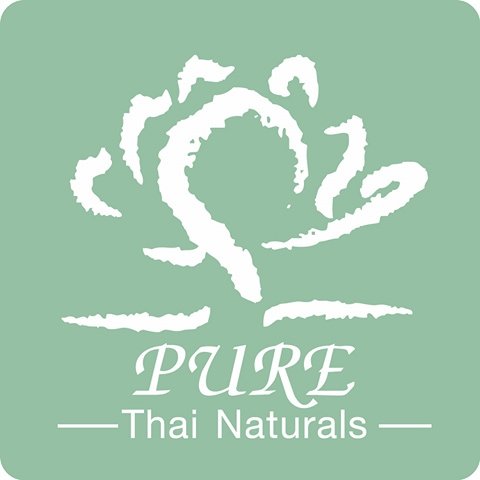 Pure Thai Naturals
@ecoTrain Quality Eco-Green-Sustainable Content on Steemit





Proudly contributing to @naturalmedicine




Grateful for the curation and support of @tribesteemup




Celebrating and encouraging Freedom, Truth, Happiness, Life and Love with @freedomtribe