The wheel has turned again on our journeys around the sun. Here in the Northern Hemisphere, we just passed the summer solstice, or the longest day of the year. Saturday's astronomical holiday was everything we could have asked for here on our little homestead. We observed silence until noon as we prayed for peace, we ate watermelon, we sang, we had fire and communed with a few friends to celebrate the wheel turning, our son's 7th birthday, and the traditions of our Katuah Family Gather. It was strange to be at home as we do our best to attend our annual regional rainbow gathering centered around the solstice, but our home is indeed sacred ground so it was easy to still share in magic and love.
I realize another month has already passed since last I wrote a Hive post and shared some of my own natural medicine with my global community. It's not that I don't want to share with you all, it's just that in the warm weather it's so difficult to find (or make) time to sit in front of a computer! Now that I have finally made myself sit still, I am going to give you all a little peek into my own private heaven.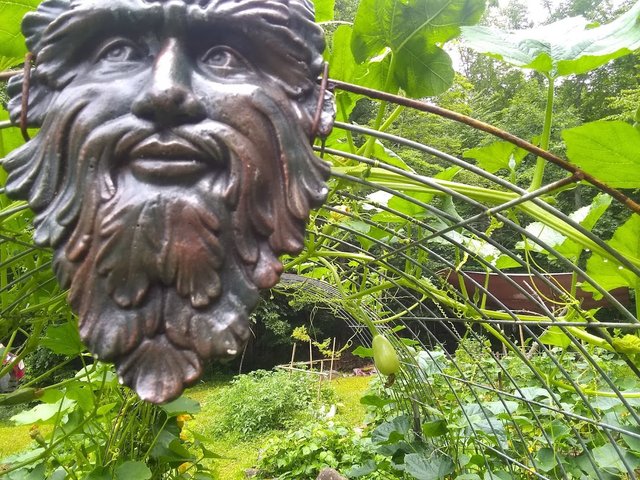 @cassidydawn asked us to find somewhere to hang this amazing greenman in our yard. My partner Rabbit hung it from the squash arbor when we were building the bed this spring. I have been impatiently waiting since April for his "hair" to come in ~~~ but not anymore!!!
While I cannot capture the entire garden without a panoramic view, the picture below will do for your understanding of our sprawling little chaos. We are using a raised, no-till method of beds for our garden. There are beds made with pallets, beds made in the hugulkultur style, beds made with stacked rock and waddle sides, even beds made with just random pieces of logs and cinder block. Anything that can hold the soil in one place and won't leach something into the soil is perfect.
While the photo below may be "messy" looking, keep scrolling to find some lovely treasures amongst the rambling ...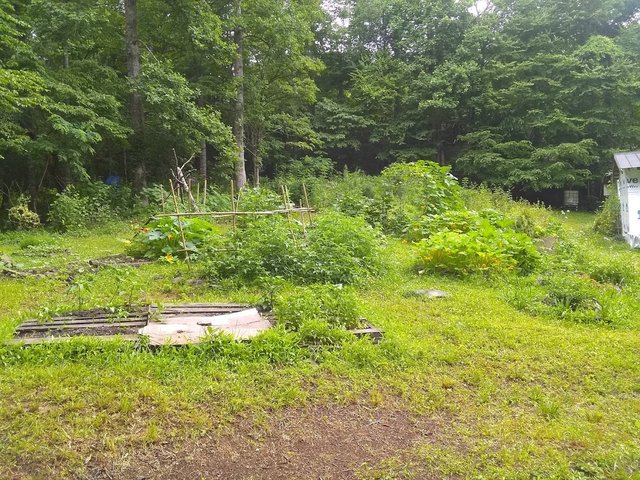 We have planted a random assortment of bush beans and vine beans. Basically when I was soaking the seeds, I just made a jar with each and soaked them all together by type. Our homestead is small enough that it's impossible to keep cross-pollination from happening anyways, so I didn't see the need to plant all the varieties in separate beds. I will find out soon enough what variety this baby is ~ based on the length at this early stage it's probably some of my long ones! It won't be long before we are harvesting lots of beans for eating, canning and more!!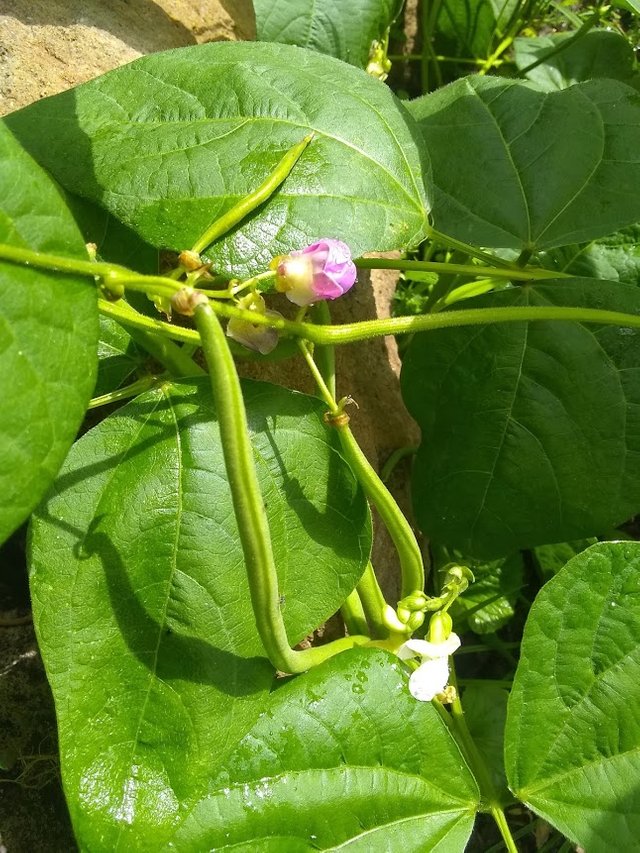 I found a baby praying mantis on my lemon balm, just dancing away in the late morning sun! This is the first one I have seen this year, but I know if there is one baby there must be more close by.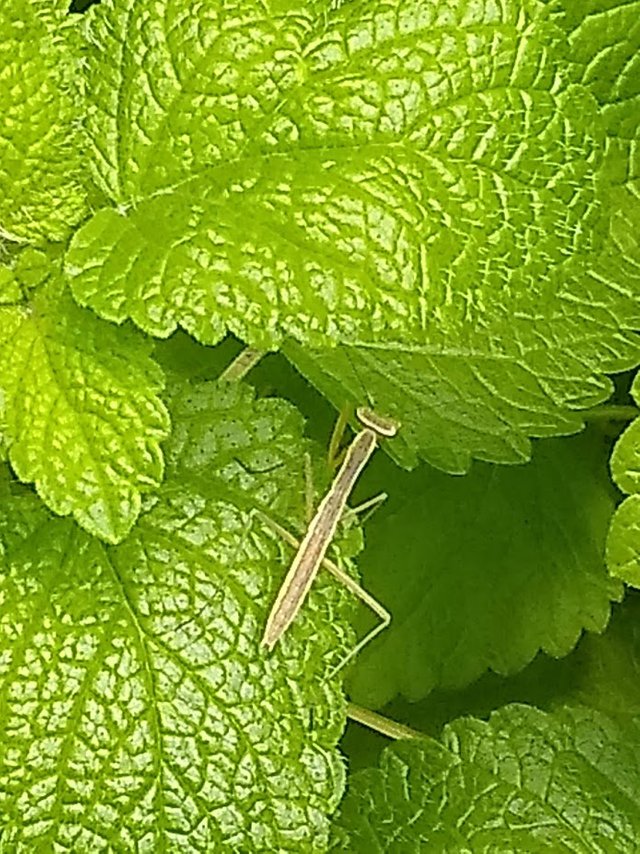 My little basil bed was made by throwing some old wood and rocks in a rectangle shape, filling it with soil, and adding lots of basil seeds. Basil is one of the herbs that I can never have enough of! If you look to the back of the picture, on the left you can see the lemon balm/lemon thyme patch where the praying mantis was, and to the right is a thick clump of another variety of thyme (I forget what kind now, it's been a few years and a lot of planting since then)!!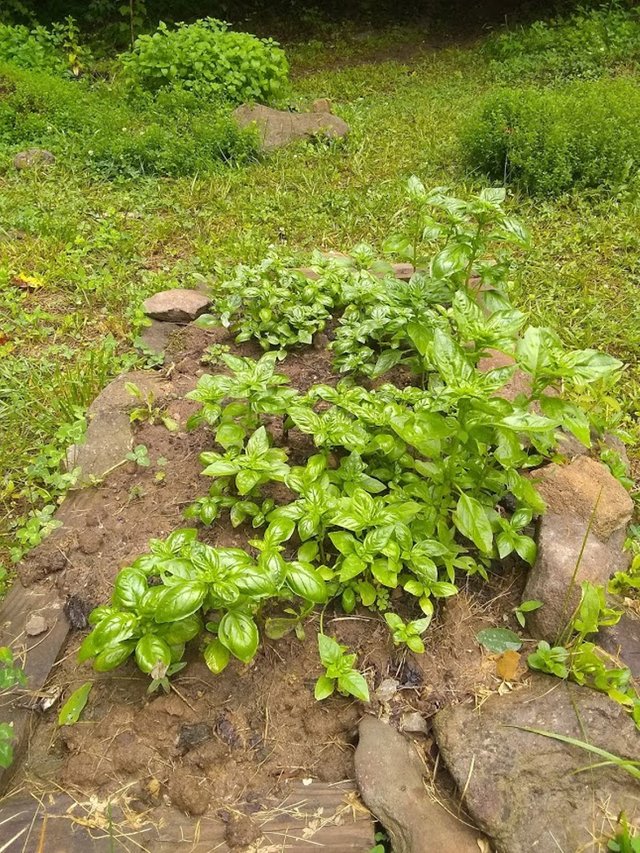 Borage might be my favorite garden flower. They are delicate, beautiful, tasty, and wonderful companion plants.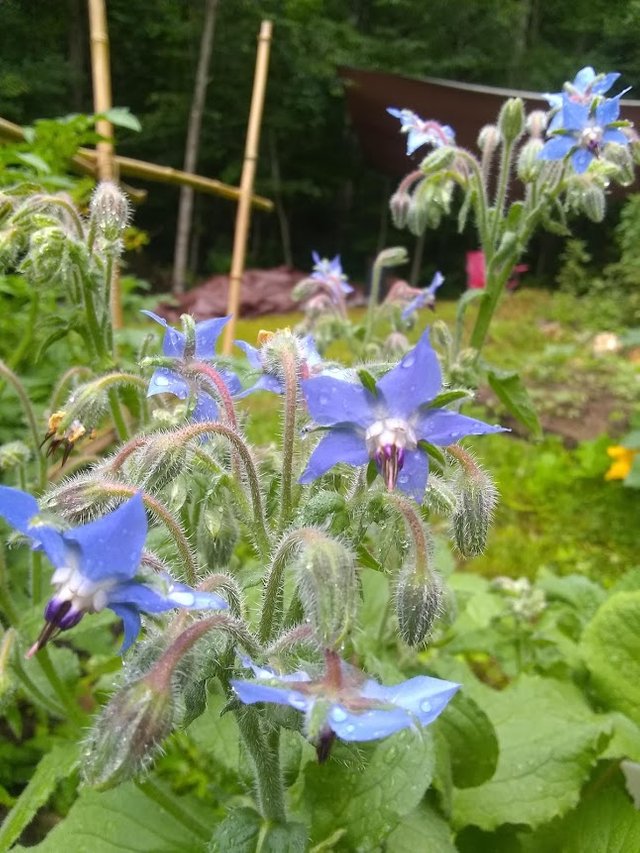 The next three pictures are a raised bed we created several years ago. This year might be the most variety I have had in it. Early in the year volunteer mustard greens came up and were the first harvests I got in 2020. I planted it with onions, orach (the red leaves), radishes, lettuce mixes, and a Japanese green that is similar to spinach. The radishes are finally done for now, and we have left a lot of the greens to go to seed. As you can see it is extremely happy with the crowded space! Another bonus is that there are several huge tomato plants in it now, also volunteers from previous years. I can't wait to see what variety they are! I expect this to be feeding us all the way through fall with continuing diversity, color, and deliciousness, and for this bed to continue to produce random volunteers (which are my favorite garden plants)!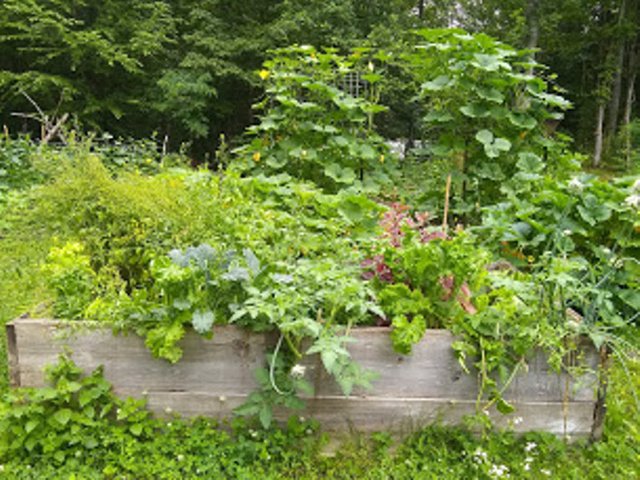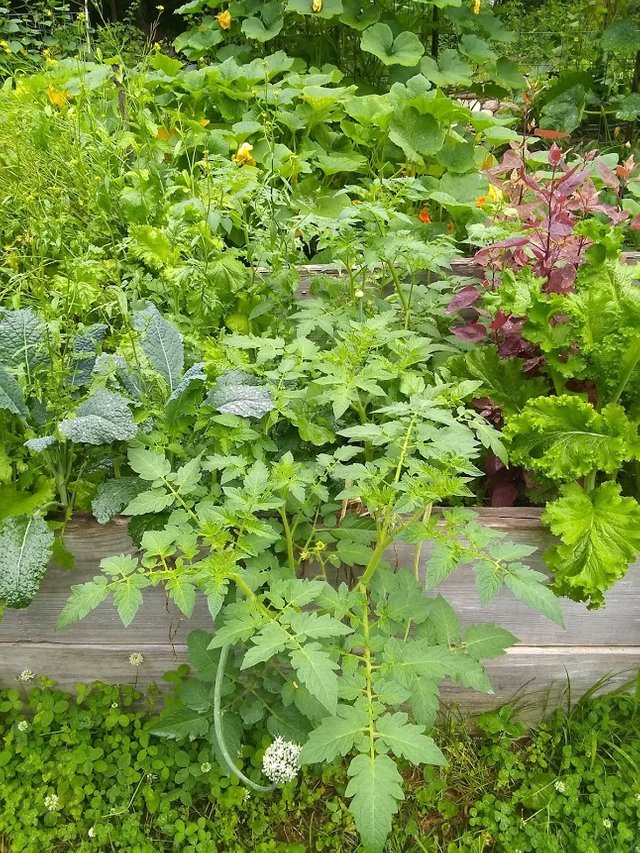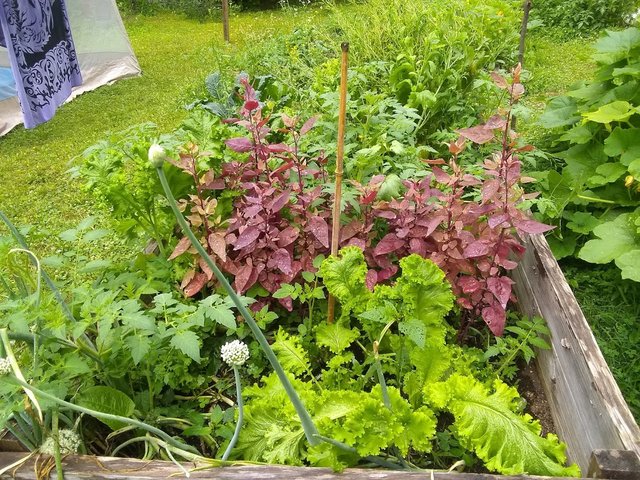 Here's a sneak peek into one of the bush bean patches. There are plenty of flowers and this bed also has baby beans starting!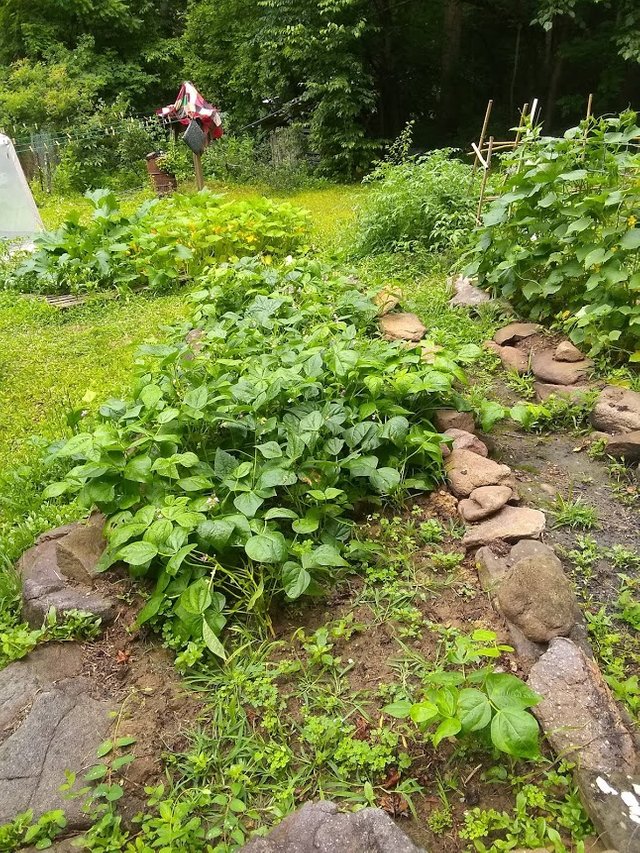 This little clump is my six cayenne plants. They are bushy and full of baby peppers. While my bell and poblano peppers seem to be giving me a run for my money this year on getting them to grow healthy and full, the cayenne and habanero plants are happy at least.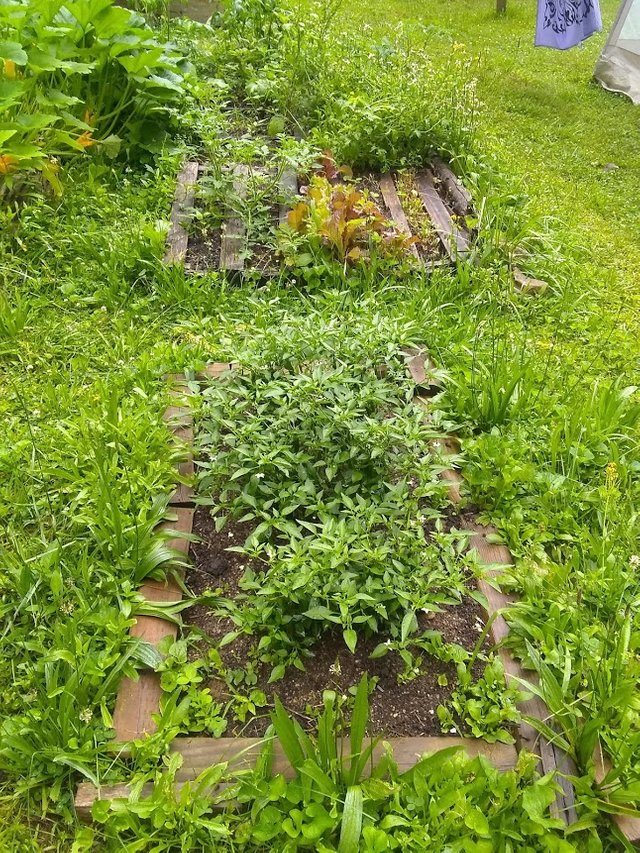 I have no idea how many tomato plants I have but I have a special bed just for my favorite, the heirloom cherokee purple tomatoes. this triangle shaped bed has not only cp tomatoes, but also nasturtiums in the corners and basil between some of the plants. I find immense joy watching these friends grow together.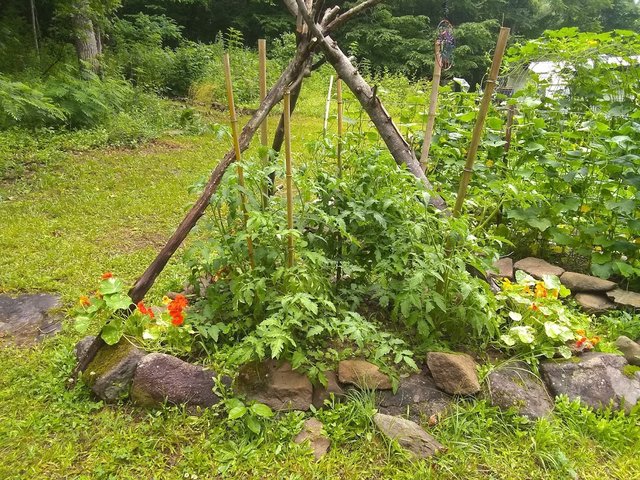 Look at this baby cherokee purple tomato, glistening with morning raindrops! I can't wait for the first ripe one, I might just eat it like an apple!!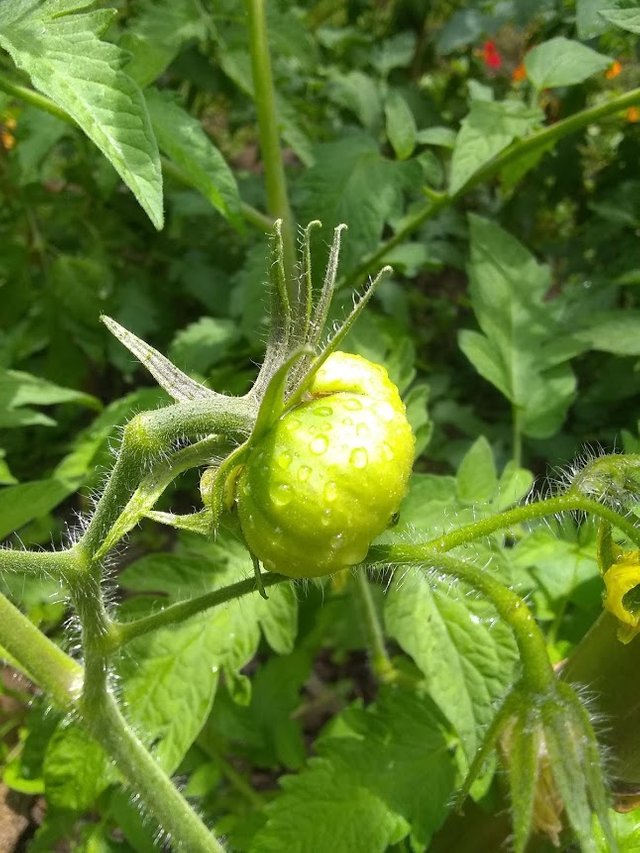 You can't tell with all these tomatoes, but this is a crescent shaped hugulkultur. It is filled with chocolate pear tomatoes, yellow cherry tomatoes, and some green striped zebra tomatoes (also cherry-sized). In case you are ever in need of a good supply of heirloom seeds, I get most of mine from Baker Creek as they have a huge variety from around the world and give amazing descriptions and photos to go with all of their inventory! I highly recommend you at least check their website out, and if you are really interested you can get them to send you an actual catalog. I get one every year and I call it seed porn. It's the best catalog ever!!!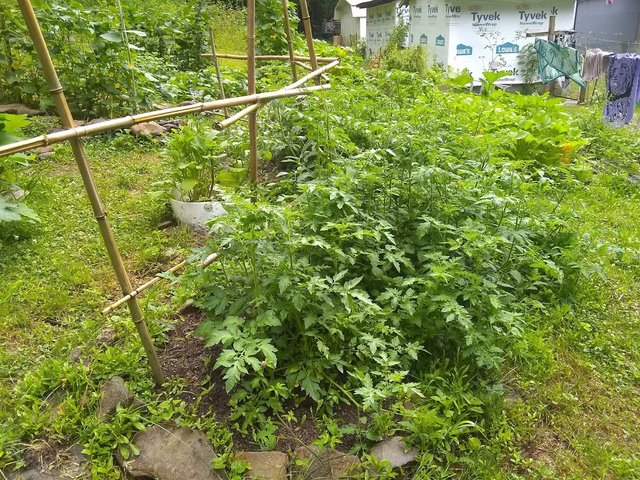 This chocolate pear bloom is just gorgeous!!!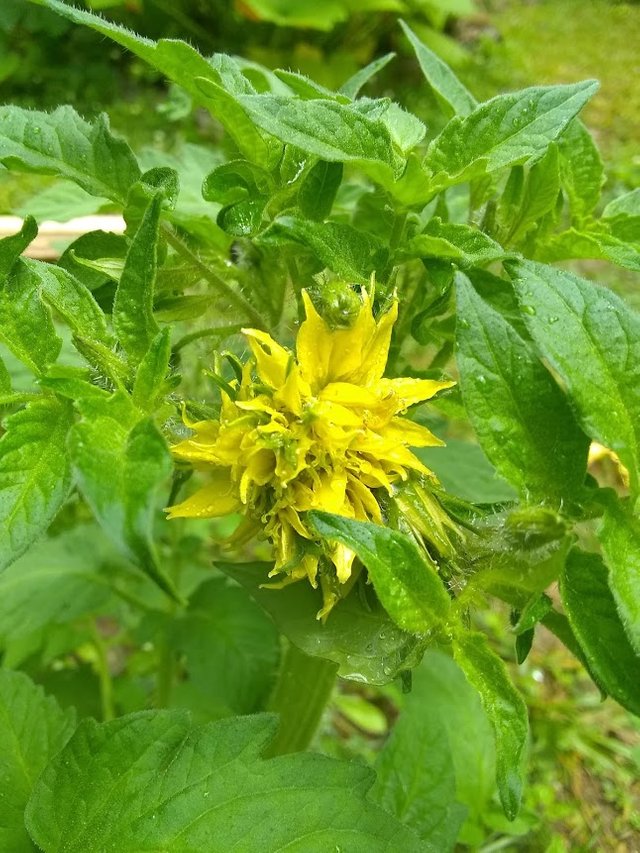 Here is a little pallet bed we made. The cilantro and habanero peppers are really getting some size on them, and buds are starting on the peppers!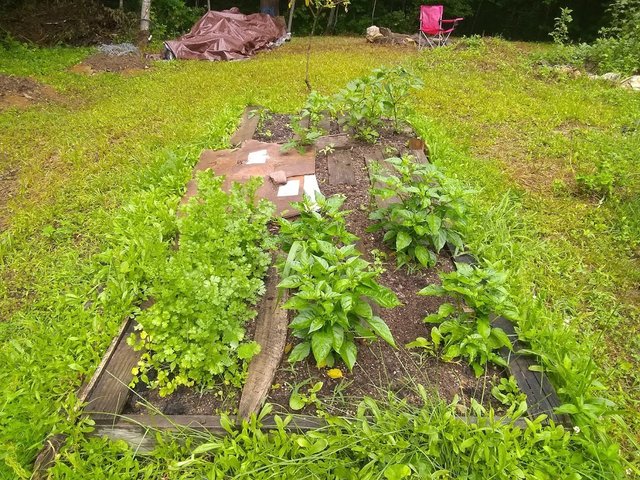 Cucumbers are well loved by our family and we intend to have lots this year! This first photo is the cucumber/dill bed that is part of the squash arbor garden. The mammoth dill gives off it's fragrant aroma any time I am near enough to enjoy these plants.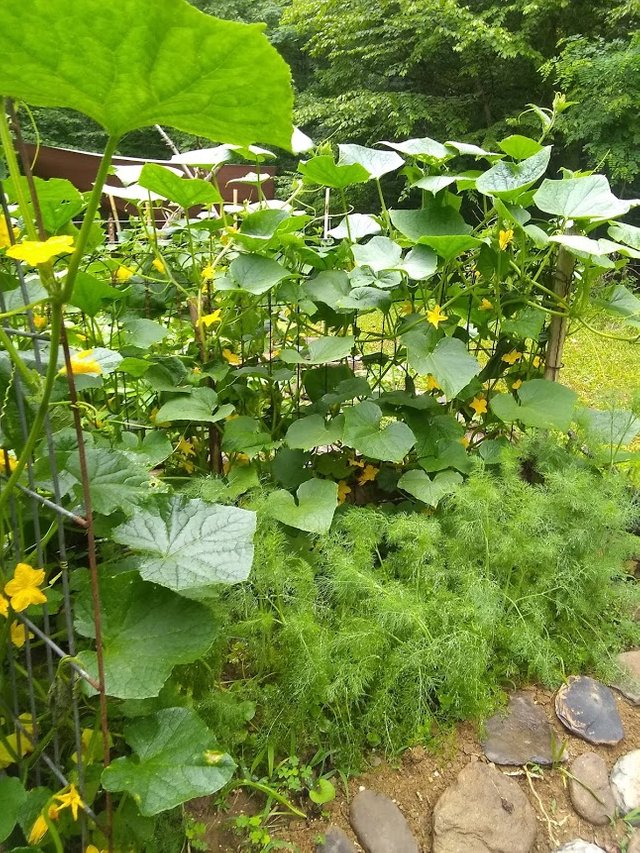 This will be our first eaten Japanese long cucumber, in just a few days!!! These beauties can get a couple feet long and have a tender flesh with less seeds. Besides, don't they look wonderful on the vine?!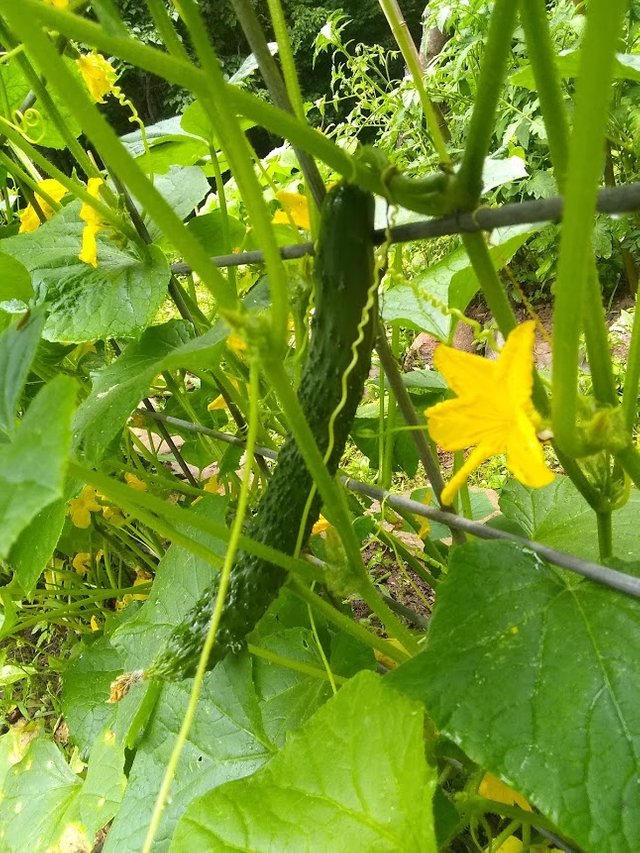 This variety of cucumber is for pickles! Just imagine that mammoth dill in the jar, and the exquisite taste that we can enjoy during the cold months, reminding us of the summer sun and fresh cukes on the vines!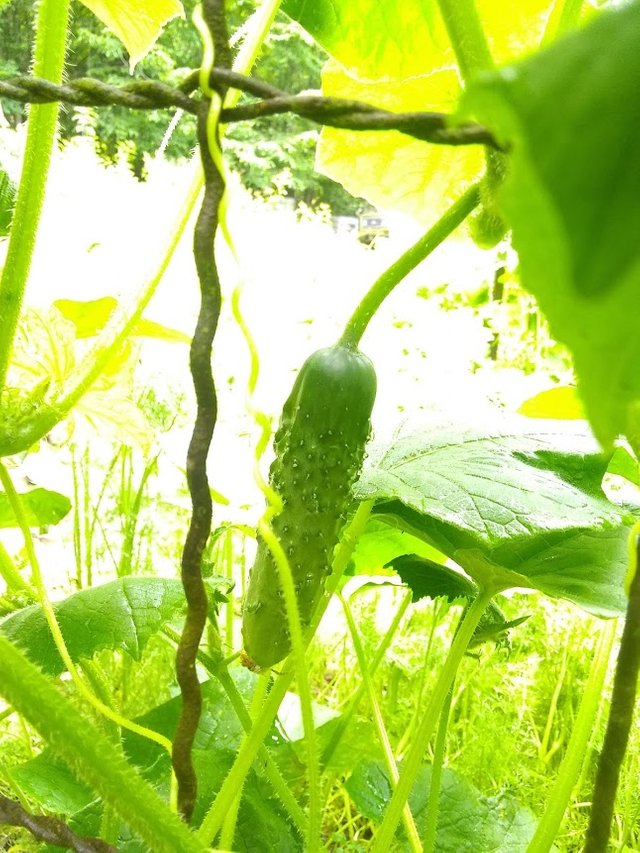 Here's our second cucumber patch, since one might not be enough! We simply used a cattle panel down the center of this raised rock bed, and planted down both sides. Since we have a LOT of mountain rock on our property, we are always finding ways to move them and build with them. Natural building materials that are made to last!!!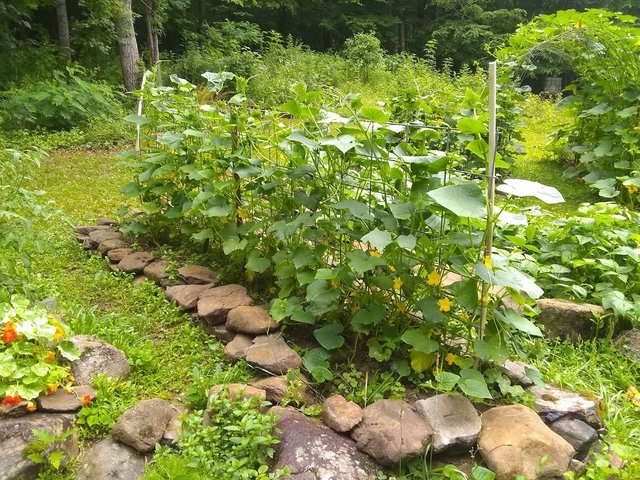 My oldest daughter is named Dahlia, which is a flower that I have learned has over 20,000 varieties! I look for bulbs every year and I am sure they are different each time. While these are not in my vegetable garden, the blooms have started and I couldn't help but share the first couple of colors we have this year!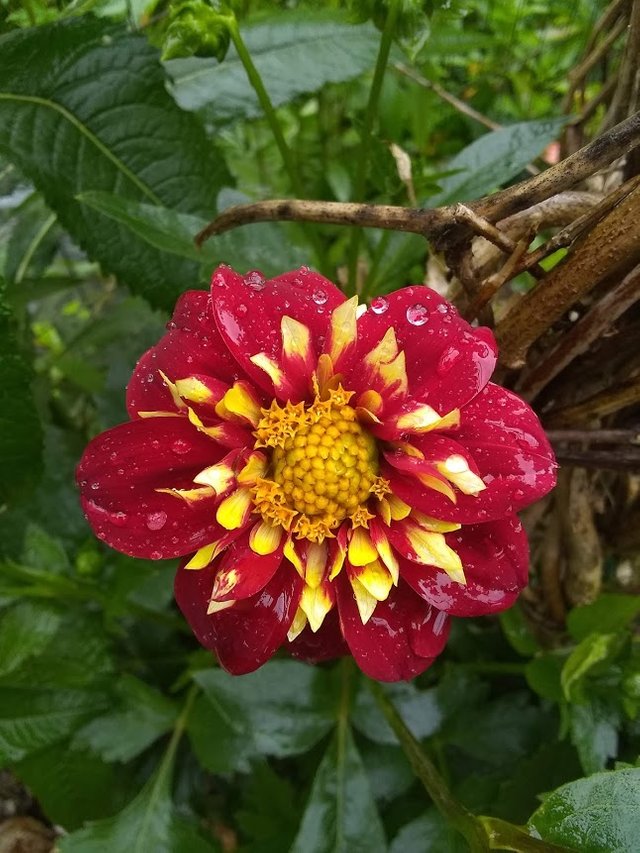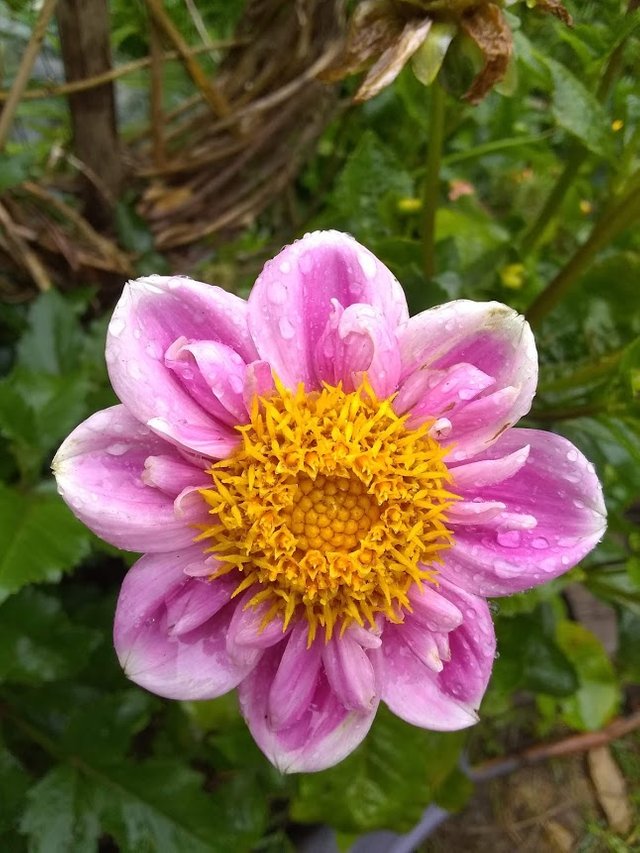 I started this echinacea with seed our first spring here at Fantastica. Each year it returns, and each year it seems to get bigger. While we have 3 or 4 types and patches of echinacea on site at this point, this cluster still is the most impressive. It is currently over 5 feet tall, and still growing.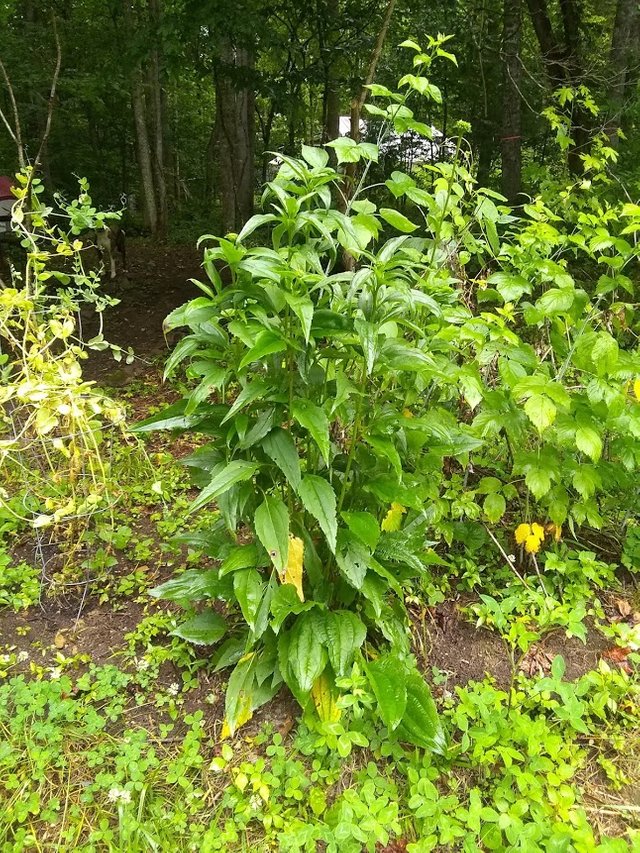 Here's a little peek at some of the buds on top of this gigantic echinacea! I am confident the blooms are going to make me smile again and again.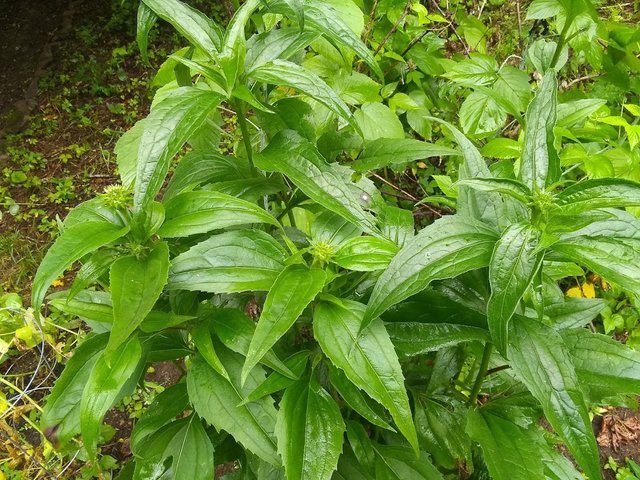 This was our first hugulkultur. Over the years it has had quite a few different crops in it and of course it has a few annual volunteers of it's own! On the left you can see what's left of the magenta spreen (lamb's quarters) we are leaving to go to seed, for more volunteers next year. The large bushy looking leaves that are throughout the right area of the bed are parsnips. This bed also has quite a few watermelon plants across the back half, a couple of broccoli, some celeriac (celery root), and some volunteer potatoes from years past. I expect by summer's end much of this whole area will be a tangled mess of watermelon vines and the promise of sticky, sweet goodness dripping from fingers and chins!!!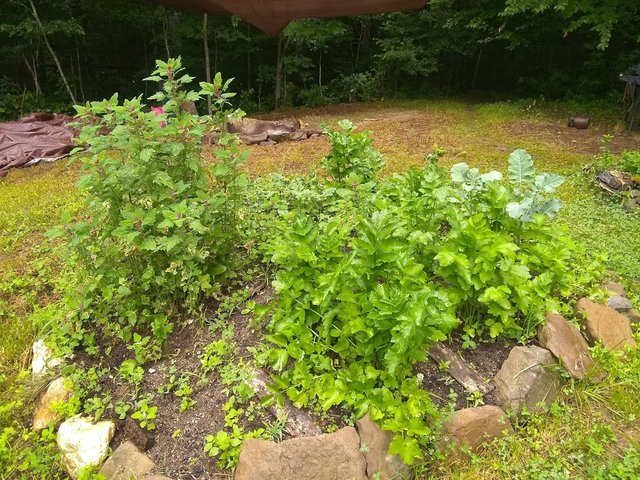 I learned my lesson with nasturtiums a few years ago. These plants are amazing companions, gorgeous color splashes, and deletable parts for a variety of gourmet foods (nasturtium capers, anyone?). HOWEVER, if you put them in the wrong places they will choke out other plants with a quickness in the middle of summer. Now I am careful about their placement. Here you can see some peeking out of my squash garden in a couple of spots!!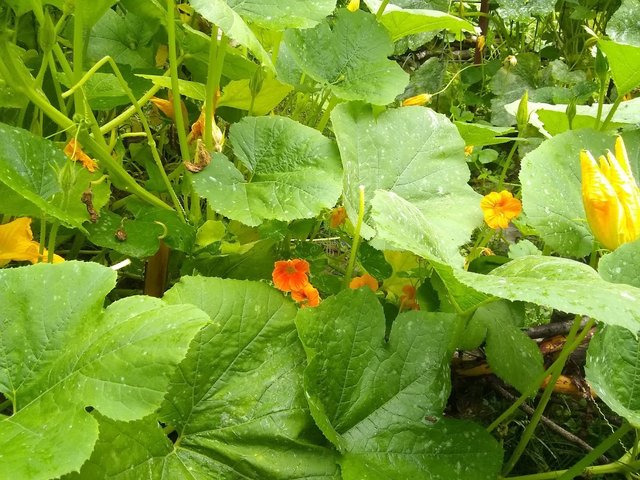 I think my frog really enjoys his spot. A dear sister brought me this earlier in the spring, and he was on soil with tiny plants around him. Now he is poised for a tasty snack, or at least a fabulous photo op!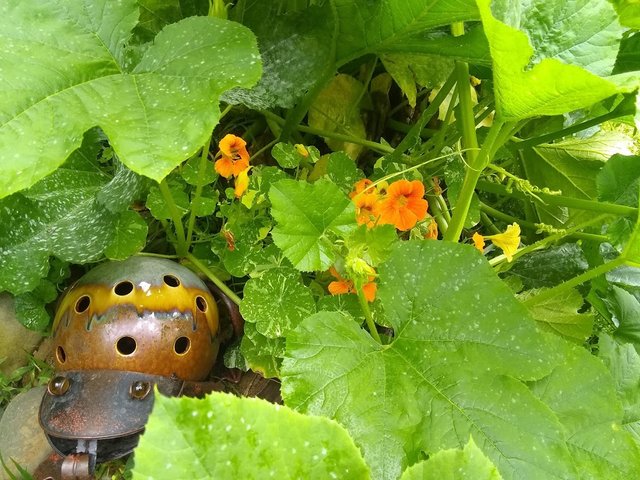 This is one of my several varieties of heirloom summer squashes. I picked this for supper after taking the photo!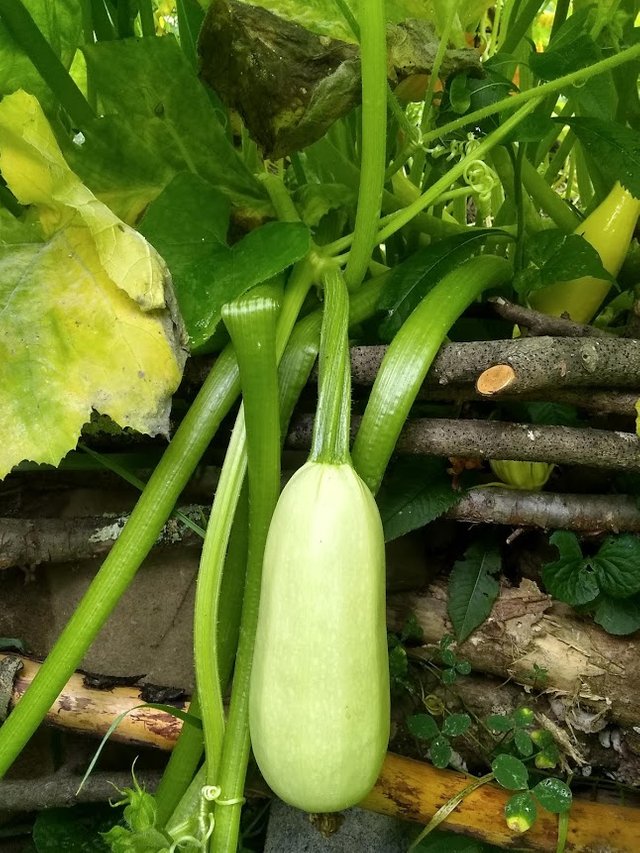 This little "overage" bed had some yellow squash, zucchini, and a few beans thrown in it. It also happened to win the race for first zucchini harvested!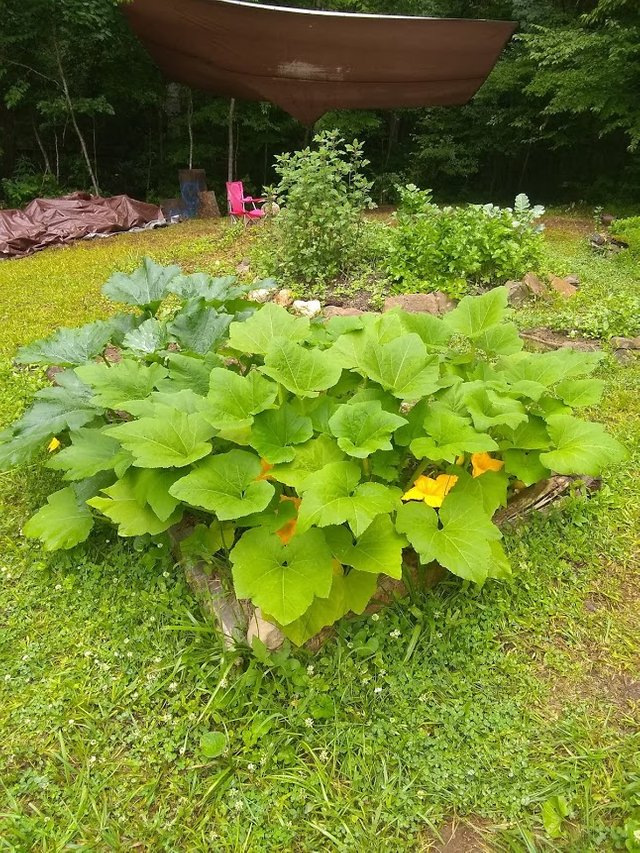 Most of the zucchini and all of the white scallop (also known as "patty pans") are in this pallet bed we built. Their overflowing edges have become a delight as I tiptoe carefully around, looking for weeds to pull or squash to harvest!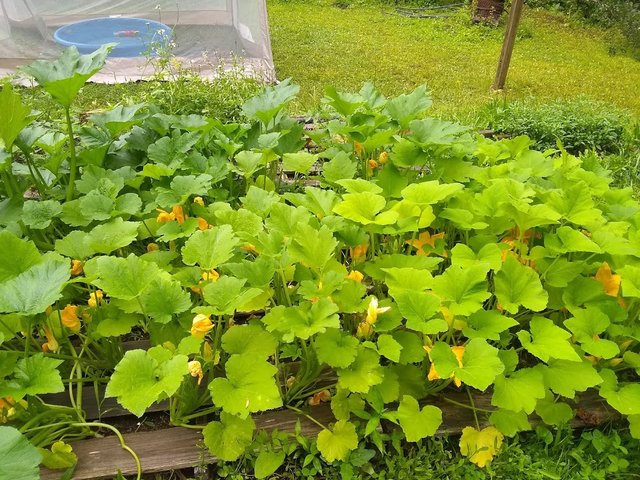 Isn't this baby scallop squash adorable??!! It will be white when ripened.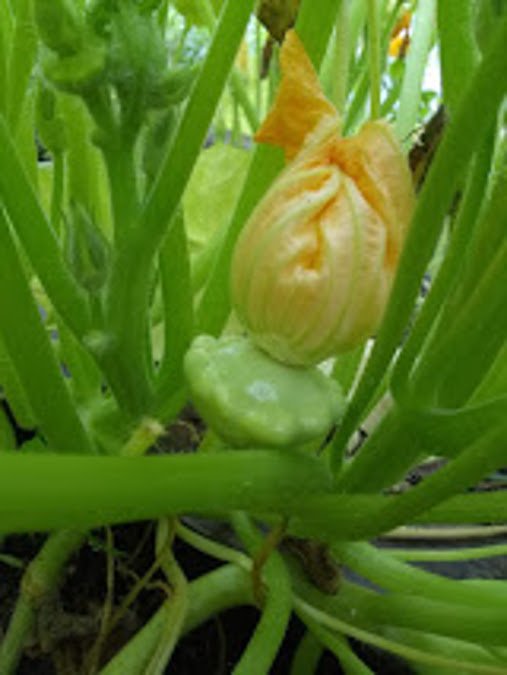 So I saved my favorite part of the tour of our gardens for last. Here is our beloved arbor garden, with the Green Man watching over. This consists of four beds and two cattle panels that we stood for the arbors. Both beds on the left are squash (with a few vining beans thrown in for good measure). The right two beds are canteloupe and the dill/cucumber bed. As you can see, we have now reached the point the arbor is nearly covered! I highly recommend using arbors for anything that you can trellis, especially squashes. It helps use your space more efficiently and it is breathtaking from late spring until fall.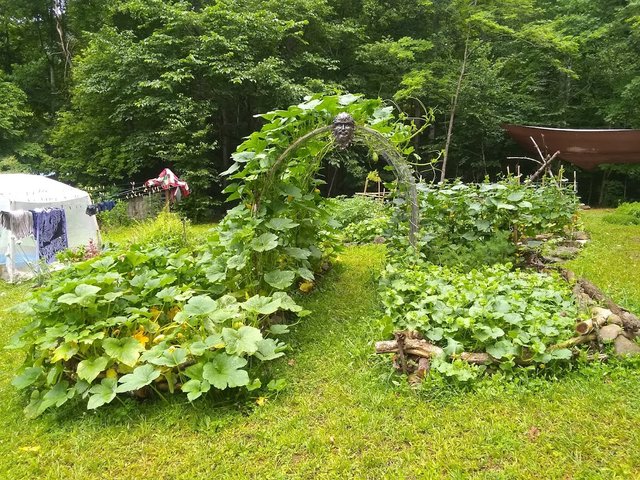 Most of the squash I am growing this year are summer squashes, but here you can see one of my only winter varieties this year ~ the buttercup. This heirloom is unique looking and gives our arbor a rich visual addition, and something to harvest later in the season.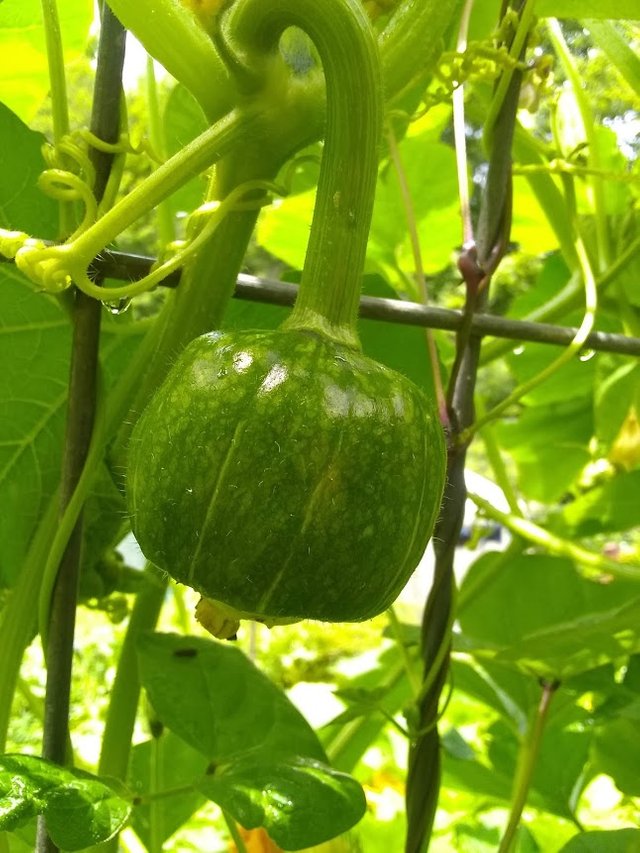 Squash blossoms in our garden give way to golden culinary delights!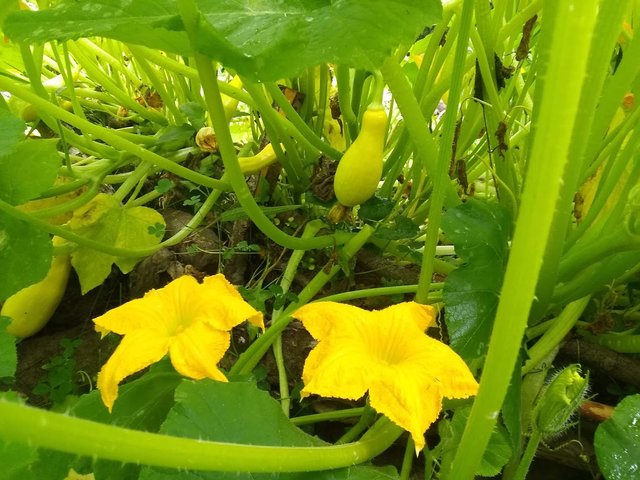 This might be the most exciting photo I have taken to date in our garden. It is the OFFICIAL first squash to hang from the very top of the arbor!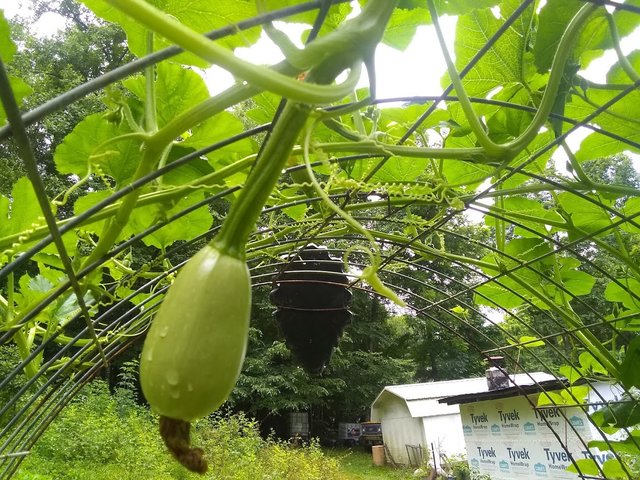 I hope you have enjoyed your sneak peek into my bubble of joy. It still isn't a full tour, but it's some nice highlights. In a world of humans that seems to have gone mad, I find serenity, peace and respite in the garden. It doesn't take much space to do all that we have done; the garden area is less than a quarter acre of our land, and as it grows so too does my love of nature and appreciation for our part in such a myriad and mysterious cycle. Thanks for reading!