An exploration of an emergent ethos
In this series of posts, we will explain the ground from which emerges the values and ethos that drives and sustains the NaturalMedicine community on Steem. This is the basis on which choices are made for creating and curating #naturalmedicine content. It draws on the models found in natural systems to create and establish creative, thriving, sustainable communities. As a whole, it forms a manifesto that the community draws on for inspiration, discussion, and inter-personal discovery.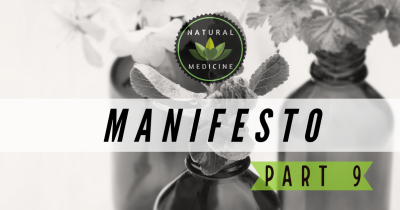 If you haven't read the previous posts in this series, it may be a good idea to catch up on them before continuing:
Otherwise, please continue …
'Natural Medicine' has 5 Fields that helps us organise and understand how we can broaden the topic of therapeutic intervention beyond the pharmacological.
Each of the 5 Fields mutually interact and influence each other, as in any natural system. The health -- or ill-health -- of one Field will have an effect on the health of another. No one Field is more important than another.
PHYSICAL HEALTH
Physical Health is the field we are all most familiar with. It covers the whole of human physiology, from the cells and tissue, the organs, and physiological systems they comprise -- see the previous post on natural system of the human being for a quick summary.
The human body is the vessel which enables to live and co-exist in a material world.
Medicine that helps Physical Health are things such as pharmaceutical medicine, herbal medicine, dietary therapy, massage, acupuncture, physiotherapy, chiropractic, osteopathy, nutritional medicine, Yoga, Tai Chi, Qigong, Martial Arts, Pilates, fitness training, physical exercise, and so on.
MENTAL HEALTH
Mental Health is most likely another Field we are all familiar with. It is the field associated with mental and cognitive functioning, and our ability to process information via the senses. Our faculties of Reason, Intellect, and Intelligence (the capacity to learn and adapt) are part of the Field.
It has a close connection to the state of the nervous system, in that the brain appears to be organ where mental and cognitive functions are born.
Medicine that helps Mental Health are psychology, psychotherapy, counselling, behavioural change therapies, meditation, education, problem-solving exercises, learning languages, studying/scholasticism, Qigong, Yoga, Neuro-Linguistic Programming (NLP), and so on.
EMOTIONAL HEALTH
What is often labelled as 'mental health disorders' can be seen as being disorders of our emotional states, such as Depression and Anxiety. Our 'emotional body' is linked not just with the nervous and endocrine systems, but also with our cognitive systems and the ability to manage our states and adapt to the environment. This is often something which affects people with Autism Spectrum Disorder.
Medicine that helps Emotional Health can be things such as psychotherapy, counselling, behavioural change therapies, meditation, kinesiology, Emotional Freedom Technique (EFT), NLP, sexuality, Yoga, Tai Chi, Qigong, breathwork, and so on.
SPIRITUAL HEALTH
The concept of spiritual health is probably the hardest one to understand and pin down a definition for. Mostly because the spiritual or existential experience is inherently personal and subjective. In both the Ayurvedic systems of India and the Chinese Medicine frameworks of Northern-Eastern Asia, there was an explicit spiritual component to their holistic medical models. In both, they were inextricably linked with physical, emotional, energetic, and mental health.
It could be stated that spiritual health is an over-arching sense of the numinous or the divine that influences your choices and direction in life. It is linked with concepts such as virtues, values, and a personal sense of morality. This impacts our health when our lives are aligned with these or not. Not living our lives authentically produces stress on the nervous system and can lead to mental and emotional disorders, such as anxiety, depression, or low self-worth (which in turn can lead to poor lifestyle choices such as excessive alcohol or drug intake, or inappropriate diets).
Medicine that could help Spiritual Health would be things such as having a personal faith, religious belief, participation in sacred (or even mundane) rituals, reiki, shamanic healing, ayahuasca rituals, astrology, tarot, meditation, prayer, vigils and 'vision quests', Yoga, Tai Chi, Qigong, Sacred Sexuality, philosophy, spiritual retreats, and so on.
ECOLOGICAL HEALTH
Whilst we might often think of natural medicine in terms of our own immediate body systems, the foundation of human health is ecology. Consider environmental pollution such as chemical waste such as pesticides or smoke, systems such as taxation or unemployment that might impact on mental health, urban planning such as recycling and other waste management systems, and the maintenance and care of biodiverse agricultural practices (such as sustainable fishery, wildcrafting and foraging, permaculture and so on).
Medicine that helps with ecological health might be permaculture, biodynamic farming, wildcrafting, and sustainable fishing. The use of natural detergents, deodorants, fertilisers and pesticides also impact ecological health in positive ways.
Ecological health is also a very important part to personal health; after all a healthy environment will have an influence on us personally. This is not just things like clean air, water, and food; it includes:
healthy social environments: how do the relationships you have with the people in your life affect you?
healthy home environments: is your home a safe haven? Is it clean - energetically, physically, etc?
healthy work environments: are you feeling valued and respected in your workplace? Does it fulfil your emotional/spiritual/psychological/financial needs?
'Ecology' is referring to all the various systems that you are immersed in, and would engage and interact with on a daily basis. And, following Systems Theory, the state of your own personal health will have an impact on the various other systems you interact with, because an ecology is two-way system: it impacts you, and you impact it!
The NaturalMedicine Manifesto & Steem
All of this is a brief introduction to the philosophical principles that guides and informs the NaturalMedicine community.
With these ideas, we felt we were able to grow this SCOT-tribe on the Steem blockchain, and began the process of putting it all together. And already, we have started to get attention in the wider 'natural medicine' world off-chain, and will continue to look outwards to attract other 'NM folk' to naturalmedicine.io and the wider world that is this inspiring and marvellous blockchain community.
We welcome you to come and continue these conversations in our chat server on Discord https://discord.gg/ZjZAAdH
LOTUS is our tribe's native SCOT-token, available on Steem-Engine
Other posts in this series:
If you haven't read the previous posts in this series, it may be a good idea to catch up on them before continuing: