Would you like to be part of the #newsteem, creating a visible face to the outside Steem world? Would you like to support the Lotus ecosystem and the Natural Medicine community? Would you like to advertise your product, challenge, or idea to the Natural Medicine community both on Steem, and in the wider world as we become more visible? Would you like to show off what cool things are happening in the natural medicine world across this amazing platform, from yoga to permaculture, herbalism to cannabis?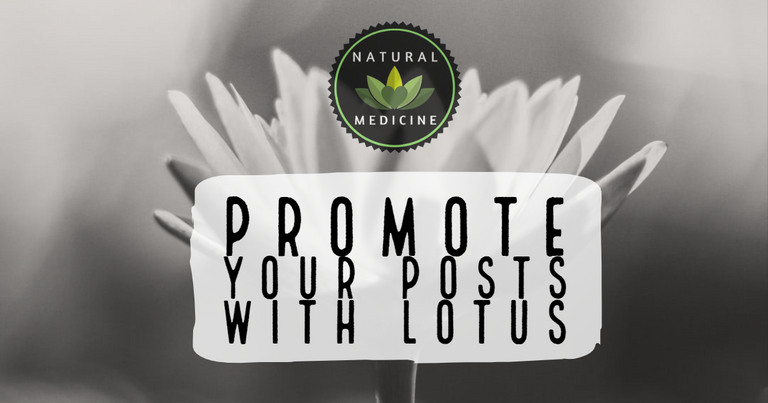 We'd like to invite you to burn LOTUS to have your post featured on our front end, www.naturalmedicine.io. This means 'outsiders' - and anyone in the Steem ecosystem - can see your post headlined in the 'Promoted Posts' sections of our site. Check it our here!
We'll also drop your post link in our 'Promoted Posts' section of our Discord, making it visible to everyone in our server.
It's super easy to do. Simply burn a minimum of 100 LOTUS by transferring it to @null. This is an account with no keys, meaning that lotus will disappear from the supply.
Can't afford 100 LOTUS? Don't let that deter you! You can buy some - instructions here or you can negotiate a fair price. We don't want anyone missing out just because they don't have enough, especially if they've got something great to share!
The post will stay promoted until the 7 day payout.
Of course, because this will be visible to the natural medicine community, we do expect a certain standard - quality posts only please, original photos, no plagiarism, hate speech and so on. I'm sure all good Steemians have no problem abiding with this! As usual 'be kind' is our motto. Anyone not conforming to fair use standards will be downvoted by our whale accounts so the post disappears from view, but we're sure you'll use this tool wisely!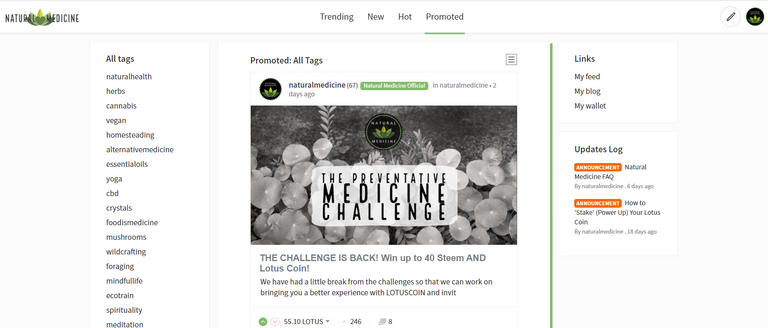 Oh, and don't forget the Natural Medicine challenge!
---
Some ideas for post promotion:
Promote your competition or challenge
Advertise your natural product
Invite dialogue around a topic you're researching
Draw attention to your project.
You can also have your posts pinned, just like this: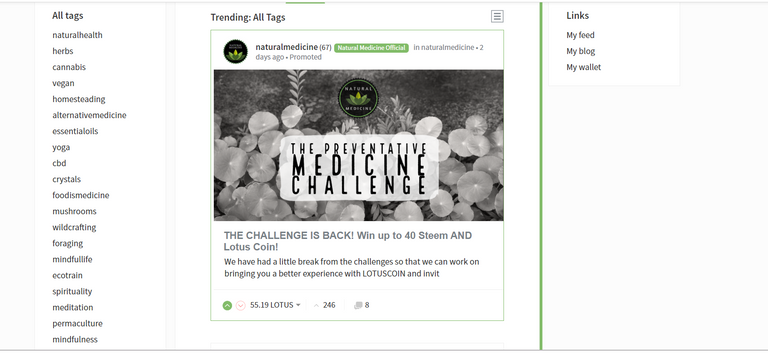 Or this, if you look at it in a different view:

it creates a green highlight box around your post for it to remain at the top of trending until we unpin it, so it can be there for a weekend, or 24 hours, or a week.
This does require approval from the LOTUS TEAM, so do get in touch with #riverflows4691 on Discord with your proposal and we can see about pinning it for you for burned LOTUS.

Did you know that Natural Medicine has it's own front end - https://www.naturalmedicine.io? By using this front end, you not only earn our native token 'Lotus', but can find other like minded folk posting on everything from herbalism, meditation, healthy eating and essential oils, to homesteading, cannabis and environmental health. If you'd like to delegate to show your support of natural healing wisdoms, and recieve benefits from upvotes to great contests and prizes, and help support us curate worthy content, please click here!