This post is to walk you through how to buy LOTUS on SteemEngine. You can find the link in your Steempeak wallet, or you can just click here.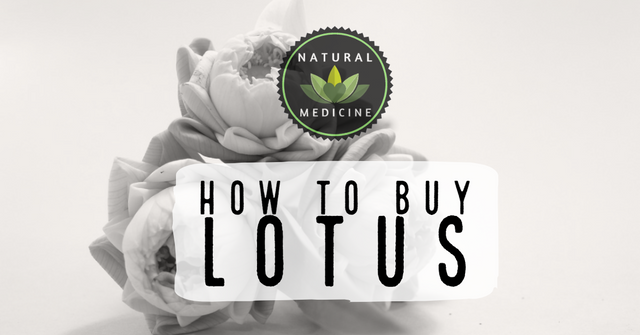 Steem Engine is a smart contracts side-chain platform for the Steem blockchain. This means that it can execute custom smart contracts based on data published to the Steem blockchain. This allows us to do things that are not currently supported by the Steem blockchain, such as creating custom tokens, or literally anything else achievable with a smart contract.
If this makes no sense to you, that's fine! All you need to know at this point is that it's where you can trade all the tokens that might be building up in your token wallet. For me, the best place to see, and claim, all my tokens is in my Steempeak wallet. You can simply click 'all in one claim'. If you want to claim them individually, you can do so in Steem Engine.
1 Firstly, sign in to Steem Engine with your posting key. You'll see the SIGN IN on the top right corner. There are TWO ways to do this - you can use your KEYCHAIN wallet (more on this later) or as usual, you may also log in by entering your Steem account name and private posting key or master password. Both are very secure ways to sign in to Steem Engine.
2 The next step is to click on WALLET on the top menu bar. This is where you can see all the tokens you have staked and unstaked. To learn more about staking, try reading this post about staking Lotus. The same applies to any token, including Steem. If you can't see any tokens, but know you have some, claim them - either in Steempeak wallet or by clicking the notifications on the top right hand side. Can you see I have 11 notifications there?

3 Now, you'll need a little STEEMP in your wallet, so that you can buy LOTUS or the token of your choice. Click on 'DEPOSIT', as the green arrow in the image above shows you. You'll now see this pop up. Click 'GET DEPOSIT INFO'.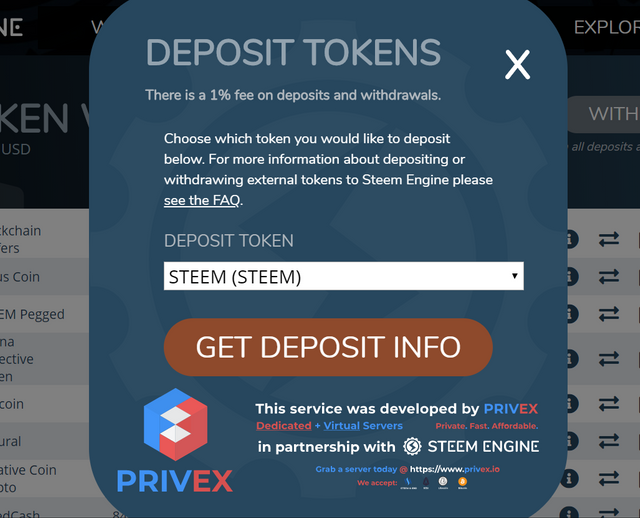 5 In this case, I already have some STEEMP ready to go, but for the purposes of this intructional post, I'll exchange some STEEM for STEEMP. It's 1:1, but you're charged a small fee. That's okay, because the guys behind STEEM ENGINE need that to do all the great work they do for the platform. STEEMP is the native token for Steem Engine.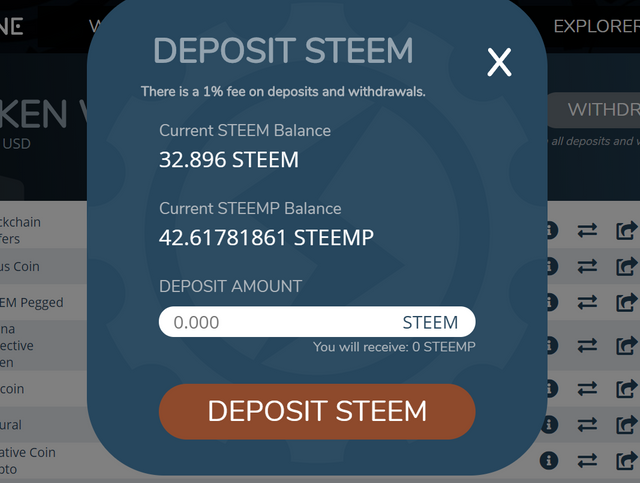 4 Click on the amount you wish to deposit and click DEPOSIT STEEM. As you can see, I'm using KEYCHAIN, an extension on my browser. I love it, as it keeps all my keys in there and I just need an ordinary password of letters and numbers to access it rather than recalling a great big line of numbers!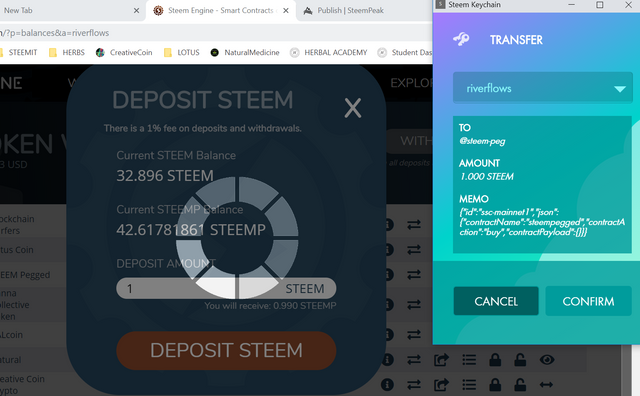 5 Now, you're ready to go! You'll see all your STEEMP tokens in your TOKEN WALLET. In this case, I have 43.6 STEEMP tokens, which I can exchange back into STEEM at any time through going through the same process, except I'll be doing a WITHDRAWAL instead, which will put STEEM right back into my Steem Wallet.

6 Now, find the token you wish to buy (in this case LOTUS) and find the little double arrows, as per below.

7 Now, you can see all the trades for LOTUS, including the section for buying and selling, and what the highest and lowest bids are. In this case, the lowest ask price is .1900, so the lowest someone wants to sell for is .1900. You can also see the highest bid for LOTUS too. However, I'm going to buy some LOTUS for the grand price of .50, so some lucky person is going to get more for the LOTUS they're selling than they are bargaining for!

I don't mind though, because that means that someone's got a little more STEEMP to go trade other tokens or exchange their STEEMP to STEEM and continue to support the platform (I hope!). Maybe they'll even come and upvote this post and thank me for it (haha!).
It will ask you to double check your bid before you proceed, and again, you'll need to confirm your transaction, just like any other important transaction on the blockchain. Easy, huh?
If you scroll down on the market DEX page, you'll see all the other buy and sell orders, as well as a list of all the transactions you've made.
If you go back to your Wallet, you'll see the changed numbers - my STEEMP has gone down, and I have more LOTUS to 'stake' or power up, as it's called on Steemit or Steempeak. You can stake by clicking the little padlock icon. This will help you earn more Lotus through curating posts with the #naturalmedicine tag, so staking your LOTUS is a good idea.

I do hope this has helped you understand how to buy or sell LOTUS on Steem Engine, or any other token you'd like. If you have any questions, please let me know in the comments below, or contact me on Discord #riverflows4691.
I will be burning all LOTUS curation and author rewards for this post for the benefit of the LOTUS community for Natural Medicine.