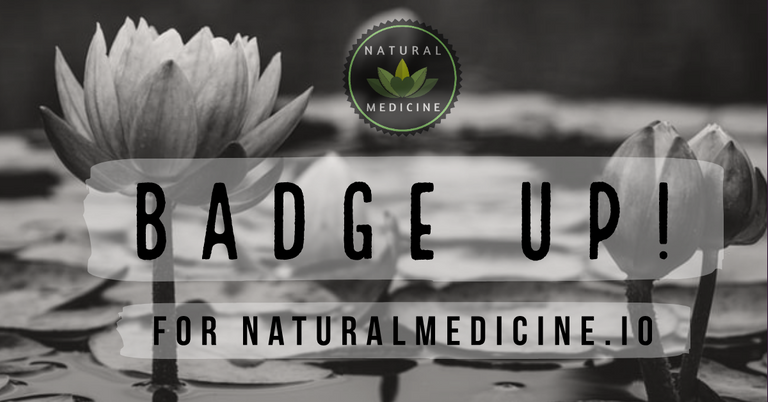 Since we have started our front end, we have had a few people finding Steem through NaturalMedicine.io! That means that we are visible to the outside world. What we see, they see! This is fabulous news for anyone running a business, blogging or simply wanting to showcase their Steem blog on our front end.
Badges are awesome advertising - they show personality, give people a laugh or even direct people to a website of your choosing! Anyone who sees your profile will see your badge, and they'll be able to see it next to your comments too!!
If you run a project on Steem, want people to investigate your website or Instagram profile, run a Witness or a community or a tribe on Steem, a badge can really draw people to where you want them to be.
And it's super easy to do! By 'burning' your Lotus, you give more value to the token - all 'burn' means is that you send the token to an account with no keys, which means it's gone forever. It's just a supply and demand thing!
1. Burn 100 LOTUS or your donated amount (the more we burn, the more value LOTUS gets, so we are happy for you to pay what you think works for the badge!) by sending it to @null. Include a note "Badge Burn". Minimum cost = 50 Lotus. Please pay what you think is fair and will benefit the community! If you own more lotus, send more lotus!
Note, if all your Lotus is staked, you'll have to buy more, or power down (unstake) ready to pay for some of the services we'll be offering soon!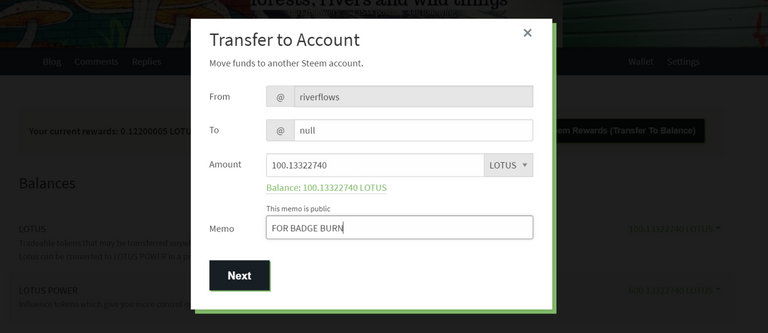 2. Find the transaction on your steem-engine.rocks page by going to steem-engine.rocks/@yourusername and screen shot the transfer you made to @null. So if your name is @artemislives, simply write: steem-engine.rocks/@artemislives, and you'll see all your transactions.

3. Next, head into NATURAL MEDICINE DISCORD, and go into the #LOTUSMEMOS channel. Paste the screen shot of the transfer, your screen name and the badge name name you would like.

Give us a day or two to process your request. You will then see the badge appear next to your name on NaturalMedicine.io, just like this!

You can also buy a badge for a friend, or offer them as a contest winning!
Send donation of Lotus to @null
Take screen shot of receipt as per above.
Paste receipt into #lotusmemo channel in Discord
Write your friends Steem name, your steem name, and the badge name or write 'BADGE OF THEIR CHOICE'
I will contact them to check this badge is okay or to choose a badge name as per your memo.
If you can't access the NM Discord, it's because you need to delegate to get all the benefits of NaturalMedicine.io.
Delegation is free for Steemians under 150 SP - simply let us know in our main chat, which anyone can access here.
Minimum delegation of 50SP
Why pay for membership for Natural Medicine?
Be part of a wonderful natural health community that's decentralised and allows YOU your voice
Helps pay for development of the community both on NM and Steem
Helps with curating great content via a great curation team
More upvotes for YOUR great NM posts
More advice and help for new Steemians
More competitions and contests to win Steem
Access curation channels and post promotions
Earn Lotus and Steem by engaging with others
... and that's not all!!! We have soooo many new things coming - and want YOU to be part of it!
---
---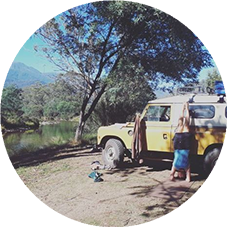 @naturalmedicine II Discord Invite II #naturalmedicine



Discord 🧘About