Hello my friends!!

I wanted to take this opportunity, to participate in the challenge created by the @naturalmedicine community, and the @innerblocks community... Let's look at the criteria:
This challenge asks you to consider the blocks that you have experienced, or might be experiencing, to a way of life, thinking or being that is more nourished, supportive and healthy. It's brought to you by both @innerblocks and @naturalmedicine, and there are lots of prizes on offer! Both of us are contributing 30 Steem each to the prize pool, with some additional LOTUS tokens to be won!
Certainly, positive reasons to participate... right?! Also...
We're not asking you to 'fix' yourself in a way that might suggest there is something 'wrong' with you at all - only to consider the barriers that might prevent your inner lotus blossoming.
Use #naturalmedicine and #innerblocks as one of your first 5 tags. It doesn't matter which one you choose to put first. We're all in this challenge together!
This is close to my heart, as I have been quite absent on the blockchain, dealing with one of my Multiple Sclerosis flare-ups... This is a terrible disease, that hits when it wants, and stays as long as it wants. I try to remain positive, but more often than not, have to lay down and wait for the "wave" to ride out... Let me take you on my journey, to see what this challenge means to me...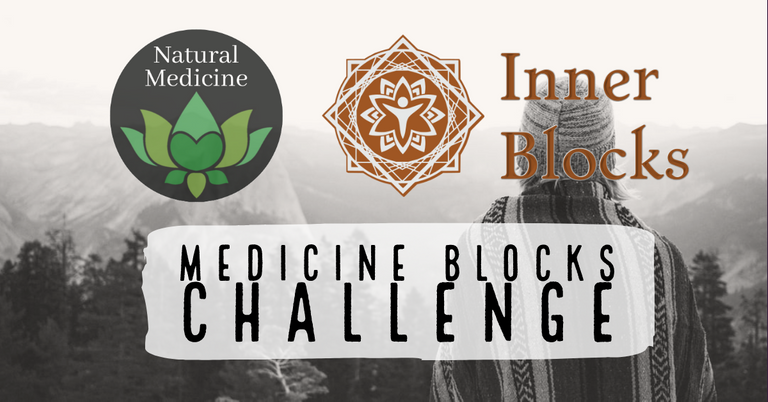 Kindly used by permission from @riverflows
July - 2016
---
A day I will never forget... after daily calls from my Neurologist, and visits to take yet "more" MRI's, the diagnosis wasn't something I was prepared for...
"You have Multiple Sclerosis"...
---
---
I had migraines since I was 16 but never thought this was something I would be dealing with. I worked for a company for 11 years, that was on a location of a "prior" business ( same building, different name) that used a chemical degreaser known as Trichloroethylene, or TCE. I won't go into great detail, because there is just too much to remember... much of which I don't care to, but this is a terrible chemical; half of the employees, people, friends... that I worked with, have passed away from health issues linked to this chemical. There is a Class Action Lawsuit, but the goal, in my opinion, is to wait until we are "all gone". Anyway... my Mom was diagnosed with Multiple Sclerosis when she was 20 and is now almost 76; M.S. is not hereditary, my friends... she has lesions on her brain... whereas I have lesions on my brain, neck, and spine. So... it is my opinion, that being exposed to over ten-thousand times, the permissible levels of TCE "turned on" my M.S.
So this has made me "re-think" many things in life... both from a natural standpoint, as well as my inner-blocks standpoint... These are things I would never have thought of... natural... inner-blocks? I was more intent on being upset, being devastated... wanting to "get back" at the people and companies responsible for this life-changing diagnosis. But as I have got older, I have realized something...
Negativity breeds Negativity...
This would constitute a change in my inner-blocks (thank you @freedompoint and @freedomtowrite for coming into my life and introducing me to this mindset). Holding in this negativity towards people, companies, empty buildings, is not going to make the Multiple Sclerosis go away. So... tried a different approach:
Positivity breeds Positivity...

Through both natural methods, as well as my inner-blocks... there are various ways to continue this positive flow...
Music: The universal language; no matter what the genre; country, rock, classical... anything that makes you smile... if it gets your foot tapping, it beats being upset!

Blockchain: As you can see, I am here... participating in this challenge. If something I share, helps you to get past a negative "bump" in your road... then I have done something positive!

Hobbies: Reading a book, building something... last St. Pat's Day, I helped my granddaughter build a "Leprechaun Trap"... it made her day, and took the mind of my own issues, and focused on her smiles and giggles!
I have also tried to learn about natural ways to relieve my pain, anxiety, and "negative vibe"... (thank you @riverflows for allowing me into your community)...
I had discussed this in a previous post, but it's worth highlighting again...
Turmeric: Known for its anti-inflammatory properties, and I love the taste. I add it to anything food-wise (not icecream lol) to enhance the flavor, and reap those "natural" benefits.

Ginger: If you want to offset the "bite" from the Turmeric, Ginger is a great addition... digestion, nausea, and again; another anti-inflammatory.

CBD: I was talking with @freedompoint about this, in the @innerblocks community... though it takes more than just the CBD alone, I have found great relief from rubbing this salve on my temples, legs, neck... anywhere I am experiencing pain... slap some CBD on!
I will have access to Medical Cannabis sometime next year and plan on (hopefully) being completely "Big Pharma" free. I have told my Neurologist that I am done with any type of M.S. medications... I have been on three, and the side-effects were worse than what I was taking them for. God provided us with wonderful plants... we should be able to freely use them. I am in no way condoning illegal use of things that are illegal in your area. Also... I am certainly not providing you with medical experience; these are my opinions, and if it works for me, I want to share it with you!!

Multiple Sclerosis has sadly affected my brain function... my ability to remember, concentrate... all things I never used to suffer from. So I apologize if my post seems to be a "ramble"... (sorry @shadowspub... no pun intended). We are free to choose what we do in our lives... why not make those choices positive? I hope these things I have discussed, have perhaps given you a "hey... that's a good idea" moment. I want to thank everyone in the @naturalmedicine community as well as the @innerblocks community, for being positive examples of what we can do... not only in our "blockchain" travels... but our "real life" journeys. What are some things that you have done to amplify your natural inner-blocks?
Wes

#thoughtfuldailypost
#creatingpositivebridges
#steemterminal
#hhym
#steem-aide
#innerblocks
#helpiecake
#steembasicincome
#palnet
#neoxianag
#marlians
#naturalmedicine
#tdp
#steemusa
#steemitasclub
#mediaofficials
#map10k
#excellentblogpost


to learn more about either of these projects, please visit: @heyhaveyamet or @steemterminal
Awesome Footer Designed By @zord189