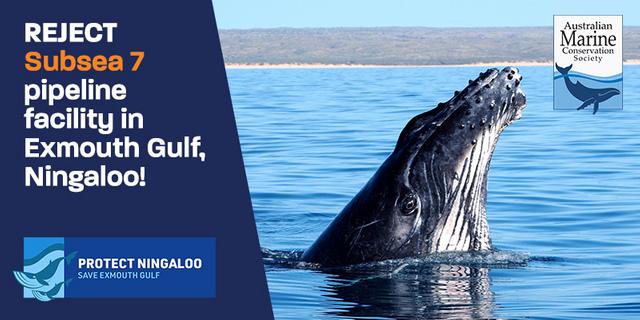 Paul Gamblin of Australian Marine Conservation Society has sent the following email message to all the members and supporters. Please join hands and support this initiative by signing the petition:
https://www.marineconservation.org.au/actions/reject-subsea-7-pipeline-in-exmouth-gulf/
I need your help to protect the dolphins, mantas and whales of Exmouth Gulf and Ningaloo Reef.
Subsea 7 – a multinational oil and gas engineering company – wants to construct a major pipeline fabrication facility at Exmouth Gulf, and tow 10km-long pipelines through the Gulf and the Ningaloo World Heritage area.
In less than two weeks the WA Environmental Protection Authority will stop taking public comment. Can you add your name to our letter today?
We would also be grateful if you shared the link with friends and family.
Exmouth Gulf is a nursery for Ningaloo Reef. It's where humpback whales come to rest and nurse their calves. Our letter describes the incredible biodiversity of the area and the danger the Subsea 7 project poses to our marine wildlife, including dugongs, mantas, whales, dolphins and shorebirds which call the Exmouth Gulf home.
The project would damage or disturb a massive area of the sea floor - up to 1000 football ovals in size - as hundreds of chains are dragged over it during the pipeline towing operations.
This kind of industrialisation has no place in Exmouth Gulf, Ningaloo. Worse, it could open the door to other heavy industry in the Gulf.
There's a better, smarter way. We can have a vibrant local economy by conserving this wild and wonderful destination as a place everyone wants to visit, to see healthy oceans teeming with life.
It is vital that we make our voices heard now, while the proposal can still be rejected. We need as many people as possible to sign the letter to show the EPA and the government how concerned we are about the impact this unnecessary development would have on the sacred Ningaloo area.
If you would prefer to send in your own submission you're welcome to use our letter as a guide. Your letter can then be emailed directly to: Learmonthpipelineconsult@epa.wa.gov.au. We'd be grateful if you could copy us in (info@protectningaloo.org.au) to let us know you've made a submission.
Thank you for defending Exmouth Gulf, Ningaloo and its precious wildlife.
https://www.marineconservation.org.au/actions/reject-subsea-7-pipeline-in-exmouth-gulf/
Image and content source credit: https://www.marineconservation.org.au/actions/reject-subsea-7-pipeline-in-exmouth-gulf/