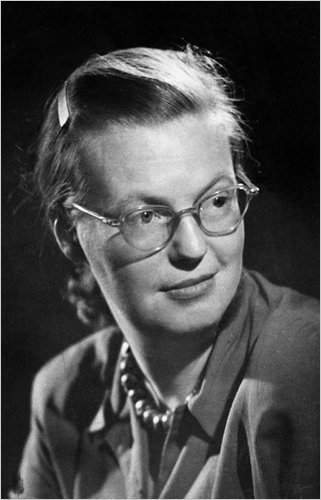 Shirley Jackson in 1951, Associated Press
I earned my first F as a freshman in college. The assignment was to pick a visual text and analyze it. Naturally, I thought this would be a piece of cake, and chose the college cult classic, Animal House. as my focus. I always earned high marks on assignments in high school, and expected the same to hold true now. However, I botched it. Big time.
I had no idea how to analyze a text. I had never practiced the art of taking apart the written words in order to find meaning and hidden subtleties authors often embed into the sentences. I didn't know that texts could harbor hidden commentary on culture and societal norms, make political statements veiled in story, or even include the author's personal agenda.
I was a naive reader. But thanks to a professor who allowed me to keep trying, I received an A on my paper after my third attempt, and much, much more significant than the good grade, I understood how to analyze a text.
Once I became an english language arts teacher, I understood how essential it was to engage my middle school students in the art of analyzing rich texts. I often pulled from vintage sources as they tended to offer deeper critical thinking opportunities.
I discovered Project Gutenberg which has over 60,000 free ebooks in the public domain. In general, those are texts that were published before 1977. The site is free to use and includes resources beyond ebooks.
I also recently discovered LibriVox when looking for more free audiobook resources. The site includes free public domain audiobooks read by volunteers from around the world.
Shirley Jackson is one of my favorite vintage authors for short story analysis. She is one of the most brilliant and influential authors of the twentieth century, and is widely acclaimed for her stories and novels.
One of her most famous, The Lottery, was published on June 26, 1948 in The New Yorker. This was one of my favorite stories to include in my classroom to deepen experience with rich text analysis. I encouraged my learners to read, and reread, and explore the subtleties, nuances and hidden meanings behind the words of this story.
Through writing prompts, I encouraged learners to explore the text and consider the purpose for writing.
When Old Man Warner said, "lottery in June, corn be heavy soon," what was he describing?
Tessie Hutchenson puts up a fight when she finds out her family was chosen saying, "It isn't fair! It isn't right!" Is the lottery fair? Is the lottery right?
Short stories can raise many important issues about society. What was Shirley Jackson's purpose for writing this story? How do you know? Support your ideas with direct quotes from the text.
For more information about The Lottery, visit this article on Project Gutenberg. As an extension activity, have learners read, The Hunger Games, by Suzanne Collins, then compare the 1948 short story to this modern series written in 2008. What ideas and themes are consistent between the texts? How has society changed (or not) according to these authors?
---
Related Posts:
•Pondering Poetry 1: Lesson Plan Support for Reading Poetry
•Pondering Poetry 2: Lesson Plan Support for Writing Poetry
• Reciprocity as a Home Schooling Resource
• Social Emotional Intelligence: some whys and some hows of sowing new seeds
• Sweet Carolina - Lesson Plans from the Tar Heel State
•A Light in the Fog - Lesson Plans for the New Year Slump
---
I am grateful to find a place with rich soil to grow a community. May we take root, and flourish together.
All artwork, photographs, and content are original and created by @bia.birch unless otherwise credited.