We're cleaning out our cupboards ready to go off for 8 months. If you'd like a half empty jar of lime pickle or a quarter jar of peanut butter, you're more than welcome to come get it. It's kinda fun - I'm being creative with my dinners because I'm using up ingredients as per what we have rather than a shopping list to follow a craving whim. Plus, we're broke, so we are old mother hubbarding it.
Old Mother Hubbard
Went to the cupboard
To get her poor dog a bone;
But when she got there,
The cupboard was bare,
And so the poor dog had none
Todays' dish was inspired by our upcoming travels to India I suppose, as I had a sudden craving for chapati, and a few kilos of biodynamic flour to use up.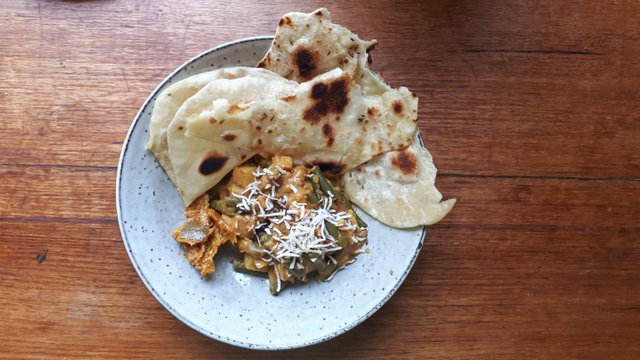 The curry was designed to use up half a jar of homemade gado gado, which I make by blending coconut milk, maple syrup, sriarcha and lemon juice - but you could use ordinary peanut butter. It is such a good vegetarian or vegan staple to add a bit of extra protein and fat. I had three quarters of a can of coconut milk left over from making gado gado, so was pleased to use this up without wasting it as well.
I haven't made chapatis in years, so was pleased to nail it the first time. There's a few tricks I've learnt about chapatis and I was pretty happy to have them all come together quite well. One trick is to roll them out into a circle, then fold origami like (say, like an envelope or a nappy) and then re-roll, with a smear of olive oil between the layers. This makes for the lovely flakiness and softness a good chapati has. Another trick is to really knead the dough well so it's silky and soft. I fried mine in a cast iron skillet with olive oil and cummin seeds.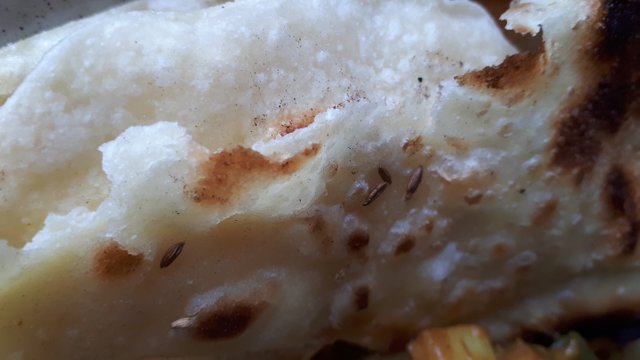 One thing I will never run out of is cummin seeds - I just adore their taste and love them on chapatis. I have a huge, huge bag of them that'll last me til doomsday! Did you know they're rich in iron? No suprise my body asks me to double the amount of cummin I put in any recipe. If it asks for a pinch, I'll put in three cups. Okay okay, that's maybe exagerrating, but I think it expresses how much I love it. It's also excellent for digestion and - this is new to me - may also restrict the growth of infectious bacteria which could help reduce food borne illnesses. Spice it up baby - sooo good for you!

Peanut Butter Coconut Curry
1 handful of green beans
1 onion or spring onion
Tbsp each cummin, cummin seeds, turmeric and ground coriander
1 can coconut milk
2 - 3 tbsps of peanut butter
1 tomato
2 small potatoes
1 cup of water.
Saute the onion and spices in olive oil until fragrant. Add veggies and saute to coat with spices. Add the rest of the ingredients. Simmer until soft. Serve with chapatis and lime pickle and optional garnish of toasted coconut.
Do you have a secret chapati tip?
Ever tried peanut butter in curries?
This post was created for #fruitsandveggiesmonday, an iniatitive by @lenasveganliving on Steem. Join in with your vegan recipes on Mondays to win, and get inspired by great plant based food. Natural Medicine also proudly contributes a little steem to the reward kitty.


@naturalmedicine II Discord Invite II #naturalmedicine